NFC North Daily: Hot Breakfast Links for July 3, 2012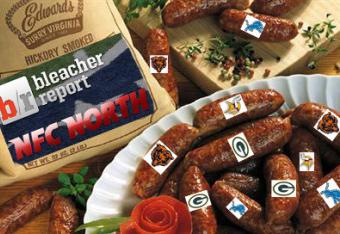 I had forgotten how irritating jet lag can be—and I'm not talking about hearing about the upcoming Mark Sanchez/Tim Tebow training camp battle on ESPN for the 1,000th time, either.
Traveling from coast to coast and shifting time zones takes a little out of you. The NFC North is somewhat blessed by being more in the middle in the country than, say, New York or Miami, but it's still more eastern than not.
It's always interesting to consider how something like travel factors into a West Coast trip and equally interesting to see how teams try to counter it—if they acknowledge it at all.
Can you tell this is the doldrums of July?
Let's move on to some good links.
ORDER UP!
Detroit Lions
Tim Twentyman takes a look at a guy who often gets overlooked on the defensive line—Sammie Hill.
Right here at Bleacher Report, writer Scott Bischoff takes a critical look at Lions quarterback Matt Stafford.
Green Bay Packers
If there is one thing the Packers excel at (and actually there's more than one), it's finding hidden diamonds in the rough. CheeseheadTV.com's Zach Kruse takes a look at UDFAs who have a good chance to have an impact on the Packers' 53-man roster.
Over at Pocket Doppler, Lauren takes a look at the defensive back positions and where Charles Woodson fits in.
Minnesota Vikings
1500ESPN.com's Judd Zulgad has a great interview with Vikings quarterback coach Craig Johnson regarding quarterback Christian Ponder's development.
What if Adrian Peterson misses the first six games of the season? After you clean up the spit-out cereal off the breakfast table, read this piece by Christian Peterson on StarTribune.com to see what that might mean in terms of wins and losses.
Chicago Bears
ESPN Chicago has a video of the NFL Live crew debating what eliminating the seven-step drop does for the Bears. They go a little deeper than "it keeps Cutler from dying."
The Chicago Sun-Times' Joe Cowley's article may be titled "Is Bears' Matt Forte as good as he thinks he is?" but the meat of the article debates what once again not paying a marquee player might mean from a wider lens. Like or hate Cowley (most fall in the second category), this is actually a solid piece. Cowley has no Twitter feed—I'll let you Google why.
Like these stories? Follow the linked writers on Twitter!
@Bischoff_Scott, @ ttwentyman, @zachkruse2, @pocketdoppler, @1500ESPNJudd, @CP_ChristianP
Check out the B/R NFC North Facebook page—like us and keep up with everything NFC North on Bleacher Report!
This article is
What is the duplicate article?
Why is this article offensive?
Where is this article plagiarized from?
Why is this article poorly edited?