NFL Rookie of the Year: Vegas Odds for 2013's Best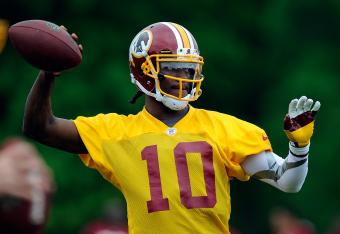 Patrick McDermott/Getty Images
Honestly, the Rookie of the Year award has been dull the last couple of years in the NFL. Not because of the performance of the players—Cam Newton and Von Miller were mesmerizing last year—but more because they were more or less the odds-on favorites for offensive and defensive Rookie of the Year.
Newton was the odds-on favorite for Offensive Rookie of the Year after being taken No. 1 overall. Miller was at +650, trailing only Patrick Peterson at +600 odds. It was the second year in a row that a quarterback went first overall and a defensive player went second and they both won the awards, as Sam Bradford and Ndamukong Suh did.
This year looks much more promising. There isn't a one-two combination of offense and defense at the top this year. There's something much more interesting.
Offensive Rookie of the Year
The top two picks in the draft are also the most favored for the award. Except this year, the No. 2 pick, Robert Griffin III, has a slight edge at +200 over his counterpart in Indianapolis, Andrew Luck, who is listed at +250.
Luck is widely considered to be the best quarterback prospect since John Elway. Hefty reasoning that Vegas should Griffin over him then? I don't think so.
In all reality, Griffin has the much better chance to showcase his talent. The Redskins are far and away from being a legitimate contender, but they are leaps and bounds ahead of the Colts' overall roster. Griffin will have the opportunity to get what catches the voters' eyes most: wins.
On the other hand, Luck could be set up to shatter rookie records. The Colts are going to be just as bad this year, and their defense is likely to be the very worst in football. However, they kept some nice offensive pieces around and brought in new ones like Luck's favorite target, Coby Fleener.
The Colts likely will let him go and just flat out play. Scoring points generates fans' interest, and there's nothing more Colts fans want to see after the departure of their franchise quarterback.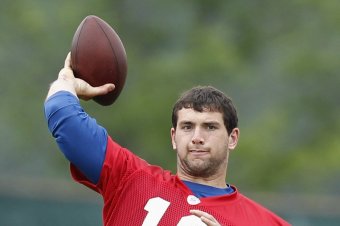 Joe Robbins/Getty Images
Quarterbacks will always dominate the voters' minds, but there are more interesting players down the list.
Trent Richardson comes in at +350, and he has the right kind of situation to put up absurd rookie numbers. If Richardson is in any way a better player than Peyton Hillis was, then the Browns' shiny new running back could put up monster numbers behind a very good offensive line. He has good value at +350.
Sleeper: The most intriguing receiver is probably Alshon Jeffrey. Once considered to be a top-10 pick, Jeffrey slid all the way into the second round to the Bears after questions of conditioning and work ethic. Since then, Jeffrey has shed a lot of weight and looks to be ready to contribute in a massively successful way.
He'll be lining up out wide across from Brandon Marshall, and Jay Cutler loves to take chances. That could mean big numbers. At +2,000 that makes for a better risk than equivalent receivers like A.J. Jenkins, Kendall Wright and Reuben Randall, who all face depth difficulties or quarterback disparities.
Player to Avoid: Do you trust Mark Sanchez? Neither do I. That makes Stephen Hill at +1,500 a scary proposition. The Jets love the ground-and-pound, and while Hill may be extremely talented, he is also extremely raw.
The Sanchize doesn't make me feel any better about it, especially since the calls for Tim Tebow will be roaring throughout all of New York. A receiver winning Rookie of the Year on his ability to block down field? Yeah. I didn't think so either.
Defensive Player of the Year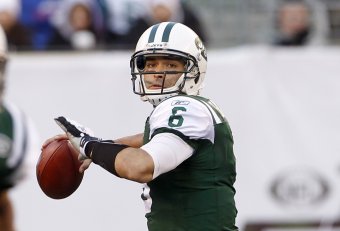 Rich Schultz/Getty Images
The defensive rookies this year are a lot more scattered than last year's. Last year featured Patrick Peterson, Von Miller and Marcell Dareus dominating the top of the board and a huge drop-off after that.
This year Morris Claiborne and Luke Kuechly are given the best odds at +700 to walk away with the trophy. That's a far cry from the +200 range the quarterbacks were given.
Claiborne is an elite talent and will have the spotlight on him in Dallas. He will also have the benefit of playing across from very good press corner Brandon Carr as well.
However, cornerbacks have one of the hardest transitions to the NFL game, and almost always start the first half of a season slowly. Claiborne is also expected to shadow No. 1 receivers, something that I trust no rookie to do. Furthermore, cornerbacks aren't exactly the most popular defensive rookies of the year. The last one selected was in 1998, when Charles Woodson entered the league.
Kuechly enters a very good situation in Carolina. The Panthers defense was so atrocious last year (and featured a historical string of injuries) that the return of players like Jon Beason will help Kuechly look even more tremendous.
Linebackers are also by far the most often selected rookies. Since the year 2000, 10 out of the last 12 defensive rookies of the year have been linebackers. The Panthers defense is likely to improve, and Kuechly is a tackling and interception machine. I like him as the odds on favorite, and at +700 he is not only the most likely Rookie of the Year, but also a great value considering those odds should be higher.
Who is the most likely DROY?
Courtney Upshaw is in a unique position to make a run at defensive rookie of the year. Reigning Defensive Player of the Year Terrell Suggs tore his Achilles this offseason. The Ravens' defensive stud leaves a gaping hole in their system. And while Upshaw slid to the second round because of his shorter arms and physical stature, everyone should be reminded that Suggs slid for the same reason.
The Ravens know defense, and they still have one of the best front seven in football. Upshaw will see the field early and often. The Ravens rarely get their defensive picks wrong, and Upshaw has a very real chance to be the rookie sack champion, which often leads to Rookie of the Year. He is currently listed at +750.
Sleeper: The Jets defense may have slipped in the last couple of years, but a lot of that has to do with their lack of dominance upfront. Quinton Coples at +1,500 gives a great combination of dollar potential and a system that could make him shine.
Coples has lots of questions and is probably the largest bust prospect in the first round. But for a player of his capabilities and in Rex Ryan's system, he should not be listed at +1500.
Player to avoid: The Buccaneers defense was so God-awful last year it made me wonder why they even walked on to the field. That gives players like Mark Barron a chance to make a significant impact, but the problem is that it's at the safety position.
Safety simply isn't sexy. At +1,200 he's one of the higher favorites out there, but a safety hasn't been named Rookie of the Year since 1990. I wouldn't touch a safety for rookie of the year, even he was drafted in the top 10. Eric Berry had a phenomenal year in 2010, making the Pro Bowl, and did not even receive a single vote.
This article is
What is the duplicate article?
Why is this article offensive?
Where is this article plagiarized from?
Why is this article poorly edited?