Report: NFL Could Have Los Angeles Franchise As Soon As 2013 Season
June 30, 2012

Chris Trotman/Getty Images
According to Sam Farmer of the Los Angeles Times, NFL commissioner Roger Goodell sent out a memo to all 32 NFL franchises today and revealed that an NFL franchise could apply to relocate to Los Angeles as early as the beginning of the 2013 season.
The memo was meant to outline the proper procedure for teams looking to make the move but also revealed that more than one team could move to Los Angeles, according to the Associated Press (via ESPN.com): "The league is satisfied with its current 32-team setup, although expanding to include one—or two—teams in L.A. is still possible."
Goodell believes that if two teams want to make the move to Los Angeles, a shared stadium similar to what the New York Giants and New York Jets have would be the best course of action:
Given that simultaneous league-wide investment in two stadiums in the same community is unlikely, we believe that the best approach will be a single site where an iconic facility could credibly both host two teams and provide ancillary entertainment and development opportunities.
Goodell made it a point in the memo to stress that individual teams will not make the final decision—that the relocation process is ultimately in the hands of the NFL itself. To meet the application guidelines, teams must have an alternative site to play while a new stadium is created and, of course, have a new stadium deal in place.
The L.A. Times article lists several NFL franchises that should be interested in the new application process—the San Diego Chargers, Oakland Raiders, St. Louis Rams and Jacksonville Jaguars.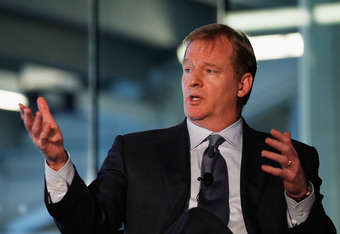 Mike Stobe/Getty Images
All the teams listed have had issues selling tickets or simply being competitive. Moving any of these franchises to a larger market that would potentially make that market stronger makes sense not only for the individual teams, but also for the NFL itself.
The ultimate goal for the NFL is to have a successful transition to one of America's biggest markets, as Goodell reiterated in the memo (per Yahoo! Sports):
The overall goal, as we have frequently said, is to ensure that any league re-entry to the Los Angeles market is as successful as possible, both for the club or clubs that will play there and for the league as a whole.
In the end, an NFL franchise moving to L.A. as soon as 2013 seems unlikely unless a team is extremely serious about moving as soon as possible.
Still, the fact that the option to move is open as early as 2013 shows just how serious Goodell and the NFL are about moving at least one franchise to Los Angeles sooner rather than later.