Breaking Down the Best and Worst of NFL 100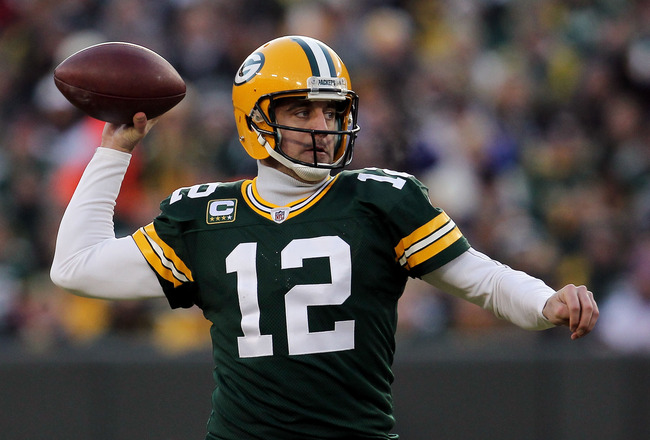 Jonathan Daniel/Getty Images
Ever since the National Football League released their list of the top 100 players of 2012, as voted on by the players, sportswriters and fans across the country have applauded some selections, derided others and wondered why some standouts weren't included on the list at all.
I've never been averse to piling on, so here's one man's award-style look at the best and worst from this year's list, which named Green Bay Packers quarterback Aaron Rodgers the league's top player.
Biggest Omission: Vincent Jackson, WR, Tampa Bay Buccaneers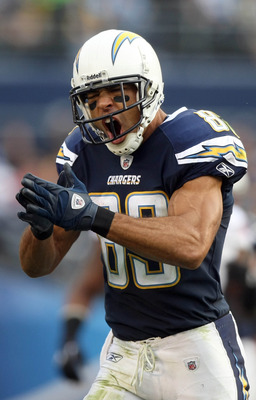 Donald Miralle/Getty Images
Granted, Tampa Bay Buccaneers wide receiver Vincent Jackson isn't going to win many popularity contests.
The possibility that the eighth-year veteran may have rubbed some of his teammates and opponents the wrong way over the years may be a large part of the reason why Jackson found himself left off a list voted on by those same players.
However, Jackson's 1,106 receiving yards in 2011 was the third time in four years that he's crossed the 1,000-yard mark, and wideouts with much less impressive career resumes, such as A.J. Green of the Cincinnati Bengals, made the cut.
For the record, Jackson had five fewer catches, but more yardage and scores in 2011 than Green did.
Honorable Mention: Robert Mathis, DE/OLB, Indianapolis Colts
Most Underrated Player: London Fletcher, LB, Washington Redskins (No. 87)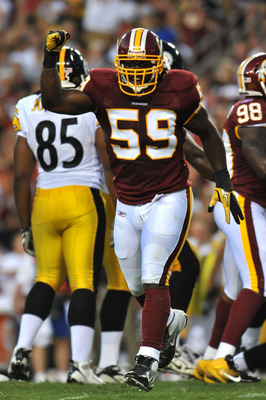 Larry French/Getty Images
What does London Fletcher have to do to get some respect in the NFL? Play both ways?
I guess it's not that big a deal that the 15th-year veteran only rated 87th on the list of the top 100 players in the NFL.
I mean, it's not like Fletcher had more tackles in the National Football League from 2000-2009 than any other player, or that he's averaged more than 140 tackles a season over the past 11 years while not missing a single game over that stretch.
And even taking that into consideration, it's not like he led the NFL in tackles in 2011 with 166.
Oh wait, that's right; he did all that stuff.
Honorable Mention: Joe Thomas, OT, Cleveland Browns (#82)
Most Overrated Player: Vonta Leach, FB, Baltimore Ravens (No. 45)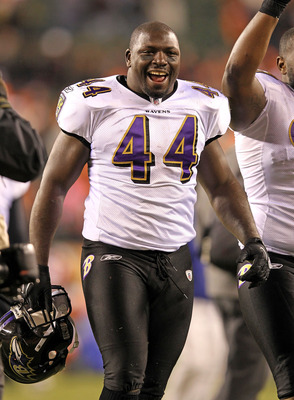 Andy Lyons/Getty Images
Before I go any further and Baltimore Ravens fans start looting their closets for the pitchforks and torches, let me preface this by saying that Vonta Leach is probably the best fullback in the National Football League, capable of opening huge holes for tailback Ray Rice.
Also, I fully believe that there's room on this list for fullbacks. Even though they may be a dying breed in the NFL, I miss the days of good old I-formation smash-mouth football.
That said, ranking Leach ahead of the likes of Atlanta Falcons tight end Tony Gonzalez, offensive tackle Jake Long of the Miami Dolphins and Falcons wide receiver Roddy White is just flat out of whack.
Honorable Mention: Champ Bailey, CB, Denver Broncos (No. 46)
Not in Top 10 but Should Be: Eli Manning, QB, New York Giants (No. 31)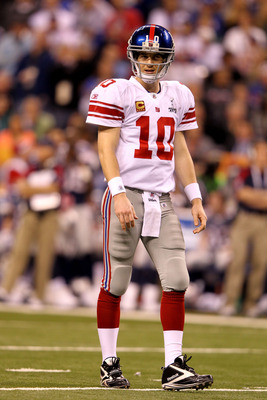 Jamie Squire/Getty Images
Given that quarterbacks have won every conceivable award in the NFL besides defensive player of the year (don't worry; it's coming), one would expect the top 10 of the NFL Top 100 to be littered with quarterbacks.
Sure enough, three of the top four players on the list are signal-callers.
However, you won't find New York Giants quarterback Eli Manning among the top 10, or even the top 25.
The ninth-year veteran threw for nearly 5,000 yards and 29 touchdowns last season.
That was before Manning led the Giants on a magical postseason run that culminated in his being named MVP of Super Bowl XLVI, the second time in five years he's achieved that honor.
Remind me, how many of the quarterbacks ranked ahead of him won the Super Bowl last year?
Honorable Mention: Jared Allen, DE, Minnesota Vikings (No. 13)
In the Top 15 but Shouldn't Be: Andre Johnson, WR, Houston Texans (No. 15)
Bob Levey/Getty Images
This one's likely going to get some tomatoes tossed my way, so here goes the prefacing again.
When he's on the field, Houston Texans wide receiver Andre Johnson is one of the premier players at his position in the NFL.
Johnson has topped 1,000 receiving yards in three of the past four seasons, including racking up over 1,500 yards and 100 catches in 2008 and 2009.
The problem is that "on the field" thing. Johnson has missed 10 games over the past two years due to injuries, including almost half of last season.
That isn't a knock on the player or his ability, but if you're going to be called one of the top 15 players in all of the National Football League, then durability has to be one of the factors taken into consideration.
Honorable Mention: No one. I had a hard enough time reconciling the Johnson pick. The rest of the top 15, while I may not agree with the order in which they're listed, are all fantastic players worthy of recognition.
Keep Reading