10 Great Press Conference Moments from NFL History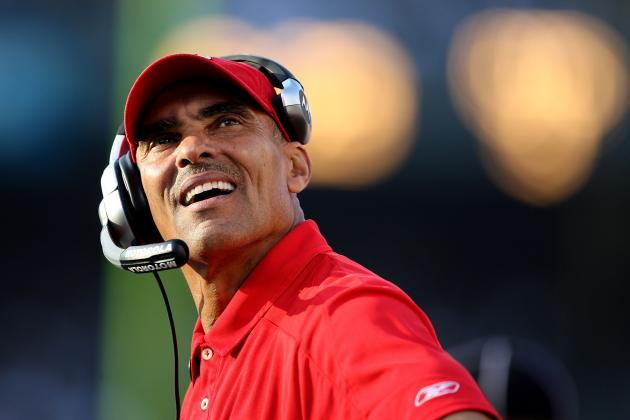 Jed Jacobsohn/Getty Images

Most coaches and players do not enjoy interacting with the media. They know if they come in angry or too elated, there is the possibility of creating an unfortunate memory that will be publicly available forever.
Normally, great means better than good. The subject of the adjective has a transcendent quality that lifts it above all others.
However, there are other interpretations.
Occasionally, something is great because it is interesting, funny or just plain weird.
Enjoy these great moments in NFL press conference history.
Begin Slideshow

»
Denny Green used to coach the Arizona Cardinals back when they were the Arizona Cardinals.
They were perfect fodder for comedy.
Green took it to another level after his team lost to the eventual Super Bowl runner-up.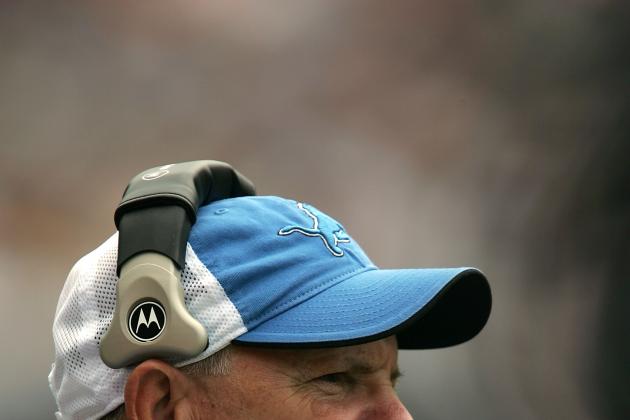 Jonathan Daniel/Getty Images

Rod Marinelli captained the worst professional sports season of all time. The Detroit Lions failed to win a single game in 2008.
That did not stop him from dropping a historical press conference gem( via www.draftcountdown.com):
You're in this dark tunnel and you've got no way out. You're waiting for light, and you see that light, what do you do? What do you do? You start digging and getting out. ... I've always believed you stay in the tunnel and you keep digging when you expect no light.
You have the same faith when you expect no light. You have the same belief in what you're doing when you expect no light. ... It's dark and I'm going to dig through. My shovel is sharp and my pick is sharp and my will is outstanding.
Well, Marinelli did manage to stay positive throughout the year. That is pretty outstanding.
This video needs no introduction.
If you haven't seen Jim Mora talk about the Indianapolis Colts' playoff chances, pinch yourself. You're probably not alive.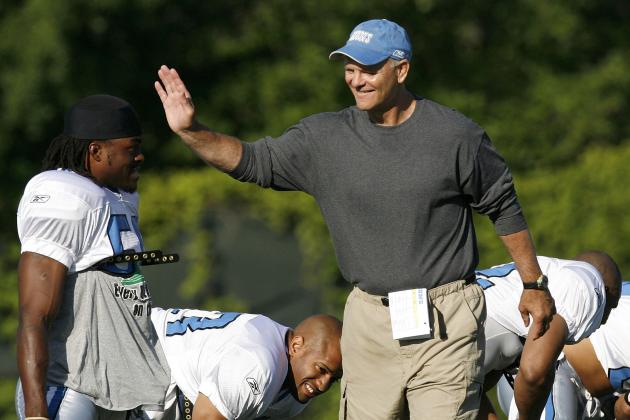 Gregory Shamus/Getty Images

Rod Marinelli makes his second appearance on this list. But this one isn't his fault.
Rob Parker, former reporter for the Detroit News, knew that Marinelli's son-in-law was the defensive coordinator for the Detroit Lions.
He also knew that the Lions' defense was pitiful.
Parker decided the most pertinent question for this public event was to inquire about the mate-selecting qualities of Marinelli's daughter. Specifically, if he wished she had found a better defensive mind to marry.
The video can be seen here.
New York Jets head coach Rex Ryan had an unfortunate video leak onto the internet, the contents of which suggested that Ryan had a certain affinity for feet.
Wes Welker couldn't pass an opportunity to have a little fun at Ryan's expense.
Enjoy.
Rod Marinelli isn't the only coach who entertained more after the game than during.
Herm Edwards' tenure with the New York Jets was rocky considering he ended with a 39-41 record.
Regardless, he left his team with an immortal message: "You play to win the game!"
Jim Mora never won a playoff game, but he was certainly the reigning king of the soundbite during his NFL tenure.
Suffice it to say that when it came to media relations, Mora was much more than "diddley poo."
The '90s were a simpler time. If Bill Parcells said this today, Roger Goodell would probably have him publicly flogged.
"Consider yourself sucked."
Bill Callahan proves the rule after the exception that was Bill Parcells.
Usually, it's the frustrated coaches of losing teams who provide the best commentary. Callahan is no different.
After another game where the Oakland Raiders racked up too many penalties, Callahan informed the world about the intellectual level of his team.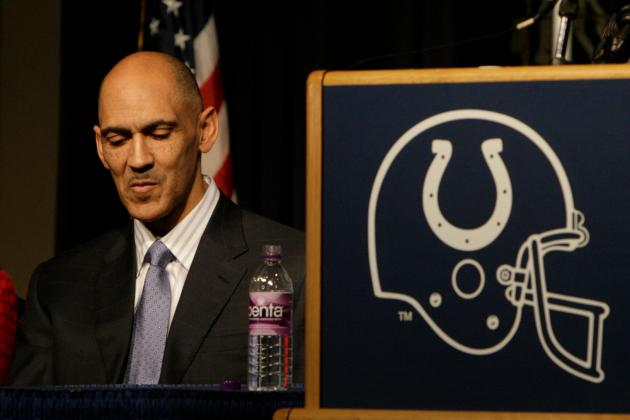 Ron Hoskins/Getty Images

Let us end with a positive moment.
It's difficult to watch ten minutes of Jim Irsay talk, but the payoff is worth using the fast-forward button.
You can feel the raw emotion dripping from Bill Polian's voice as he talks about the outgoing coach. The impact that Tony Dungy had on the Indianapolis Colts and their personnel is obvious.
There are many retirement press conferences that could take this spot. However, none did it better than Dungy.
Check out the video here.