Logan Thomas Has Work to Do Before He Can Be the Top 2013 NFL Draft Quarterback
June 27, 2012

Matthew Stockman/Getty Images
Teams are going to talk themselves into loving Logan Thomas come draft time, whether it's in 2013 or 2014 (it'll be 2013). His scouting report has to begin with his ideal size. Thomas' 6'6", 254-pound frame gives him the ability to see more of the field and makes tackling him a formidable task for even a defensive lineman. 
He has good arm strength and an easy over-the-top delivery, and Thomas is also a plus athlete for such a big quarterback. He's already a better prospect than Brock Osweiler, who went in the late second round this year. If Thomas has a season that makes him want to declare for the draft as a junior this year, surely he'll be a first-round-rated prospect. He'll be in the No. 1 overall discussion because of his size, arm and athleticism, but to really deserve to go that high, Thomas will need to improve in at least two major areas.
For this article, I used the tape of Thomas against Michigan in the 2012 Sugar Bowl. Michigan was a top-10 scoring defense among FBS teams, so this is a good test to see exactly where Thomas is at this point in his development.
Some of the issues that can be addressed by a more complex scheme include less reliance on Thomas as a running quarterback, more consistent footwork, asking Thomas to go deeper into his progressions before leaving the pocket and more work on play fakes to tighten up his execution.
There are two larger issues with Thomas' game that have to improve independent of the scheme he is running. 
Deep Accuracy
Thomas has a lot of problems in this game with his deep-ball accuracy. Early in the game, he gets a clean pocket so he can unleash an unencumbered bomb to Danny Coale: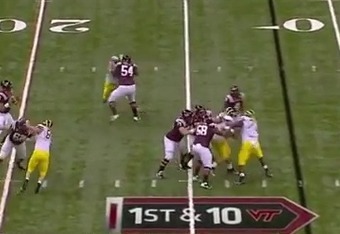 Coale is able to get wide open with a double move, and Thomas has a ton of room to lead Coale inside for a long gain, if not a touchdown: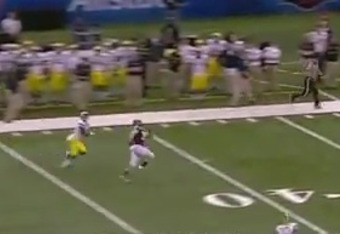 Instead, Thomas overthrows Coale by about five yards and leads him to the outside, back into coverage and forcing Coale to contort his body to even make an attempt to run to the ball: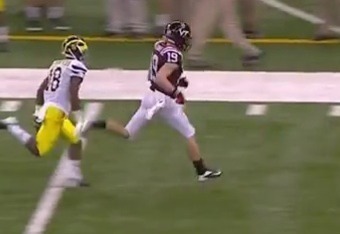 Later, Thomas spots Marcus Davis open deep, but again throws too far to the outside. Davis is out of bounds when he catches the ball: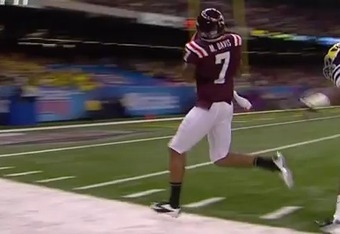 In overtime, Thomas literally throws away a chance to win or at least extend the game. Coale is open in the end zone on third down: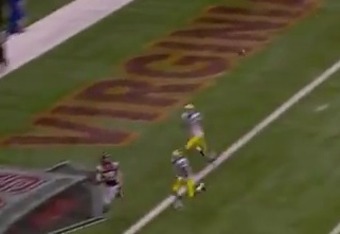 Thomas misses too far to the outside yet again, and an amazing effort by Coale to somehow reel the ball in goes for naught when he lands slightly out of bounds: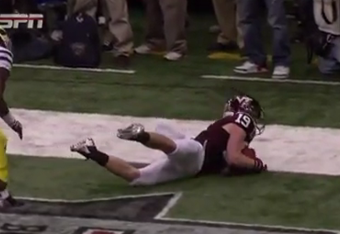 Thomas didn't connect on any deep balls in the game, which squanders his ability to keep a defense on its heels with his running ability and keep plays alive by shrugging off pressure. Closely watch this aspect of his game for improvement this season.
Decision-Making
Thomas is a big quarterback. He can get away with more because he can create passing lanes with his height and over-the-top delivery. You can see exactly what he sees here trying to hit an open receiver in the flat: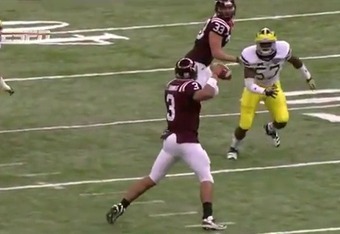 Thomas trusts his height too much, throwing a flat pass instead of a touch pass with some arc to get safely over the pass rushing defender. Here is the result: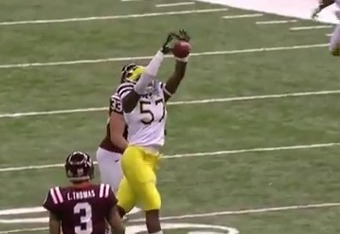 On this play, Thomas has a receiver open at the 40-yard line while he rolls out: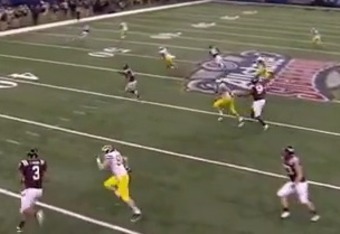 He ends up pulling the ball down and being tackled by the defender bearing down on him: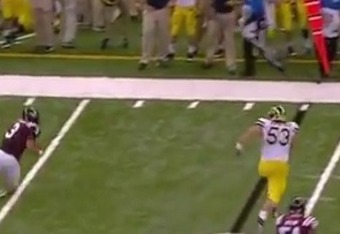 Thomas is a prodigious natural talent at quarterback, but he trusts that talent too much. If he is going to evolve into a quarterback who deserves to go in the Top 10, he'll need to rely on that talent less, on his teammates and a more nuanced approach to breaking down a defense more often in his junior season.