Ranking Baseball's 25 Most Awesome Bobbleheads of 2012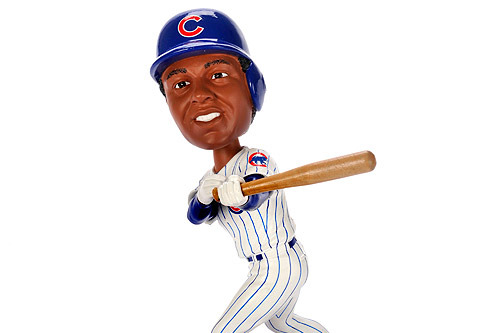 If there's one piece of baseball merchandise we have an unnatural obsession with, it's bobbleheads. I don't know what it is about them, but fans will spend glorious amounts of money on these trinkets of our national pastime and adorn their shelves, desks and homes with them.
I've never collected them myself, but I can still appreciate why people enjoy them. I don't know what it is about bobbleheads, but they're just kind of cool.
Earlier this month, I did a short piece on the worst bobbleheads in baseball history. Now, it's time to do a 180 and look at the 25 best of 2012.
All photos via shop.mlb.com.
Begin Slideshow

»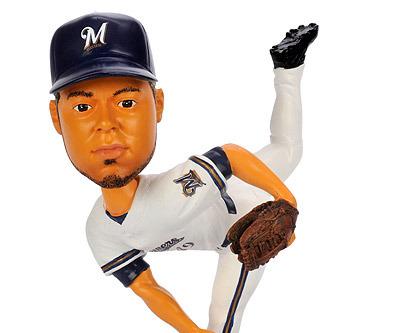 Buy this bobblehead, or this strangely accurate depiction of Gallardo's intense stare will haunt your dreams and hurl 94 mph fastballs at you!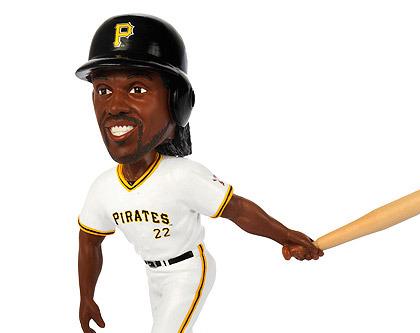 My dad is a huge Pittsburgh Pirates fan and has a man crush on McCutchen, so Father's Day shopping was pretty easy this year. I just wish that the figurine also played the theme from Shaft, since the five-tool outfielder is becoming the epitome of cool in the Steel City.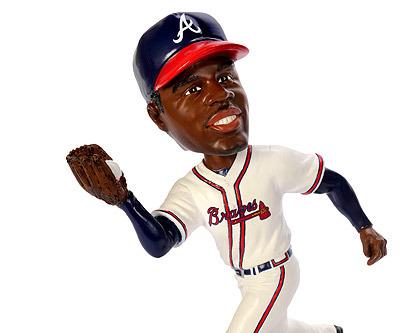 Well, ladies and gentlemen, it appears that we've found the next Ken Griffey, Jr., at least in terms of facial features.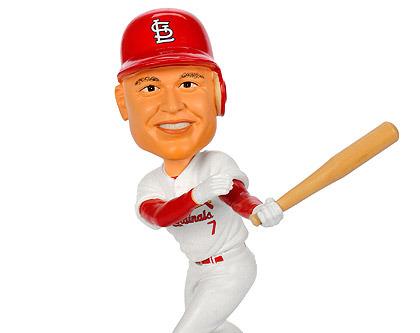 I don't recall ever seeing Holliday have that big a grin on his face, but what does it matter? The fact remains that it's a good bobblehead and is extremely heartwarming.
Put this one on your desk, and a long dreary day instantly makes you smile.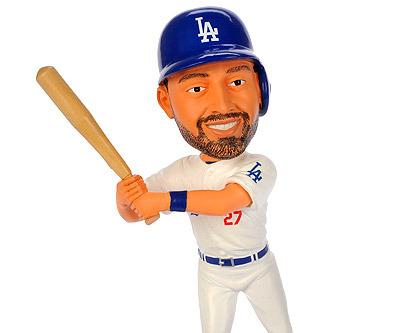 Kemp may have missed a good chunk of this season, but this bobblehead still has plenty of reason to smile.
Frank McCourt is out as owner, Magic Johnson is in and the Dodgers are in first place? I'll take it!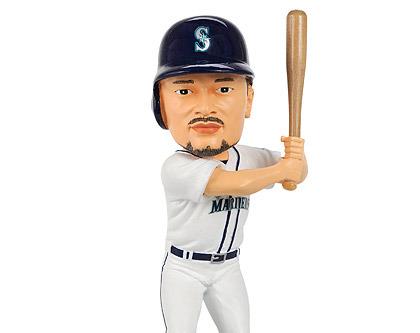 Ichiro doesn't care if he's hitting an oddly low .273. He'll still stare you down both at the plate and on the bobblehead shelves.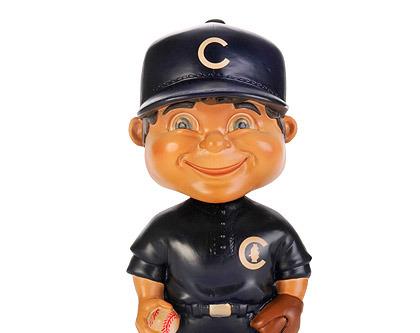 Come on, people. How can you look at that face and NOT want to buy this?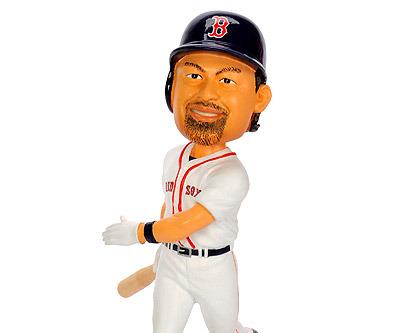 This bobblehead of A-Gon has plenty of reason to smile, if you ask me.
"Youk is gone...I don't have to play right field anymore!"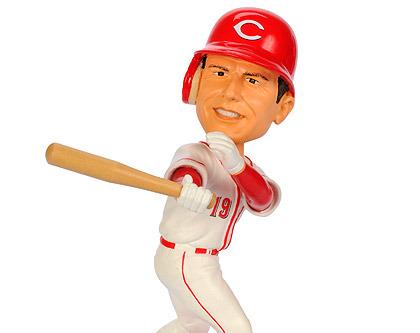 Personally, I love this Joey Votto bobblehead, especially how the bat is pointed in an odd direction. It's as though Votto is pointing at a fielder and saying, "Hey...I'm hitting the ball over to you, so watch out and be ready!"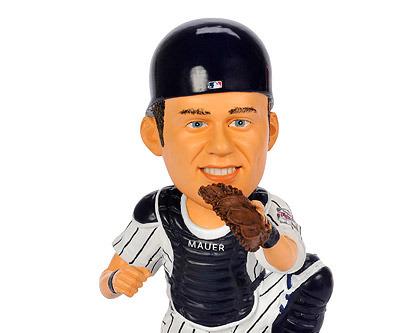 Mauer, a Minnesota native, gives us a great shot of Midwestern charisma with this bobblehead. Look into those ceramic eyes, and you just want to go meet him at the lake to go fishing.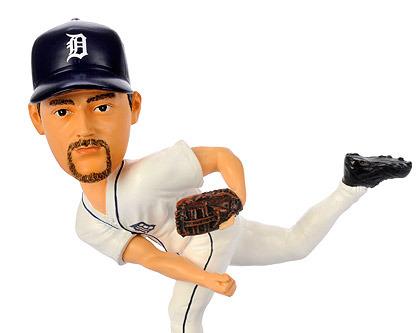 OK, so maybe Verlander doesn't have THAT defined a goatee. Still, the intense stare is enough to keep giving me nightmares about my beloved New York Yankees facing him and his blazing fastball.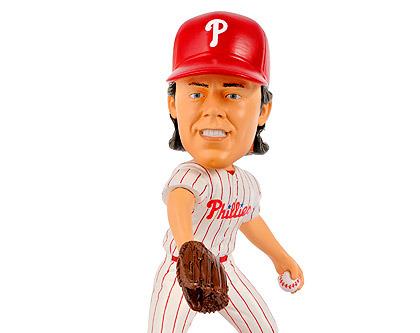 The perfect combination of rock 'n' roll and chipmunk-like innocence, it's hard to read the face of this Hamels figurine. Could it be grinning in anticipation of a strikeout?
Or maybe it's daydreaming about the new lucrative contract that Hamels will sign this offseason?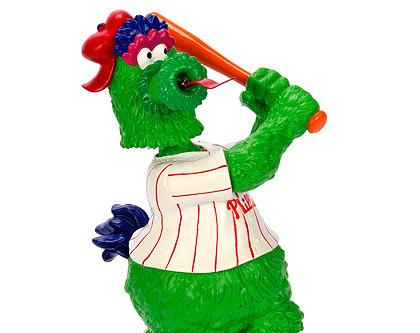 I don't care that the Phanatic may look like a muppet on crack. He's still one of the most beloved mascots in baseball history.
Thus, what's so great about this bobblehead? Well, just look at how intensely the Phanatic is staring out into space post-swing. It's as though he's saying, "Yup...got all of that one."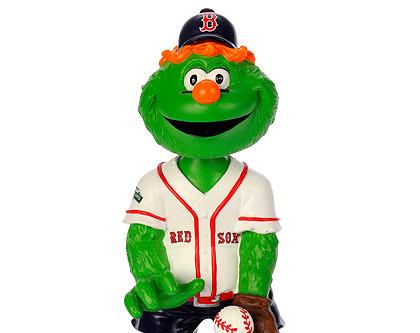 Suddenly, Wally makes the catch and says, "No, Phanatic. I'VE got all of this one!"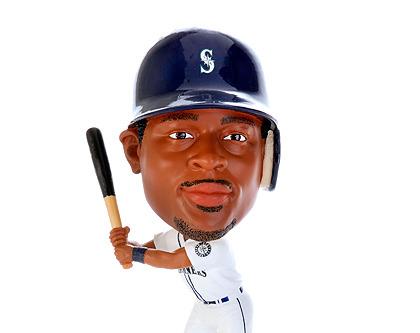 Well, I guess we've found one positive thing to say about Figgins and his .191 batting average.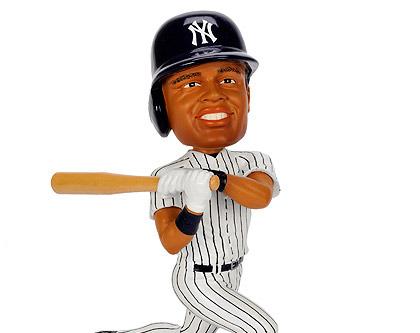 Cano is starting to heat up at the plate, and with the face on this bobblehead, I'm guessing that it represents the All-Star second baseman's inner voice after hitting a home run.
"Yup...did it again!"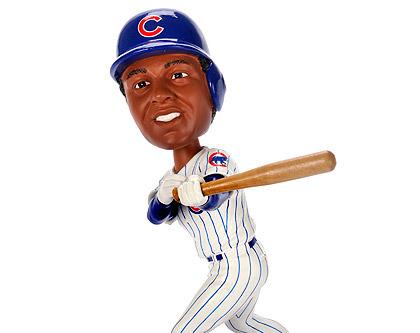 Castro is one of the most eager hitters in baseball, and his OBP shows it. Then again, whoever made this bobblehead captured said eagerness perfectly, so I say we just embrace it.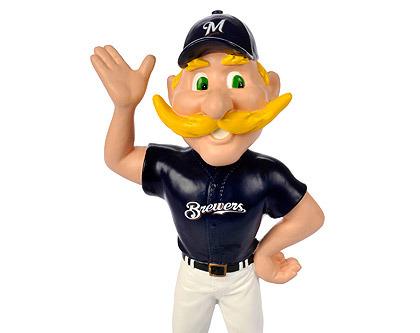 Because, honestly, who DOESN'T love Bernie the Brewer?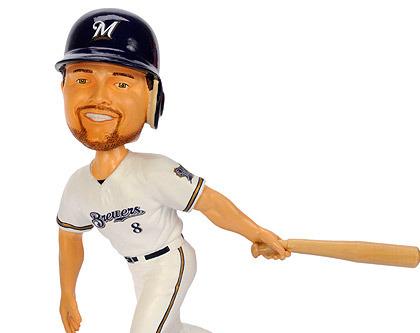 Again, I don't recall Braun having as much facial hair as the bobblehead depicts, but it's still an awesome piece of merchandise. The swing is captured perfectly, and so is Braun's wonderfully laid-back Southern California smile.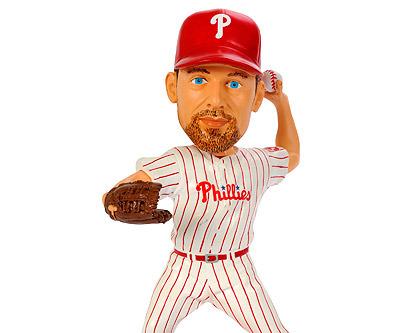 Something tells me that if Lee puts this creepily realistic bobblehead in his locker, he might actually win a game this year.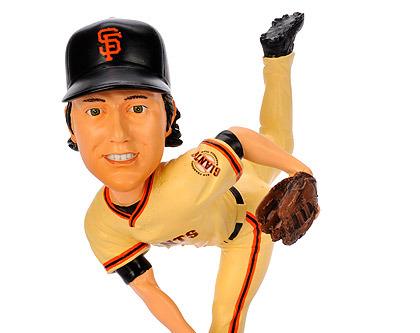 The same can be said for Lincecum, who is having the worst season of his career thus far. Still, despite that, you can't help but adore the face on his bobblehead.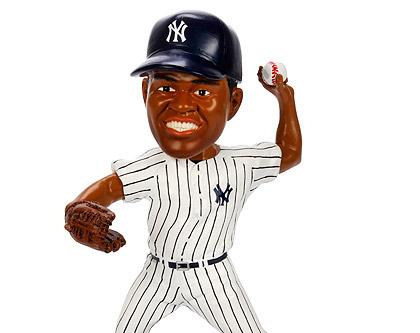 Even though Sabathia's features are a wee-bit exaggerated on this bobblehead, it's a riot trying to figure out what the face is saying.
Personally, I'm guessing it's thinking, "Tee-hee...I'm gonna strike you out now!"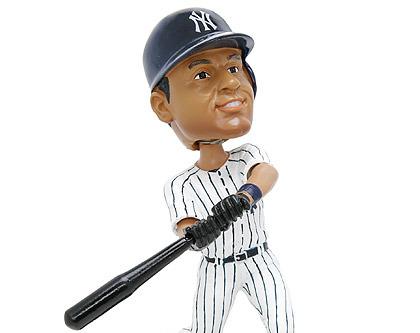 Gotta love the smile on this Jeter bobblehead. From the perfect features to the near-perfect depiction of the swing, it's hard to find anything wrong with it.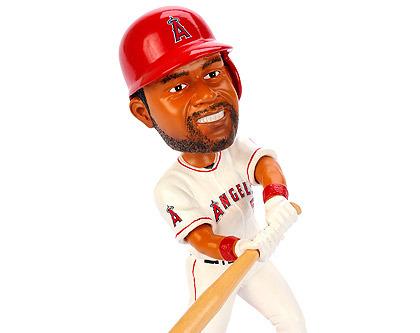 Pujols' bat has been warming up lately, and I'm guessing it's because he stopped being so intense at the plate and started unleashing this huge and goofy smile on the inside.
As someone who owns him in a fantasy league, I have one thing to say: keep it up!
I'm not a Giants fan by any means, but I went ahead and bought this bobblehead the moment I laid eyes on it. But seriously, ladies and gentlemen, can you blame me?
I mean, come on. Look at those sad eyes and that adorable batting stance!