2013 NFL Draft Prospects the Arizona Cardinals Should Be Scouting Now
June 25, 2012
Stephen Dunn/Getty Images
Even though the 2013 NFL draft is 10 months away, it's never too early to see who's out there and could be a help to the Arizona Cardinals.
We'll take a look at a quarterback, a pair of running backs, a pair of defensive linemen and two offensive linemen.
Matt Barkley, QB, USC
Matt Barkley looks to be the No. 1 overall prospect for the 2013 NFL draft. He comes from the same USC program that produced Carson Palmer, Matt Leinart and Mark Sanchez, and all three of them were taken by the 11th overall pick. Barkley looks to be no exception to the lineage of top-tier Trojans at the draft.
Last season he threw for 3,528 yards 39 touchdowns and only seven interceptions. If the Cardinals' 2012 campaign becomes a total disaster, Barkley should be given a strong look to stabilize the quarterback position.
William Gholston, DE, Michigan State
Yes, he is the cousin of first-round mega bust Vernon Gholston of the Jets, but don't let that jade William's potential. He stands 6'6'' and is 278 pounds. Gholston has the size and strength to be an outside defensive end in the NFL.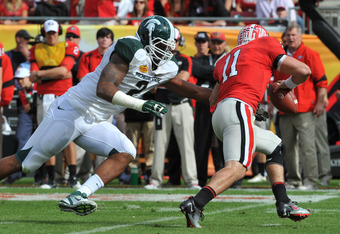 Al Messerschmidt/Getty Images
With 70 tackles as a sophomore including 16 for losses and five sacks, Gholston can break up plays in the backfield for negative yardage.
You can never have too many super-sized monsters on the defensive line, and Gholston would be a nice compliment to Calais Campbell, especially on special teams.
Margus Hunt, DE, SMU
Here's a real prospect not many people have heard of but is definitely worth looking at. Margus Hunt was born in Estonia and won gold medals in the 2006 World Junior Championships in discus and shot put.
In addition to his strength, Hunt is freakishly large at 6'7'' and 288 pounds. He's is amazingly quick, having turned in a 4.70 40-yard dash. He also has a 36-inch vertical, which led to him blocking 14 kicks in three seasons at Southern Methodist.
Hunt, like Gholston, brings size that can't be coached. Either would be a great addition to the defensive line. 
Jake Matthews and Luke Joeckel, OT, Texas A&M
Both Jake Matthews and Luke Joeckel are offensive linemen for the Aggies. Texas A&M was 10th in the nation with 6,373 yards of offense in 2011.
Ronald Martinez/Getty Images
They were also key parts of the line that blocked for quarterback Ryan Tannehill. Tannehill went eighth overall to Miami in the 2012 NFL draft, so Joeckel and Matthews should be solid picks in 2013.
Both are considered top-five prospects on the offensive line and should be heavily scouted. In the last two seasons, Arizona allowed 104 sacks. If the 2012 draft class doesn't help to resolve that issue, Matthews or Joeckel should be looked at to help out. 
Montee Ball, RB, Wisconsin
Here's another player who chose to stay in school for his senior season. At 5'9'' and 212 pounds, Ball is an elite back prospect. Last season, he put up 2,229 all-purpose yards and 39 touchdowns. The 39 touchdowns tied Barry Sanders' record-setting effort in 1988 with Oklahoma State.
He's not afraid to run it up the middle or go over the pile and is also comfortable bouncing to the outside as well. His explosiveness makes him a threat on every play.
When you come across a running back who had an eye-popping seven games with at least three touchdowns each, he should be getting a very close look. Ball was a finalist for the Heisman Trophy and the Doak Walker Award.
Arizona took Ryan Williams as a running back in the second round in 2011. They could find gold with Ball in the 2013 draft.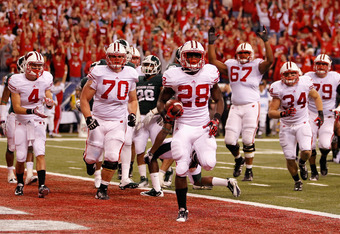 Gregory Shamus/Getty Images
Rex Burkhead, RB, Nebraska
The Cornhuskers' Rex Burkhead could be a late-round pickup to benefit the Cardinals. Last season, he had 1,269 rushing yards and 15 touchdowns with another two receiving touchdowns.
Burkhead is another back who loves to make his living between the tackles yet has the speed to break it outside and make defenders miss. Burkhead is also a threat to come out of the backfield and catch passes as well. That extra dimension could give Arizona another valuable weapon in the passing game.
It's still 10 months to the draft and no one knows for sure how 2012 will play out. When all is said and done, the Cardinals should be scouting the players in this article in preparation for the 2013 NFL draft.