Fantasy Football Busts 2012: 10 Players to Avoid on Draft Day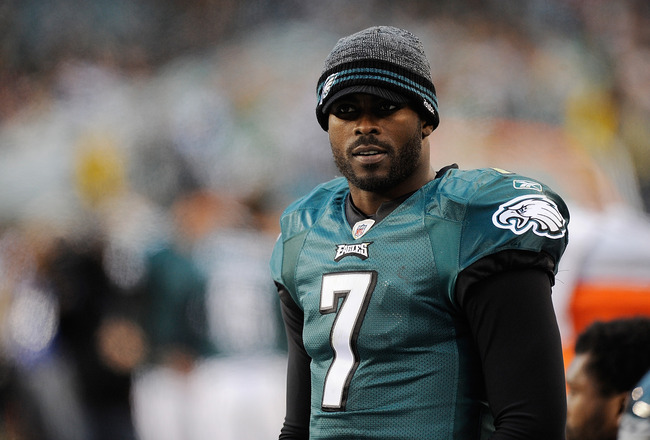 Patrick McDermott/Getty Images
We already looked at the fantasy sleepers for the 2012 season; now is where we look at the busts.
These are the players that you simply do not reach for on draft day or just end up avoiding them all together and let another owner take the risk. These players could be on this list because of injury history, competition at the position, potential holdouts or the player is just on the decline of his career.
Whatever the reason may be, players like this must be drafted with severe caution.
As you get ready for your fantasy drafts, here are 10 busts that you might want to consider avoiding.
Laurent Robinson, WR, Jacksonville
Al Messerschmidt/Getty Images
Laurent Robinson had his best season of his career in 2011, hauling in 54 passes for 858 yards and 11 touchdowns. He had seven games of at least 60 receiving yards and finished eight games with at least one receiving touchdown. He looked really sharp and showed he could truly be a valuable fantasy option in 2012.
The problem is that he is no longer on Dallas. He plays for the Jacksonville Jaguars, a team with a young quarterback in Blaine Gabbert, who didn't exactly light things up his rookie season. Robinson also doesn't exactly have the best track record, being nonexistent to fantasy owners his first four seasons of his career. Not to mention that rookie wide receiver Justin Blackmon should get a ton of targets this season as well.
Dallas is a team that throws the ball for a ton of yards. (Have been ranked inside the top 10 in passing yards since quarterback Tony Romo has been the starter.) I think he was somebody who was just in the right situation, which is no longer the case now that he is a Jaguar. Robinson could very likely be this year's Patrick Crayton.
Jahvid Best, RB, Detroit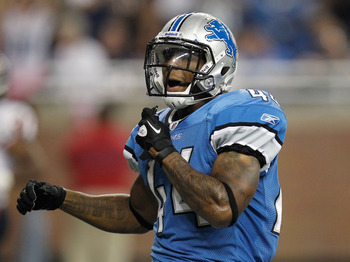 Gregory Shamus/Getty Images
I really liked Jahvid Best coming out of college, but do not like him at all heading into the 2012 fantasy season. He has talent to become one of the top playmakers in the league, but cannot seem to stay healthy at all.
Best suffered a nasty concussion in college, had two more last season that cut his season 10 games short and was also dealing with a turf-toe injury. He is really just one good lick away from possibly being knocked out of the league if he isn't careful.
The third-year runner is a speedster, who is also extremely valuable in PPR leagues (85 career receptions in just 15 starts). But for somebody that is likely going to be drafted before the 10th round, I would like to feel a little bit more comfortable that my player will be able to remain on the field for most of the season. Let somebody else take the risk.
Adrian Peterson, RB, Minnesota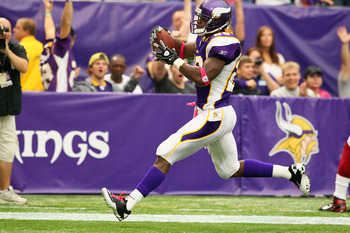 Adam Bettcher/Getty Images
Speaking of injuries, everyone is wondering if Adrian Peterson is going to be his normal self when the season begins. He tore his ACL and MCL in Week 16 against the Washington Redskins, which means he has had barely seven months to recover from his surgery.
Now, I am no doctor, but those injuries sound pretty serious, and according to medicinenet.com, it takes nine months or more to rehab just from an ACL injury alone. It also says that if you are too aggressive, you could end up damaging the ligament once again.
We all know Peterson is arguably the best back in the NFL when he is completely healthy. There are also reports that he seems completely fine already, outrunning some of his teammates in workouts. But if I can't get him in the late second round or later, I will let somebody else take the gamble.
This injury is no joke, and backup Toby Gerhart should get his fair share of touches, regardless of how healthy Peterson is. Let's also remember that the Vikings have limited weapons at wide receiver, making it easier for defenses to focus on the running game. They also play their home games on synthetic turf, which isn't exactly a great surface when we are talking about a knee injury.
Michael Turner, RB, Atlanta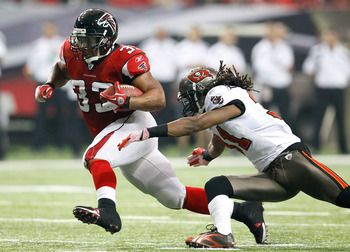 Kevin C. Cox/Getty Images
Believe it or not, Michael Turner is entering his ninth year in the league, and he recently turned 30 years old. We all know what happens to running backs once they hit that age, as there have only been 37 cases of double-digit touchdowns and 44 times a running back 30 years or older has rushed for 1,000 or more yards. Only 11 players in the history of the league have done both in one season once turning 30.
Turner has been the workhorse for the Atlanta Falcons the last few seasons, carrying the ball more than 300 times in three of the last four years. There are quite a bit of miles on those legs if you ask me.
He is coming off another successful year, (1,340 rushing yards and 11 touchdowns) and has done a good job of staying healthy throughout his career, but neither father time nor history is on the Falcons' starting running backs side in 2012.
Fred Jackson, RB, Buffalo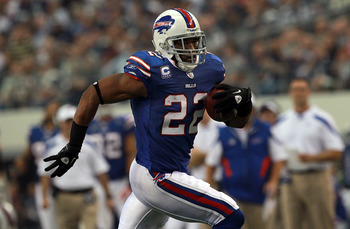 Ronald Martinez/Getty Images
Speaking of 30-year-old running backs, Fred Jackson is 31 years of age, and while he may only have five seasons under his belt, he hasn't exactly had a clear bill of health. Jackson is coming off an injury that forced him to miss six games last season. He also received a big contract he was hoping for, which hasn't exactly helped running backs value in the fantasy world.
Another reason why I don't particularly like Jackson this season is the competition with C.J. Spiller. He had a solid season last year in limited action, averaging over five yards a carry, scoring six touchdowns and hauling in 39 passes. With his explosive and big-play ability, you can bet that Spiller will have an expanded role in Buffalo this season.
Jackson was on pace to have his best season last year, but sharing carries, injury history and age isn't exactly on his side heading into 2012.
Brandon Lloyd, WR, New England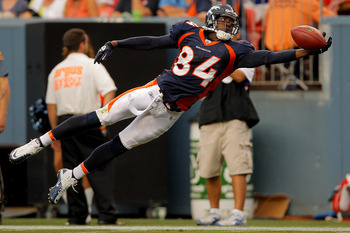 Justin Edmonds/Getty Images
Brandon Lloyd is one of the more underrated receivers in the league. During the last two seasons combined, he has caught 147 passes for 2,414 yards and 16 touchdowns. Now, he will be in the best position of his life, catching passes from Tom Brady in New England.
The problem is that there are so many targets on this team that a productive season from Lloyd is no guarantee. Wes Welker is still the favorite option and is pretty much a lock to finish another season of 100 receptions. The tight end combination of Rob Gronkowski and Aaron Hernandez is also going to receive a lot of attention. That also doesn't include veteran receivers in Jabar Gaffney and Deion Branch, who are also back.
Lloyd should be considered the No. 2 receiver on this offense talent-wise, but with an offense with so many weapons, a consistent fantasy season is no certainty.
Michael Vick, QB, Philadelphia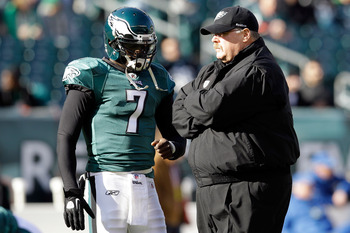 Rob Carr/Getty Images
Is there ever a season that Michael Vick is not on a list like this? And it's always the same reason, which is why I refuse to make him my fantasy starting quarterback. This guy can't stay healthy to save his life, as throughout his eight-year career, he has only managed one 16 game season. That includes being banged up last year and missing three games.
Vick's style of play has not changed enough over the years to believe that he will last an entire year, and at the age of 32, he isn't quite getting any younger.
The Eagles quarterback has oodles of offensive playmakers around him, and he is more than capable of putting up huge fantasy numbers. But if that comes with him missing a chunk of the season, you can count me out. I'll pass on Vick and let somebody else take the risk like I do every season.
Antonio Gates, TE, San Diego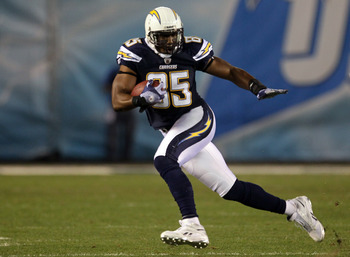 Stephen Dunn/Getty Images
Speaking of injuries, it appears that Antonio Gates will have to deal with foot issues until he retires. He battled a banged-up foot all of last year, which cost him three games and the fewest touchdown receptions (seven) since his rookie season.
Gates should still be considered a top tight end in 2012, especially with wide receiver Vincent Jackson no longer around to steal targets. But at what round are you going to reach for him? He only had one 100-yard receiving game last year and went seven games without a touchdown reception.
The veteran tight end has entered training camp in great shape, but the foot was such a serious issue last year that I'm still hesitant on taking him in the first few rounds. It has been two years since he has played a complete season, which is why I will likely go somewhere else when looking for my starting tight end.
Peyton Manning, QB, Denver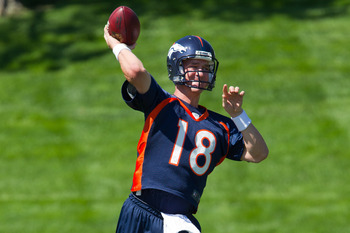 Justin Edmonds/Getty Images
Who is going to be that guy that reaches for Peyton Manning, and in what round do you actually pull the trigger?
There are just so many things that are not in his favor heading into 2012. For one, Manning is 36 years old, did not play at all last season and is coming off of four major neck surgeries. To top it all off, he is on a new football team, new players, new offense and he is no longer protected by Lucas Oil Stadium.
It also does not help that his 61.1 completion percentage against AFC West teams is his second lowest in his career against any conference. He has also thrown 35 interceptions against AFC West teams, which is the second most of any conference.
Manning is a first-ballot Hall of Fame player, somebody who was a lock to throw over 4,000 yards and 30 touchdowns. Now, there are many question marks surrounding his game, which makes him an iffy pick in my book.
Maurice Jones-Drew, RB, Jacksonville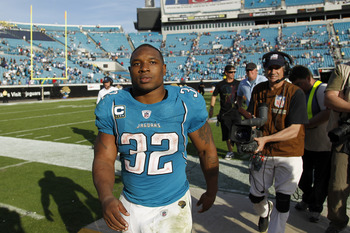 Joe Robbins/Getty Images
Maurice Jones-Drew has been one of the more consistent players in fantasy football over the last several years. He has rushed for at least 1,300 yards the last three seasons and has scored 34 total touchdowns during that span. He led the league in rushing yards last year with 1,606 and was a factor in PPR leagues, hauling in 43 receptions.
One of the issues is that he may possibly end up holding out until he gets the contract he is looking for. Another factor is that Jacksonville has been using this guy a lot on the offensive side of the ball the last few years. Not only did he lead the league with 343 rushing attempts, but during the last three years, he has 954 attempts, which is by far the most of any other player. Will the wear and tear eventually catch up with Jones-Drew in 2012?
I see Jacksonville using Rashad Jennings a little bit more this season as well. He missed all of the 2011 season with an injury, but averaged 5.5 yards a carry in 2010 and showed he can complement the three-time All-Pro.
Keep Reading