2012 Atlanta Falcons: Predicting Roles for '10 Draft Class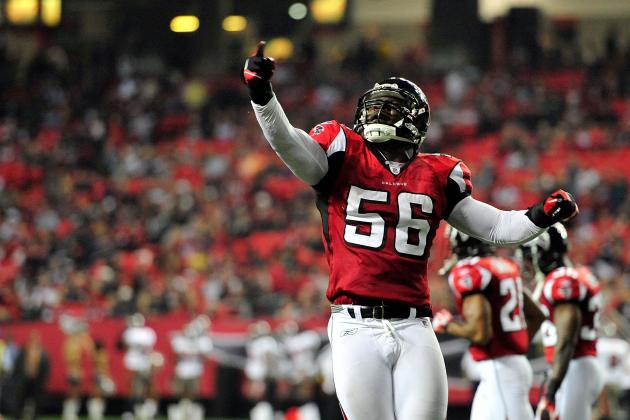 Grant Halverson/Getty Images

Under general manager Thomas Dimitroff and head coach Mike Smith, the Atlanta Falcons have been known to be reluctant when it comes to releasing their draft picks: Of their 26 total draft picks from 2008 through 2010, only six are no longer with the team.
The Falcons have further showed that through their willingness to give underperformers Sam Baker and Peria Jerry one last chance to prove themselves this season (via Pat Yasinskas, ESPN).
Surprisingly though, of the 2008, 2009 and 2010 draft classes, only the last has remained entirely intact; all seven of those players drafted are still on the roster today. As these Falcons now enter their third year in the league and with the team, let's take a look at what's to come for each in the 2012 season.
Begin Slideshow

»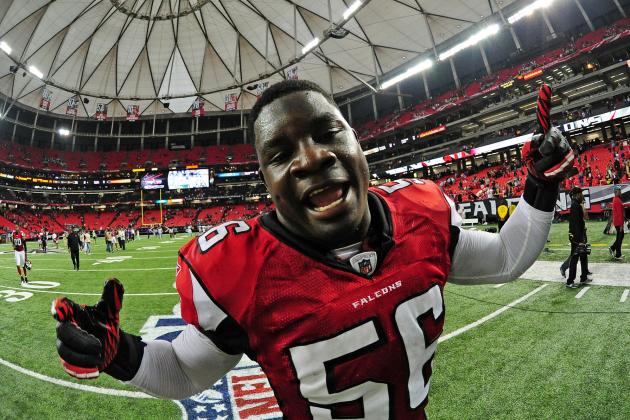 Scott Cunningham/Getty Images

As a 19th overall pick, expectations were high for linebacker Sean Weatherspoon in his rookie season.
Like many other first-round draft picks, he didn't quite live up to them.
Weatherspoon experienced a difficult rookie season, recording just 42 tackles, one sack and one pass defensed in five starts and just 11 total appearances, often giving up easy completions and missing assignments.
Then, a light switched on.
In his first season as a full-time starter, Weatherspoon was one of the few bright spots on Atlanta's defense last year, racking up 115 tackles, four sacks and eight pass defenses in a breakout year.
Now, with Curtis Lofton gone via free agency and new defensive coordinator Mike Nolan heading the charge, Weatherspoon has a chance to be even better.
That's because he'll have the opportunity to fully take over as leader of defense and see more playing time along the way. Already a vocal player, Weatherspoon will be leading by example this season with more 3-4 alignments and even more blitzes giving him great opportunity to shine in 2012.
Prediction: Weatherspoon has a Pro Bowl-worthy season as the starting weak-side linebacker for the Falcons and captain of the defense.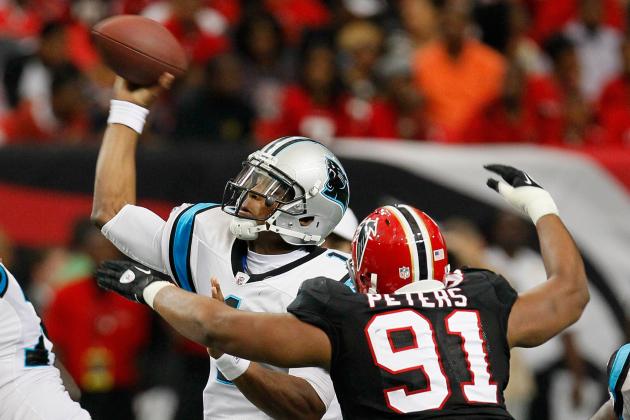 Kevin C. Cox/Getty Images

Considered a reach by fans and media alike, both of whom reacted with a collective "who?" when he was drafted, defensive tackle Corey Peters has rapidly become one of the better-known Falcons on defense.
Peters earned the top nose tackle job right away in his rookie season, starting all but one game that year. While his tackles dropped from 33 in 2010 to 26 last season, his sack total improved from one to three and he also recorded an interception in 2011.
There's no question Peters has been a consistent force along Atlanta's defensive line, but one has to wonder if that's simply due to a lack of competition for his job with only bust Peria Jerry, former seventh-round pick Vance Walker and rookie seventh-round pick Travian Robertson waiting in the wings.
Prediction: Peters has been a pleasant surprise for the Falcons so far, and it'd be safe to assume he continues to improve under the guidance of new defensive coordinator Mike Nolan and remains a starting defensive tackle alongside Jonathan Babineaux.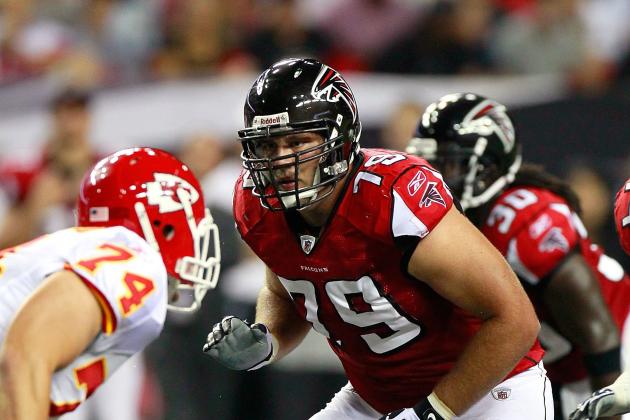 Kevin C. Cox/Getty Images

Out of all players Atlanta drafted in 2010, offensive lineman Mike Johnson has perhaps the lowest expectations in 2012 and beyond.
Appearing in just two career games for the Falcons, injuries and a concussion ended his 2011 campaign in late October.
Prior to the season, he was beaten out by Garrett Reynolds for the starting right guard spot, who himself was eventually replaced by Joe Hawley midway through the season.
Healthy so far this year, Johnson might've thought he had a chance to redeem himself and fight for the starting right guard job once again this year. However, the Falcons surely didn't think so when they first picked up long-time veteran Vince Manuwai in free agency and then selected guard/center Peter Konz with their opening pick in this year's draft.
Prediction: Johnson is third-string behind Manuwai and Konz at the right guard position for the entirety of the season.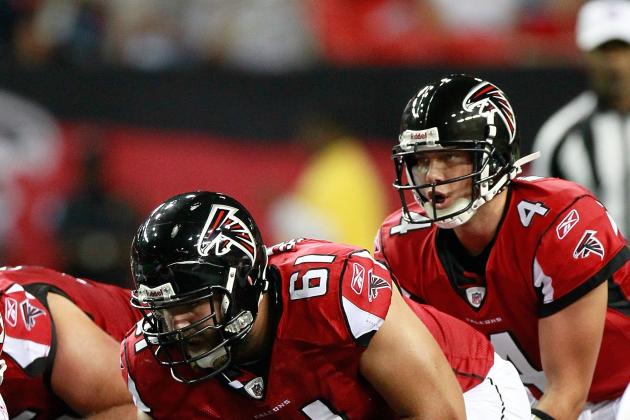 Kevin C. Cox/Getty Images

It's been far from a stable career so far for offensive lineman Joe Hawley. Originally drafted to be the heir apparent to Todd McClure, Hawley was thrown into the fire at right guard after Mike Johnson and Garrett Reynolds didn't live up to expectations.
In doing so, his development at center has been hinged a little, but if Vince Manuwai or Peter Konz are able to fill in at guard, then he'll be able to fully focus on his original goal: unseating incumbent starting center Todd McClure.
And with the Falcons set to hold an open competition for starting jobs across the entire offensive line, 2012 may be Hawley's best chance yet to prove his worth (via the Atlanta Journal-Constitution's D. Orlando Ledbetter).
Prediction: Joe Hawley was drafted to play center, and that's exactly what he'll be doing in 2012. It won't be an easy task, but look for Hawley to supplant McClure for the starting job by game one, if not by season's end.
Justin K. Aller/Getty Images

Falcons fans leapt for joy when the team traded for former Eagles cornerback Asante Samuel, but one person who may have been a little less enamored with the move is cornerback Dominique Franks.
While he saw little action in his rookie season, Franks earned the nickel spot in the slot alongside Brent Grimes and Dunta Robinson. He recorded 15 tackles, five passes defensed and two interceptions in 14 games last season, and he played valiantly when he was asked to step in at cornerback for four games after Grimes suffered a knee injury.
However, with the addition of Samuel to the team, the Falcons plan to have Grimes and Samuel play on the outside and move Robinson inside to the nickel position, pushing Franks down the depth chart in the process.
That means Franks may see little playing time on defense in 2012 barring injury, but one area in which he may surprise is on special teams. With the departure of return man Eric Weems via free agency, the Falcons are in need of a punt returner, and Franks appears to be the front-runner for the job alongside Harry Douglas (via Daniel Cox, atlantafalcons.com).
Prediction: Franks is next in line behind Robinson at the nickel position and becomes a dangerous punt returner for the Falcons throughout the 2012 season.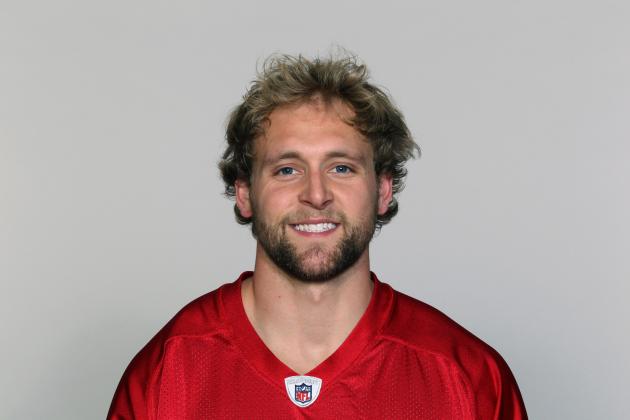 Handout/Getty Images

One player worth keeping an eye on this season is wide receiver Kerry Meier.
After having missed all of his rookie season to a knee injury and having trouble recovering from that injury in part due to last year's lockout, people are anxious to find out what kind of player Meier truly is.
So far, signs suggest the answer is a positive one.
Still recovering from his injury last year, Meier recorded zero catches and appeared in just 12 games last season, mainly playing on special teams. But now completely healthy and having seemingly performed very well in OTAs and minicamp so far, Meier looks well on his way to make a name for himself on offense, too.
With the arrival of new offensive coordinator Dirk Koetter to Atlanta, the Falcons look poised to move away from a heavy run-based offense to a four-wide, vertical attack.
The top three receiver spots are solidified with Roddy White, Julio Jones and Harry Douglas at the top. But if Meier continues to impress, the fourth spot looks to be his for the taking.
Prediction: Meier starts to build a rapport with quarterback Matt Ryan as the fourth receiver and gets a decent amount of looks his way in 2012.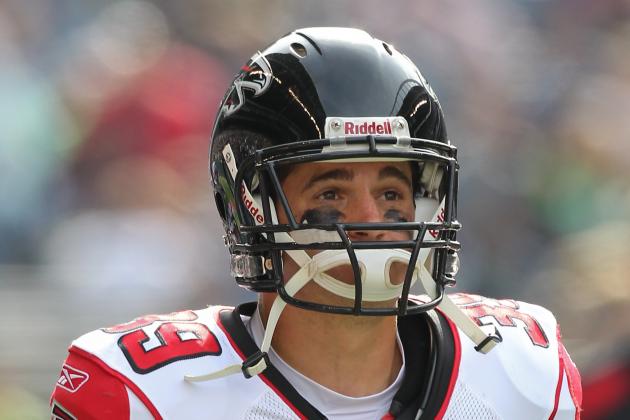 Otto Greule Jr/Getty Images

The last selection of Atlanta's 2010 draft class, safety Shann Schillinger has made a name for himself on special teams since joining the team, but nothing more. He has yet to make a start for the Falcons but has appeared in all but one game since his rookie season, tallying 19 career tackles along the way.
With William Moore and Thomas DeCoud established starters at the strong safety and free safety positions, respectively, it would be difficult to see Schillinger moving up the depth chart anytime soon.
That's especially true considering his new defensive coordinator apparently "doesn't see much depth at the [safety] position" (per the Atlanta Journal-Constitution's D. Orlando Ledbetter). At the moment, the only other players with a shot at the backup safety spots are undrafted free agent Chad Faulcon and rookie sixth-round draft pick Charles Mitchell.
Prediction: Unless one of those two suddenly breaks out in training camp or the Falcons decide to invite a veteran to try out, Schillinger keeps his job for at least this season.