MLB Trade Scenarios: 7 Top Prospects Who'll Remain Untouchable This Summer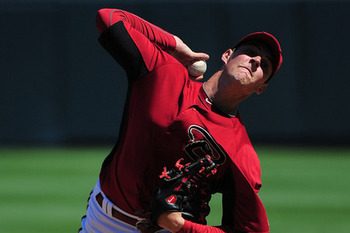 Photo Credit: AZ Snakepit
As the trade deadline nears, buyers will need to determine exactly what they're willing to give up to acquire extra pieces for their playoff push.
The trade market appears to be fairly thin on top-end talent this year, but guys like Ryan Dempster, Matt Garza and Carlos Quentin could all bring a big return and unexpected names will inevitably come forward (think Ubaldo Jimenez last year).
There are a number of prospects who fall under the "untouchable" category, and these are by no means the only players who have earned that distinction, but here is a look at seven prospects who won't be going anywhere this summer.
SS Xander Bogaerts, Boston Red Sox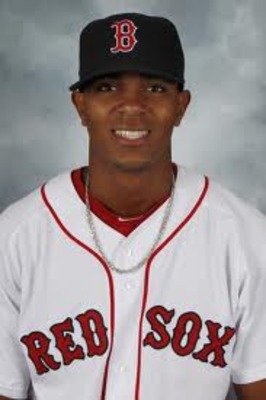 Photo Credit: Salem Sox
Stats: .293/.368/.483, 9 HR, 42 RBI, 30 R at High Single-A
Bogaerts put himself on the prospect map with a .260 BA, 16 home run, 45 RBI season last year at Single-A as an 18-year-old.
He has terrific plate discipline for someone his age, and his glove is slowly coming along at shortstop as he could still wind up sticking there long term.
Once his 6'3", 175-pound frame fills out he could have 30 home run power, and while the Red Sox could be aggressive buyers at the deadline don't expect to see Bogaerts going anywhere come July.
SP Manny Banuelos, New York Yankees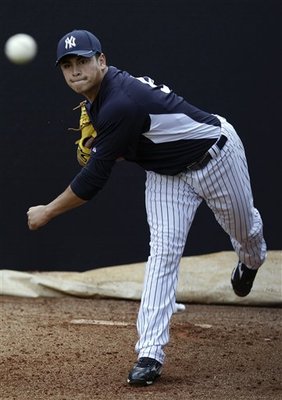 Photo Credit: Pinstripe Bible
Stats: 6 GS, 0-2, 4.50 ERA, 22 Ks, 24 IP at Triple-A
The Yankees top prospect entering the season, Banuelos is still just 21 years old but already has parts of three seasons above Single-A under his belt.
He has struggled this season, but not to the point that the Yankees are likely to back off on their dubbing of him as untouchable.
The Yankees have already been linked to Cubs starters Ryan Dempster (h/t Gordon Wittenmyer of the Chicago Sun-Times) and Matt Garza (h/t Ken Rosenthal of FOX Sports) as potential suitors, and while the Cubs will look to score a big prospect package for both right-handers I expect the Yankees to balk at moving Banuelos.
SS Billy Hamilton, Cincinnati Reds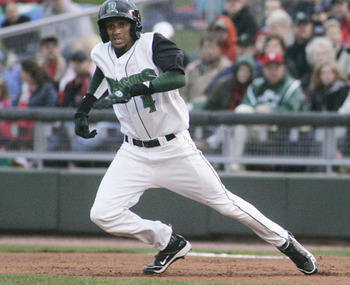 Photo Credit: Cincinnati.com
Stats: .332/.419/.448, 1 HR, 25 RBI, 62 R, 83 SB at High Single-A
The Reds have emerged as the class of the NL Central, but they are not without roster holes and they could be an active team at the deadline.
One player who won't be shopped, however, is speedster Billy Hamilton. To call him a speedster does not do him justice, as he's swiped 83 bases in 68 games at High Single-A so far this season.
More importantly, though, he's rounded into a more complete offensive player this season as his average is up to .332 from .278 and his on-base percentage has spiked from .340 to .419.
The 21-year-old should be bumped up to Double-A soon, and while his defense still needs work he has the speed to make a significant impact at the top of the Reds' lineup once he arrives.
SP Shelby Miller, St. Louis Cardinals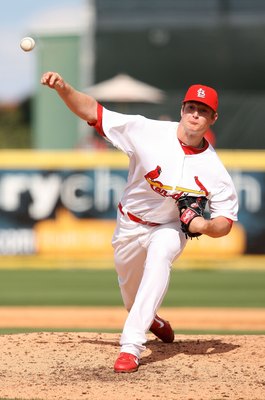 Doug Benc/Getty Images
Stats: 14 GS, 4-6, 6.00 ERA, 73 Ks, 66 IP at Triple-A
The pride of the Cardinals organization since being taken in the first round of the 2009 draft, Miller cemented his place as one of baseball's top pitching prospects last season.
As a 20-year-old he went 11-6 with a 2.77 ERA and 11.0 K/9 between high Single-A and Double-A and he entered the season as the No. 8 prospect according to Baseball America.
He's struggled a bit at Triple-A this season, but there is no reason to think he will be anything but a staff ace once he reaches the majors. The Cardinals are borderline contenders this season, and they won't deal Miller for anything.
SP Dylan Bundy, Baltimore Orioles
J. Meric/Getty Images
Stats: 12 GS, 3-2, 1.66 ERA, 63 Ks, 48.2 IP at Single-A and High Single-A
A No. 1 overall pick many year, Bundy was taken fourth overall last season and he has proven to be a steal at that point for the Orioles thus far.
He absolutely dominated Single-A pitching, allowing just five hits and no earned runs in 30 innings of work before being promoted.
The Orioles are a team on the rise, and they have gotten to where they are by developing their minor league talent.
Bundy has the stuff to be one of the best pitchers in baseball when he reaches the big leagues, and the Orioles won't mortgage that for anything come July.
CF Wil Myers, Kansas City Royals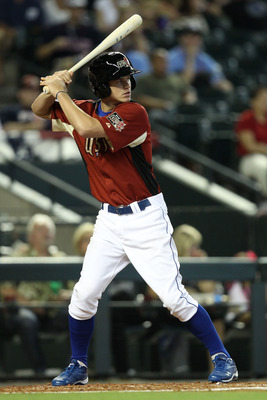 Christian Petersen/Getty Images
Stats: .330/.411/.693, 24 HR, 63 RBI, 62 R at Double-A and Triple-A
Myers entered the 2011 season as the No. 10 prospect in baseball, but an injury-plagued season led to less-than-stellar numbers.
His .254 BA, eight home runs, 49 RBI line at Double-A dropped him to No. 28 on this season's prospect list but he has regained his elite form and dominated Double-A pitching to earn an early-season promotion to Triple-A.
He should be in Kansas City sometime this summer, and he'll give the team another young slugger with tremendous upside alongside Eric Hosmer and Mike Moustakas.
The Royals aren't a team in contention, but there has been some speculation in the past that the team could move Myers to bolster their pitching. It won't happen.
SP Trevor Bauer, Arizona Diamondbacks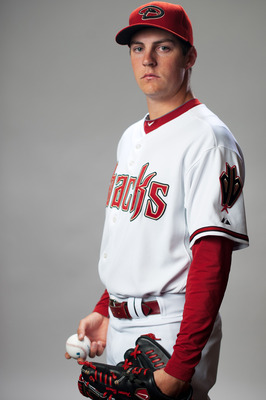 Rob Tringali/Getty Images
Stats: 15 GS, 2.19 ERA, 111 Ks, 90.1 IP at Double-A and Triple-A
While Gerrit Cole got the attention and the No. 1 draft selection, it was Bauer who had the better college season and was the more advanced prospect when the Diamondbacks took him third overall last June.
He reached Double-A after signing last season, and dominated through eight starts at that level this season before earning a call-up to Triple-A.
He is as big league ready as any prospect right now, and it's only a matter of time before the Diamondbacks call him up. They may even deal Joe Saunders to open up a rotation spot for him, so don't expect him to be moved.
Keep Reading