3 NFL Veterans Who Could Be Cut and Still Be Productive on New Teams in 2012
June 22, 2012

Jeff Zelevansky/Getty Images
The chaos and unpredictability of projecting NFL-player performance is not limited only to recently drafted rookies or other comparably inexperienced pros. It is true that veteran guys tend to be less of a mystery. There is more NFL-level material on which to evaluate them along with a more established track record of health and production.
But there is also a natural ebb and flow to player performance due to the physicality and highly competitive nature of the National Football League. There are also roster management and fiscal concerns that enter play. 
An organization may be willing to keep a certain player when considered in a vacuum, but ultimately be forced to cut him in order to keep an extra lesser player at a position of more critical need, strategically or medically.
Similarly, it can be acknowledged from a football operations standpoint that a guy definitely has something left and could fit a specific role (third-down back, nickel/dime 'backer, for example) but not at his price tag. The release of a likeable veteran could enable a team to carry another similar, if less experienced, player, plus that kickoff specialist they like and stay under the salary cap.
Most of these decisions end up being fairly prudent. Many of them can be predicted from the writing on the wall and the players involved—those released, kept or later signed elsewhere—oftentimes do not make a discernible impact one way or another.
But with depth, system compatibility and the sheer volume of players who compete each season in the National Football League, there are typically some notable phoenixes that rise to relevance from the waiver wire.
Wide receiver Laurent Robinson, for instance, has enjoyed a meteoric rags-to-riches journey over the past year. He went from training-camp casualty with the San Diego Chargers to cult hero with the Dallas Cowboys before signing this offseason with the Jacksonville Jaguars for No. 1 wideout money.
The remainder of this article will take a look at three veteran players who could be cut anytime from now until the end of the preseason but are good enough that they could catch on and be quality additions for their respective new teams.
Colt McCoy, QB, Cleveland Browns
All of the current talk surrounding McCoy's NFL future is centered on which team likes him enough as a No. 2 to make a winning trade offer to the Browns. But if the market is not there on McCoy, Mike Holmgren and Tom Heckert may have to look at waiving the checkered starter.
If the Cleveland brain trust decides that rookie Brandon Weeden is going to be the man right away this year, it may not want the distraction or potential controversy of the incumbent starter's presence lingering into the regular season.
Keep in mind that Seneca Wallace is also under contract with the Browns this year and next and is still viewed as a solid backup option. I have actually long thought that Wallace is underrated, but it appears that the window for him to become a late-career surprise starter has passed. Holmgren's relationship and comfort level with him dates back to their days with the Seattle Seahawks when the then-head coach drafted him in the fourth round.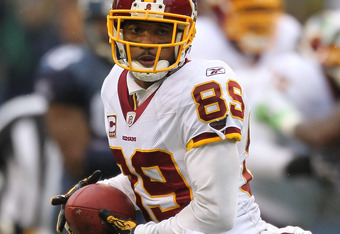 Otto Greule Jr/Getty Images
Whether McCoy is traded away or released and signs somewhere as a free agent, there is little doubt that he presents some appealing value as a backup and could potentially even make an impact with the right team, given a circumstantial opportunity.
While he has not looked at all like a future playoff-caliber starting quarterback, it is unfair to declare the jury in on a complete evaluation of McCoy's ceiling. He played sooner in his career than anyone would have drawn up, particularly for a third-rounder with documented physical limitations, and did so on a middling team with a dearth of weapons.
But as an experienced signal-caller who can come off the bench in a single game or even start a few in a row, McCoy does have the profile to provide a playoff-caliber team a spark in the way a latter-day Jeff Garcia did for the Philadelphia Eagles. If McCoy does not have to be the focal point of an offense, but rather just a distributor of touches, he could find a useful niche for his acquiring team.
Santana Moss, WR, Washington Redskins
This is a controversial one that I hope will spur some commentary and debate. On the one hand, Moss will play this coming season at age 33 and has shown visible signs of slowing and wearing down the last couple of seasons.
Contrarily, Moss has reportedly lost weight this offseason and it is playing in his on-field quickness, enough so that there is even talk of him moving back outside to man the other starting wideout spot opposite Pierre Garcon.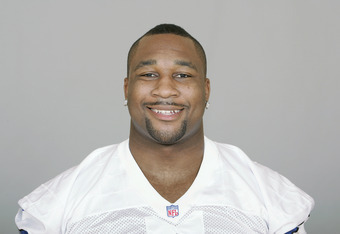 Handout/Getty Images
But if the remainder of the preseason should see Moss regress again, coupled with the emergence of either up-and-comer Josh Morgan or Leonard Hankerson, it could be understood if the 'Skins decide to part ways with Moss' $4.15 million salary in the final year of his deal.
If this were to occur, it stands to reason that there would be no shortage of suitors on the open market.  Moss would likely be seen as a one-year mercenary for a contender or a veteran bridge to a developing younger player on a team that may not be quite playoff-ready. In either case, the organization would need to have some available cap room, or make a corresponding move in order to free up the cash, in order to take on Moss' salary.
Marcus Spears, DL, Dallas Cowboys
Spears has long been considered a disappointment, if not quite a bust, after the Cowboys selected him 20th overall out of Louisiana State University in 2005. He was actually a player who I was very high on coming out of that class.
But Spears has never really taken very well to the five-technique defensive end position in Dallas' longstanding 3-4 defense. He has never provided any semblance of a pass-rush threat and, although that is not the primary function of a 3-4 end, Pro Football Focus has rated him with very middling grades overall during the last four years since it began analyzing players.
It feels like the Cowboys are always trying to get younger, healthier and more talented at Spears' spot.  Following my gusto for him during his draft process, and in the years after throughout his struggles, it has always struck me that he may have been a better fit as a shading defensive tackle in a 4-3. His penetration skills would have played better from the interior to go along with his solid run defense.
If the 'Boys do decide to go in another direction, I feel like Spears still has something to offer, only entering his age-29 season, especially to predominantly 4-3 base-defense teams. In the least he projects as a quality two-down rotation guy, but I also see him surprising a little with his pass-rush skills if he aligns more often between the guard and center.