Fantasy Football 2012: 10 Great Ways to Spend Your Draft Day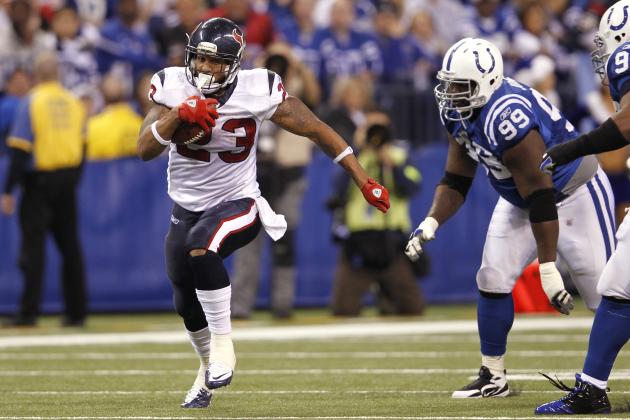 Joe Robbins/Getty Images
Drafting Arian Foster would also improve your draft day.
Time is running out to plan your fantasy football draft experience.
While drafting online is a popular option, many leagues still like to gather on draft day to make the event special. Everyone coming together for the draft can help set the tone for a fun and competitive season.
Selecting the right players for your team is important, but you also need to arrange the draft properly. Here are some ideas for your draft to help make the big day extraordinary.
Begin Slideshow

»
Before exploring all the live draft options, consider an online draft first.
You do not receive the full drafting experience with your peers, but placing your draft online features many perks.
This option eliminates the difficulties associated with everyone agreeing on a meeting date. Nobody can get lost finding the draft's location since everyone can participate from the comfort of their own home.
Also, some of us are introverts who would rather draft alone, without other people attempting idle small-talk. Whether I am contemplating my first-round choice or my kicker, I do not want any unrelated distractions.
Online drafts are organized and quick while eliminating the tiresome task of manually entering each squad's roster.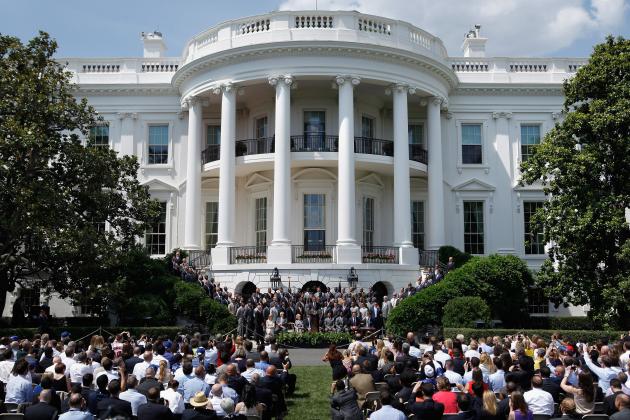 Chip Somodevilla/Getty Images
Don't expect anyone in your league to have this nice of a house.
Assembling your fantasy football league for a live draft at a member's house is a great way to unite the league.
Anyone can join a public league online and draft from home, but true friendships blossom from sitting in a loud, crowded room with your leaguemates for hours. If you do not yet know all your league's participants, you can put a face to all the people you hope to beat mercilessly in your weekly fantasy matchups.
Pending one brave sole volunteering his home to a large group of slobs, an in-person draft offers a more exciting experience than an online draft.
If you can put up with them for a full day, you should have a fun season.
Nobody wants to offer their home for the draft? Assuming all your league members are past the legal drinking age, a bar is a worthy alternative.
If The League has taught us anything, men who participate in a fantasy football league together spend approximately 60 percent of their day at a bar.
Why not hold the draft there too?
As the rest of your league drinks themselves silly, pretend to down your drink as you splash it on the floor to get a competitive edge. After someone drafts "T. J. Houshmazilly" and declares "championship," you should like your chances of winning the league.
Or just drink responsibly. Fantasy football should be fun, but do not place your roster in danger by drafting under the influence.
Not everyone enjoys the bar scene though, so consider holding your draft at a restaurant.
Dave & Buster's offers special packages dedicated to improving your draft-day experience. This creates the perfect scene to enjoy some scrumptious food in an appropriate environment. If not, plenty of places allow you to rent out a room for a large gathering.
For those who do not feel bad about occupying a table for hours, any other restaurant could work as well. Just be sure to tip your server well.
Okay, so I also stole this idea from The League.
For those of you partaking in a bold and daring fantasy football league, a trip to Las Vegas could lead to all types of wild shenanigans. Make a whole weekend out of your draft.
If you plan out your itinerary wisely, you can convince an intoxicated friend to trade you Tom Brady for Jay Cutler. Don't expect any wins of equal significance at the casino though.
The characters in the FX show actually play in a small league for people who take the game that seriously. Managing this outing with 10 or more people could get complicated.
Stay away from Mike Tyson (I know, I'm mixing my pop culture references here) and fun times should be had by all.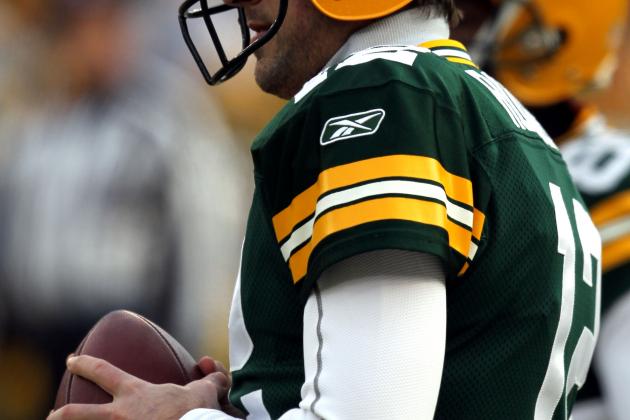 Jonathan Daniel/Getty Images
"Matt Moore? Nice pick! Is that Aaron Rodgers guy still available?"
After moving past the bigger issue of where to hold the draft, some other kinks still need to be settled before optimizing the draft's potential.
From someone who participated in a live draft without a draft board, trust me when I say that you should consider using one. Without a draft board, you will lose any semblance of sanity you once possessed prior to the draft.
In the absence of a draft board, owners incapable of handling the simple task of drafting will violate your league's roster limitations or take Aaron Rodgers with their last pick. Seriously, why wait until the last round to call Rodgers' name if you failed to realize that someone grabbed him three hours ago?
A draft board grants everyone a clear and often enormous object to help them recall each pick. Unless you are drafting online, your league probably needs one.
Rattling off names of football players can get tedious after a while, so shake things up to maintain everyone's focus and enthusiasm.
A live draft can create some frustration, so institute penalties for members who violate draft protocol so everyone stays on the right path.
Does somebody in your league keep proudly selecting Ray Rice in the sixth round even though his availability ended after the third overall pick? Make the first person to commit this error buy pizza for everyone else.
Is one of the participants stalling the draft by deliberating ten minutes before each pick? Force anyone who consistently spends an inordinate time picking to sing "Call Me Maybe" or forfeit the draft pick.
Trust me, everyone will definitely move in a timely manner.
Also, that song will be stuck in your head for at least a week now. Sorry.
Still not pumped enough for draft day? Perhaps an elaborate prank will fuel your excitement.
The completely needless highly-anticipated re-boot of Spider Man this summer provides fantasy players with a timely reminder of Judd Apatow's Knocked Up.
On the day of your draft, tell your significant other that you are going out for a business meeting. Act suspiciously so he or she believes you are cheating.
When your partner follows you—because normal people totally do that—to your draft location, be ready to deliver the surprise. Delight your league members by declaring "It's my fantasy draft, I got Matsui!" Who cares if Hideki Matsui plays baseball?
Or you can be lame (or sane) and not do any of that, but that hardly seems like fun.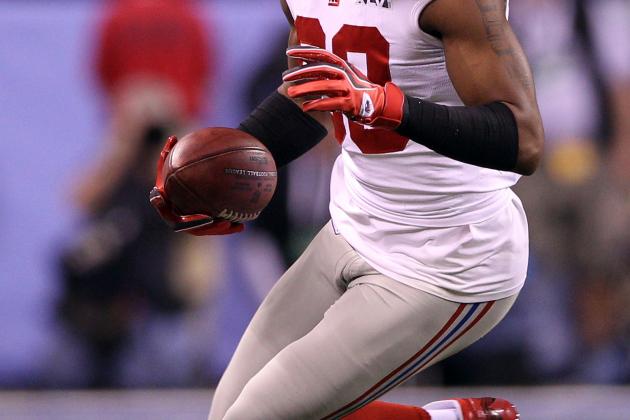 Elsa/Getty Images
Stay updated on Hakeem Nicks' broken foot before making a decision you will later regret on draft day.
I'm starting to worry that you're not taking fantasy football seriously. You have a league to win!
Don't be the guy caught drafting a running back who just tore his ACL yesterday. Keep current on all football news leading up to your draft.
I found out that Ryan Madson needed to undergo Tommy John surgery minutes before my fantasy baseball draft started this year. You never know when somebody will go down.
Before you embark on whatever draft day adventure your league chooses, search the Internet for every last-minute tidbit available on draft day.
Oh yeah, drafting is probably an essential part of draft day.
Not to be a buzzkill and ruin everyone's good time, but you are going to care more about your roster than how you spent the day selecting the team come October. If you opt for the bar or Las Vegas, you might not even remember the day anyway.
Just remember, these are the players who you will devote your rooting interest to during the next four months. Each selection could make or break your fight for money and/or bragging rights against your friends/co-workers/remote acquaintances/bitter enemies, so choose wisely.
No pressure though.