Pacman Jones: Strip Club Ruling Again Proves Corner Can't Escape Legal Issues
June 16, 2012
Patrick Smith/Getty Images
Cincinnati Bengals cornerback Adam 'Pacman' Jones was ordered to pay $11.7 million in damages by a Las Vegas court Friday for his role in a strip club shooting in 2007.
As NFL followers have gotten plenty used to, whenever Jones is in the news, it's typically for something related to the law. His Las Vegas ruling only completes a long story that has shattered the football career of Jones.
Unfortunately, this story has been written over and over again. 
A promising athlete is drafted into a professional league, earns millions and millions of dollars, and then can't escape legal trouble. Those careers usually end with unfulfilled promises and bags of wasted money, both from the players' and teams' sides. 
Jones is a prime example of just that.
Following an electric college career at West Virginia, Jones saw the Tennessee Titans draft him with the sixth overall pick in the 2005 draft. 
Jones came into the NFL with trouble in his past, however, and it didn't take long for more to arise.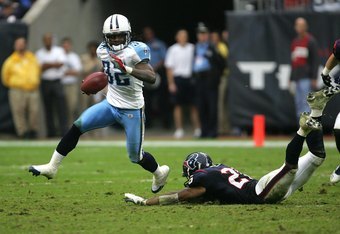 Stephen Dunn/Getty Images
Jones was already on probation for an altercation at West Virginia when the Titans took him in April of 2005, but within two months, Jones was back on the police scanner. By the time Jones signed (after holding out) his rookie deal, two more run-ins with the law were already on his record. 
2006 saw three more incidents, with the last resulting in a one-game suspension. However, Jones put together the best season of his NFL career, intercepting four passes and returning three punts for touchdowns. 
Despite some of the slip-ups, Jones appeared ready to approach stardom on the NFL level.  
Then came 2007, the year that would change Jones' life and which continues to bite him in the present. During NBA All-Star Weekend in February, Jones was involved in a shooting outside a Las Vegas strip club in which three people were significantly injured. 
Doug Farrar of Yahoo Sports illustrates the story:
The shooting occurred at the Minxx strip club in Las Vegas on February 9, 2007, and was made famous by Jones' intention to "make it rain" with thousands of single bills. He became contentious when he believed that some of the dancers w[ere] taking money without his permission. A fight ensued that went outside the club, and that's when Urbamski and Cudworth were shot.

Jones was not one of the shooters, but he pled no contest to misdemeanor conspiracy to commit disorderly conduct and was given a year of probation and ordered to perform 200 hours of community service.
In April of that year, NFL commissioner Roger Goodell suspended Jones for the entire 2007 season.  After missing the entire season, Tennessee sent Jones to the Dallas Cowboys for a draft pick, with a number of stipulations involved in the deal in terms of compensation.
At the time, many speculated that a fresh start was exactly what Jones needed. 
However, trouble continued to follow the cornerback with the Cowboys.
Jones was involved in a spat with his bodyguard at a Dallas hotel in 2008, which forced Goodell to ban Jones for another four games. The Cowboys then cut Jones following the '08 season, a year in which Jones played in just nine games and registered zero interceptions. 
Jones has since hooked on in Cincinnati—where he has spent the last two NFL seasons—but Friday's ruling represents another career-defining moment. He signed a one-year, $950,000 deal to stay with the Bengals this offseason, but that total is chump change compared to the $11.7 million he's been ordered to pay the victims of the Vegas shooting.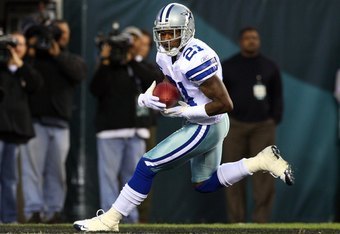 Jim McIsaac/Getty Images
And, in an ironic twist of scheduling, Jones had planned on speaking at the NFL's rookie symposium next week. It is unknown whether he still plans to partake in that event on the heels of his court ruling. 
But overall, is there anyone better for the NFL to bring in to speak to the rookies than Jones? If his story doesn't scare the socks off the first-year players—the same suddenly rich, wide-eyed stars that Jones certainly was back in 2005—than nothing probably will. 
Jones had a chance to be a very, very good football player in the NFL. With his electric skill set as a cornerback and returner, the sky really was the limit. 
But what you do off the field matters as a professional football player. Spending your free time with law enforcement is a sure-fire way to kill a promising career. 
And, as Jones learned Friday, it's a sure-fire way to ensure you're broke—even if you're making nearly a million a season. Jones has started to clean up his act—he's mostly stayed out of the headlines in Cincinnati—but it's too late now. 
Hopefully, the next batch of NFL rookies will learn that hard lesson from Jones' story.