Rays and Marlins Will Never Have an Easy Time Drawing Fans in Florida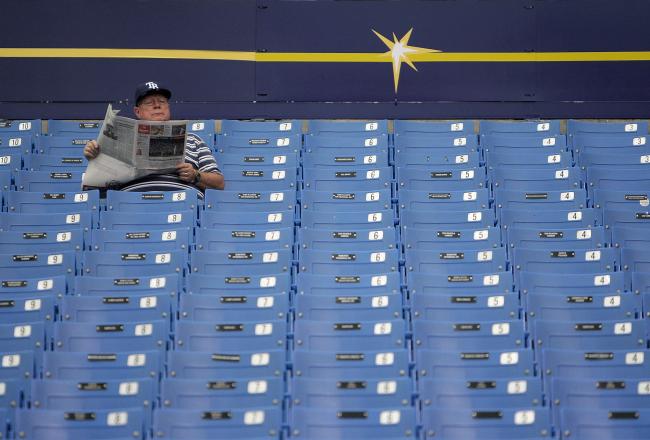 Mike Ehrmann/Getty Images
At this moment in time, the state of Florida happens to be home to two highly likable Major League Baseball teams.
One is the Tampa Bay Rays, who have been one of MLB's top contenders ever since 2008. They're not the richest team under the Florida sun, but they're run by very smart people who slowly but surely built a winner by drafting and developing.
Florida's other likable baseball team (and no less likable than the Rays, mind you) is the Miami Marlins. They, too, have done a fine job of drafting and developing recently, but their current roster houses several high-priced players who arrived via a spending spree this past offseason. The Marlins knew they were moving into a trendy new ballpark in 2012, and they wanted to make their team trendy enough to look at home inside its new home.
Life is pretty good for the Rays and Marlins right now. The Rays are in contention in a very tough AL East, and the Marlins put themselves in a position to contend in a very tough NL East with an excellent showing in the month of May.
If you happen to be visiting Florida, these two teams are well worth the price of admission. You should think about checking them out.
And I'm appealing to you, imaginary Florida visitor, because the actual residents of Florida are more or less a lost cause. Baseball isn't wholly irrelevant in Florida, but the good people of the state have made it clear over the years that they don't care all that much for either the Rays or the Marlins.
There's no point in sugarcoating it: the local teams are not star attractions. The locals are largely indifferent towards them.
So what's the deal? Why can't the Rays and Marlins find love in Florida?
It's complicated.
Ballparks and Attendance History
J. Meric/Getty Images
The Rays have been in existence since 1998, and they've drawn over two million fans out to Tropicana Field exactly once in their very brief history.
That was all the way back in 1998, the first year of the team's existence.
The numbers are all on Baseball-Reference.com. The Rays drew over 2.5 million fans in 1998, and every year since they've been right around the 1.5-million mark. On a good night, the Rays will draw 20,000 people. So far this year, they're averaging just under 20,000 people per game.
The Rays got so frustrated with their lack of attendance back in 2010 that they decided to give away 20,000 tickets to a crucial late-season game. The team arrived at that decision shortly after David Price and Evan Longoria complained about having to play high-pressure games in front of very few fans. They wanted some support.
It's not really the team's fault that the Rays struggle so much to fill seats at Tropicana Field. The stadium itself is the bigger problem.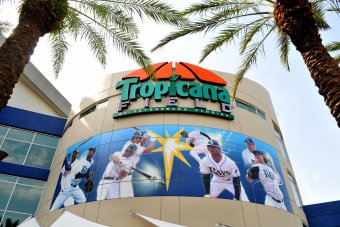 Al Messerschmidt/Getty Images
Tropicana Field is one of the most loathed stadiums in American sports. Time magazine recently ranked it as the third-worst stadium in America. ESPN once ranked it as the fourth-worst stadium in America behind outdated stadiums like Veterans Stadium and Olympic Stadium.
"Walk into Tropicana Field and you feel like you're in a giant warehouse," read ESPN's description.
That's because it basically is a giant warehouse, and even MLB commissioner Bud Selig thinks the Rays need a new home.
"They need a new ballpark, there's no question," Selig said earlier this year, per the Associated Press.
Rays owner Stuart Sternberg started developing plans for a new ballpark back in 2007 but slowly gave up on the idea. The Rays are stuck with Tropicana Field for the time being. As long as they remain there, they'll have to deal with poor attendance numbers.
This is exactly why the Rays have to envy the Marlins. They toiled in Sun Life Stadium, a football stadium, for close to two decades, and they too struggled to draw fans.
According to Baseball-Reference.com, the Marlins drew well their first season, drawing over three million fans in 1993. Their total attendance slipped below two million each of the next three years before going back up over two million in 1997, the year the Marlins won their first World Series.
After that, the Marlins never draw over two million fans again at Sun Life Stadium, bottoming out with a total of 813,118 in 2002.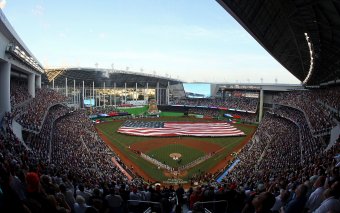 Sarah Glenn/Getty Images
The Marlins are free of Sun Life Stadium. They're in Marlins Park now, a modern stadium with all the fixings. It's drawn criticism for its color scheme and its strange home run sculpture, but the general opinion is that Marlins Park is a beautiful ballpark and a great place to watch a baseball game.
The locals have responded. The Marlins are drawing an average of over 28,000 fans so far this season, putting them on pace to draw well over two million fans this season.
There is, however, cause for concern. Last year, TMR's Fan Cost Index identified the Marlins as one of the cheapest teams to watch in all of Major League Baseball. This year, the Fan Cost Index has them identified as the fifth-most expensive team to watch in MLB. They're up there with the Chicago Cubs and the Philadelphia Phillies.
Not surprisingly, high prices in baseball have proven to be problematic. Case in point, the New York Yankees have had trouble drawing as many fans at the new Yankee Stadium as they did at the old Yankee Stadium since making the switch in 2009. They were drawing over four million fans a year to the old ballpark in the final four years they were there, and now they're drawing fewer than 3.8 million. This year, they're on track to draw under 3.4 million (h/t Baseball-Reference.com).
This shouldn't come as a huge surprise. The Yankees are currently the second-most expensive team to watch in all of baseball. They have plenty of fans, but they don't have that many rich fans.
From the Marlins' standpoint, this is concerning because they charge fans a lot to take in a game at Marlins Park and they don't have the luxury of a huge fanbase like the Yankees do.
It's not hard to imagine the team's early history repeating itself: many fans the first year, and not so many fans in years after.
Rays and Marlins Fans Are Outnumbered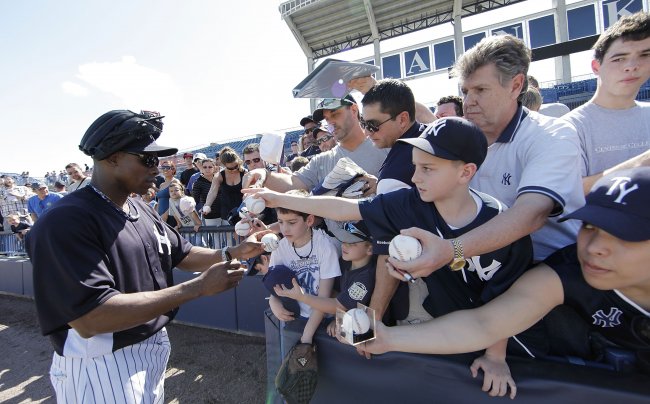 Leon Halip/Getty Images
There are obviously plenty of Rays and Marlins fans in the state of Florida, but not as many as you might think.
In fact, Florida's favorite baseball team doesn't even play in Florida.
A recent poll conducted by Quinnipiac University revealed the most popular baseball team in Florida to be—surprise!—the Yankees.
Actually, this isn't a huge surprise. There are Yankees fans all over, and it's no secret that people from all over like to retire and move to Florida. The same goes with Red Sox fans, which explains why the Red Sox are the fourth-most popular team in Florida (behind the Rays and Marlins, in that order).
The Yankees and Red Sox aren't the only teams with big followings in Florida. In the northern and panhandle part of the state, 23 percent of baseball fans root for the Atlanta Braves.
According to that same poll, 46 percent of Florida adults are "very interested" or "somewhat interested" in Major League Baseball. By comparison, 54 percent of New Jersey adults and 53 percent of Connecticut adults are interested in baseball.
Peter A. Brown, assistant director of the Quinnipiac University Polling Institute, summed it up best:
Florida has only a 19-year tradition with Major League Baseball, so there is less fan interest, with the possible exception of those transplanted New Yorkers and their offspring.
The Rays and Marlins are thus presented with a unique conundrum. It's up to them to gain fans in a state where the most popular baseball teams happen to play in other states, hundreds of miles away.
To make matters worse, baseball isn't No. 1 in terms of popular sports in Florida. Far from it, actually.
Florida Is a Football State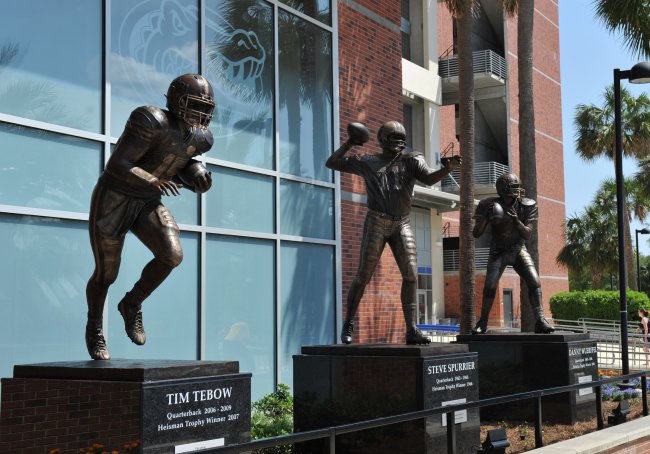 Al Messerschmidt/Getty Images
Baseball and football are two sports that are forever doomed to butt heads.
In Florida, football is winning.
Despite the fact all three of the league's Florida teams have had their struggles in recent seasons, the National Football League is hugely popular in Florida.
A 2008 survey identified the NFL as the most popular league and the Miami Dolphins as the most popular team in Florida, according to CBSSports.com. Last summer, however, a poll revealed the Tampa Bay Buccaneers to be the most popular professional franchise in Florida (see Buccaneers.com).
But this is nothing. There's one football player in particular who is more popular in the state of Florida than God is in all of America.
This, of course, would be Tim Tebow.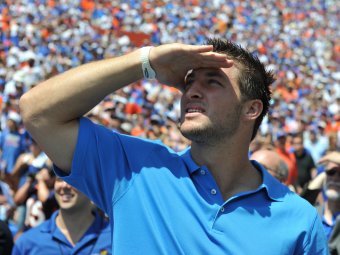 Al Messerschmidt/Getty Images
As the New Times Broward-Palm Beach pointed out this past December, a Public Policy Polling poll revealed that Tebow was viewed "favorably" by 59 percent of Floridians. The same polling firm asked America about God, and 52 percent viewed him favorably.
It's a silly comparison, but it's a comparison that speaks to both the popularity of Tebow himself and the popularity of college football. After all, Tim Tebow isn't a superstar without going through the University of Florida first.
Florida Gators football isn't the only college football powerhouse in Florida. Miami has a big football program with a ton of tradition, and the same is true of Florida State. The Gators regularly draw over 90,000 people to home football games, Miami can still draw right around 50,000 despite the program's decline in recent seasons, and Florida State can draw right around 80,000 for a home football game.
A big reason why these programs have managed to stay relevant over the years is because there are a lot of elite football recruits to be had in the state of Florida. B/R recruiting guru Edwin Weathersby recently ranked Florida as the third-best state in the country for college football recruiting.
There's no question about it. Florida is a football state first, and everything else is a distant second.
The Grand Conclusion
There are things we haven't talked about. For example, the NBA's Miami Heat overshadow the Marlins within the city of Miami, which is a city that has numerous attractions and distractions besides the local sports teams.
The same is true of the state of Florida itself. It's a vacation paradise filled with golf courses, theme parks, sunny beaches and so on. Both visitors and residents alike have numerous options at their disposal when they feel like entertaining themselves.
So the Rays and Marlins both have a raw deal. They are doomed to have a hard time drawing fans to their respective ballparks because the people they're trying to draw are all distracted football fans who prefer to root for the Yankees.
At least the Marlins have a new ballpark to sweeten the deal. The Rays don't even have that luxury.
I'd love to say that there's hope for baseball in Florida, but there's not a whole lot out there that suggests that life is going to get any easier for the Rays and Marlins than it is right now. They've done what they can to get people to come out, and the attendance numbers speak for themselves. All they can do is keep trying and hope people come around.
The two of them combine to form baseball's very own Sisyphus.
If you want to talk baseball, hit me up on Twitter.
This article is
What is the duplicate article?
Why is this article offensive?
Where is this article plagiarized from?
Why is this article poorly edited?