The Most Impressive Players Thus Far in NFL Minicamps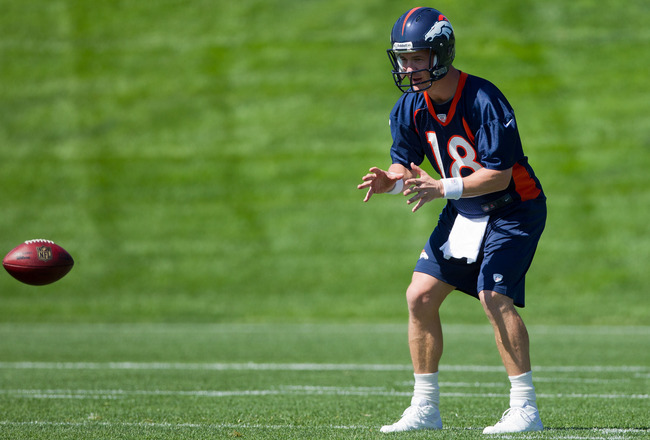 Justin Edmonds/Getty Images
Minicamp season is in full bloom, giving us our final, fleeting morsels of football action before a month-long hiatus leading up to training camp.
The pads are not on just yet, but several players have made waves thus far with their teams. Naturally, this list comes with a salt shaker so you can take each one with a grain, as we will not know how these guys will do when the hitting starts.
Nonetheless, here are 10 players who have made an impression thus far.
Blaine Gabbert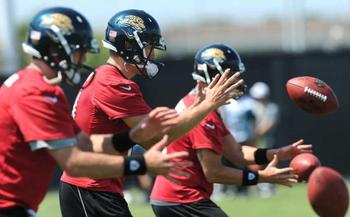 AP Photo/The Florida Times-Union, Bob Mack
The Jaguars brought in Chad Henne as Gabbert's backup and to provide some competition. That may have lit a bit of a fire under the second-year quarterback.
Whether Henne's presence on the roster had any real effect on Gabbert or not, he has been pretty good thus far, per Greg Rosenthal at NFL.com:
All reports were that the fundamentals improved and that Gabbert had a good offseason on that front. During the first two days of minicamp—the first time the media has been allowed to watch a full practice since the beginning of the offseason program—the difference in Gabbert was obvious.
He needs to prove worthy of his first-round status or risk drawing the ire of Jacksonville's faithful sooner than later. So far, so good.
Nick Fairley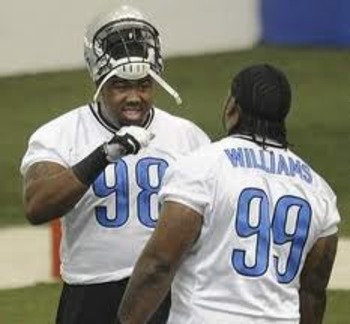 The Lions needed some positive news out of practice with all the shenanigans the Lions have participated in this offseason. Titus Young was impressive during OTAs, but another second-year man drew some rave reviews himself.
Nick Fairley has had his share of off-field issues, but he has apologized for them and is focused on football. The results have been great.
Hopefully, these reports signal the end of a short-lived knucklehead era in Detroit.
Taiwan Jones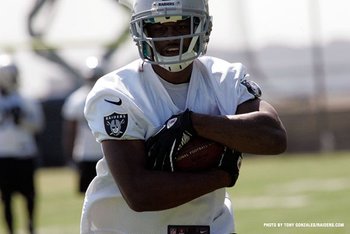 Photo Credit: Tony Gonzalez, Raiders.com
Conventional wisdom leads to Mike Goodson—the more experienced of the two—as Darren McFadden's backup over Taiwain Jones. The Raiders traded for him during the offseason, and he knows a thing or two about stepping in for injured starters.
Jones is certainly giving him a run for his money thus far, however.
Raiders beat writer Steve Corkran notes, "The Raiders are loaded with fast players. However, Jones' speed just seems to be otherworldly, especially when he gets into the open field."
The second-year back certainly brought speed to the table when Al Davis took him in what turned out to be his final draft. If he can stay healthy and dynamic, his time might come sooner than later.
Andrew Luck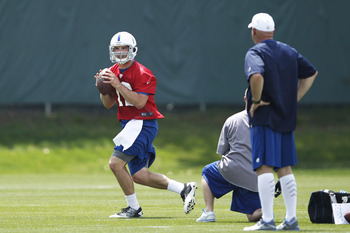 Joe Robbins/Getty Images
Though rookies tend to be behind the eight-ball when it comes to plying their trade as professionals, it stands to reason that the No. 1 overall pick should be the most NFL-ready, or close to it.
Luck has proven to be just that for the Colts thus far.
From completing 15-of-16 passes in 11-on-11 drills on his first day—including making adjustments at the line—to garnering glowing praise from teammates, Luck looked like a savvy veteran.
This should come as no surprise, though—Luck excelled in a pro-style offense at Stanford.
Randy Moss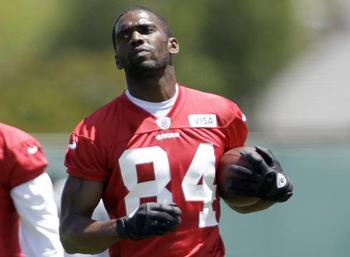 AP Photo/USA Today, Paul Sakuma
The last time we saw Randy Moss, he was flaming out with the Titans after driving himself out of New England and Minnesota, to the tune of 80 receiving yards over eight games. He retired after that season, but the idea of an ignoble end to a magnificent career must have weighed too heavily on the proud veteran.
Father Time is catching up to the future Hall of Famer, who is hoping to stiff arm the old codger for one or two more seasons.
So far, so good with the 49ers. Moss has shown a little of his old self while engrossing himself in the offense and ingratiating himself to his teammates.
If he can capture a little of the old magic and stays happy, the 49ers could have an incredible receiving corps on their hands.
Brandon Lloyd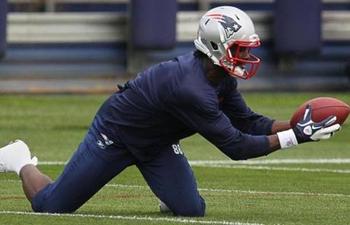 Photo Credit: Boston Globe
The Patriots have been searching for a reliable outside receiver ever since Randy Moss' departure. Deion Branch has been good at times, but Chad Ochocinco and Brandon Tate were major busts for the Patriots.
They may have solved their issues by landing Brandon Lloyd, who is reunited with the coach responsible for his career renaissance, Josh McDaniels. He is already building chemistry with Tom Brady, which is vital to his success in the offense (per Nick Underhill of MassLive.com):
"It's just a matter of sometimes it doesn't look like he's really open and then, boom he springs open on you," Brady said. "So sometimes you think, 'Oh, he's covered,' and then you get off of him and then you watch the film and you're like, 'How did he get open?'

"He knows what he's going to set the guys up with and he makes the move and you have to trust that he's going to beat the guy and he does. It's just really a matter of, don't really let your eyes take away from what he's doing in his route, because ultimately he's going to get open at some point."

The fact that Brady is able to discuss Lloyd in those terms is a testament to how quickly he has assimilated himself into the fabric of the offense.
This is good news for Patriots fans, and even better news for Lloyd's future fantasy football owners.
Shea McClellin
The Bears needed an upgrade at pass-rusher, and they felt strongly enough about McClellin to take him over other touted prospects in the draft.
Thus far, he has not disappointed.
The video above really says it all. McClellin has been impressive thus far with the Bears, and they hope he can continue that momentum into training camp and beyond.
Peyton Manning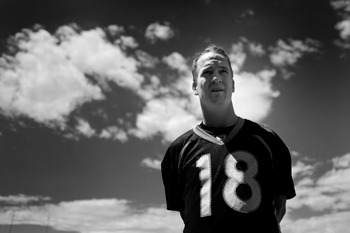 Getty Images/Justin Edmonds
Must we really compliment Peyton Manning, a future Hall of Fame quarterback, on a good training camp? Has he ever had a bad one? Aside from being short-circuited by his neck last season, that is.
It was important for Manning to get off to a good start with the Broncos for many reasons, however. Showing that he has regained his arm strength would put many fears to rest, and he has shown that for the most part.
Integrating with a new offense is never easy, even for one of the more hard-working quarterbacks in the NFL, and he took good first steps in doing so and building chemistry with his new teammates.
Brandon Carr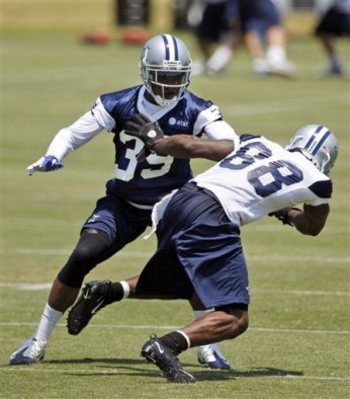 The Cowboys had an atrocious defensive backfield last season, and one of the major reasons was a lack of quality at cornerback. They attempted to address that by signing Brandon Carr to a big, $50 million contract away from the Chiefs.
Pressure is on for the newly minted Cowboy, and he has thrived thus far with his new team. Rob Ryan is clearly thrilled, saying, "He shuts down everybody. He can cover anybody. He's got long arms, great length, and he's a great person who works his tail off. He takes coaching, and I'm really impressed with him."
This should be no surprise—Carr was very good for the Chiefs last season, and should be an anchor for this Cowboys' defense for years to come.
Justin Tuck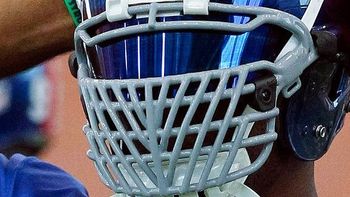 Photo Credit: US Presswire/Jim O'Connor
When the Giants held minicamp, they did not expect Optimus Prime to attend.
Also known as Justin Tuck, the defensive lineman was sporting a facemask even crazier than last season's. His rationale is simply making things difficult for would-be grabbers—a broken finger awaits anyone who manages to get one in there.
Tuck's performance at minicamp is irrelevant—we know what he brings to that Giants defense—but his facemask is just too good to exclude him here.
The look is so good that he has teammates clamoring for one of their own. They will have to resort to designing one themselves—Shredder doesn't share.
Keep Reading