AL Manager of the Year Rankings: Yankees Skipper Joe Girardi Cracks Top 5
Ed Zurga/Getty Images
When Joe Girardi won the National League Manager of the Year award back in 2006, he did it by squeezing 78 wins out of a then-Florida Marlins club that had no business winning 78 games. He did a lot with very little.
Girardi hasn't been faced with this same challenge since taking over as the manager of the New York Yankees in 2008. He's been blessed with a strong roster each year he's been in charge, and the Yankees have won 421 games (and counting) under his watch, not to mention a World Series.
Girardi has yet to finish any higher than third in the AL Manager of the Year voting during his time with the Yankees. The perception among baseball writers is that his job has been made easy by the talent on his roster.
This, of course, is quite true. However, things are a little different this year. The Yankees are a weaker team than they've been in some time, but you'd never know it from looking at their AL-best 37-25 record. At some point, Girardi has to be given credit for this.
How about now?
Here's a look at this week's AL Manager of the Year rankings. Rest assured, Girardi is in here somewhere...
Note: Feel free to check out last week's rankings.
5. Bobby Valentine, Boston Red Sox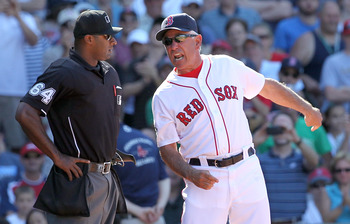 Jim Rogash/Getty Images
Last Week: No. 4
No manager in the American League has had to endure more scrutiny this season than Bobby Valentine.
It suffices to say he's handled it pretty well.
The Red Sox are not a great team. They're 31-32 at the moment, and they've proven to be incapable of establishing any kind of consistency. The way they're going, the odds of them making the postseason aren't good.
The fact that they even have a shot at the postseason, however, is a testament to how well Bobby V has pulled strings this season.
The Red Sox haven't been at full strength for a single game in 2012. They're missing two-thirds of their starting outfield, they lost would-be closer Andrew Bailey to a thumb injury before the start of the season and they've lost a lot of their depth due to injuries. More recently, they've had to deal with the Daniel Bard mess and the Kevin Youkilis-Adrian Gonzalez-Will Middlebrooks playing time quagmire.
Stuff like this could have led to Bobby V's immediate termination. Instead, the club has to be impressed with how well the club is playing under his watch.
Valentine was as high as No. 3 in these rankings at one point. He's moving in the opposite direction because the month of June hasn't been kind to the Red Sox. He also didn't do himself any favors by letting his frustrations with the umpires boil over after Boston's recent sweep at the hands of the Nationals.
4. Joe Girardi, New York Yankees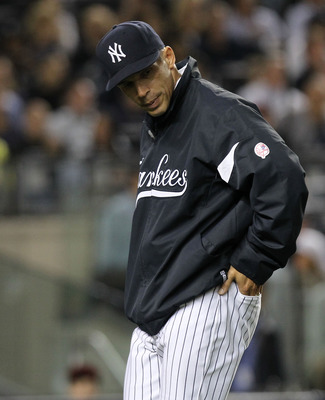 Nick Laham/Getty Images
Last Week: Unranked
The Yankees have won 10 of 12 in the month of June, and they've beaten up on some quality clubs along the way. The only games they've lost this month were started by Justin Verlander and David Price, two of the American League's best pitchers.
Good pitching is a big reason why the Yankees have played so well this month. Their starters have a 2.13 ERA, and their relievers have a 2.74 ERA in June, according to FanGraphs. When you're getting pitching like that on a consistent basis, you're going to win baseball games.
Because they've been so hot recently, it's easy to forget that the Yankees are another team that hasn't been at full strength this season. Losing Michael Pineda for the season was a blow, losing Brett Gardner was an even bigger blow and losing Mariano Rivera for the season was a huge blow.
On top of the injuries, the Yankees have had to deal with inconsistent production from Alex Rodriguez, Mark Teixeira and even Derek Jeter, who is hitting about .280 since the start of May with no power (h/t Baseball-Reference.com).
The fact that the Yankees have the best record in the AL right now reflects well on Girardi. It's not unusual for the Bombers to have the league's top record under his watch, but what they're doing this season shouldn't be taken for granted. Given their laundry list of issues, the Yankees shouldn't be this good.
There are clearly no such doubts within the Yankees clubhouse. For that, you have to tip your cap to Girardi.
3. Robin Ventura, Chicago White Sox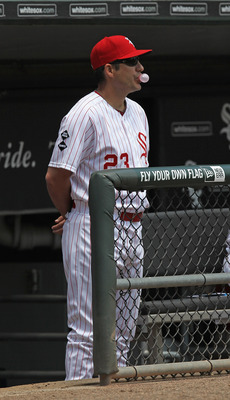 Jonathan Daniel/Getty Images
Last Week: No. 3
For a period of about two weeks from the middle to the end of May, no team in baseball was as hot as the White Sox. In winning 12 of 13 games, they looked truly unbeatable.
They are currently 5-6 in the month of June, proving for the umpteenth time that no baseball team is really as good as it looks when it's hot.
This is not to say that Chicago's win streak was a waste of time. On the contrary, it gave the White Sox a lead in the AL Central that they still hold, and it showed the world that Robin Ventura is pretty good at this whole managing thing despite never having tried it before this season.
Ventura is in the right place at the right time with the White Sox. Nick Cafardo of the Boston Globe summed it up best when he wrote this:
The Ozzie Guillen opposite, he has been refreshing for the players and calming at the same time. There's an even keel on the White Sox, no train wrecks every other day.
This is indeed a much calmer, more approachable White Sox team. In fact, they'd even be likable if somebody besides Hawk Harrelson was broadcasting their games (just kidding, except not).
Perception aside, Ventura's team has a very good chance of making the postseason. They'll be challenged by the Detroit Tigers at some point, but they'll have the firepower to make a run at a wild card berth even if they get knocked from first place.
Not bad for a team that at least one scout thought would lose 100 games this season (see CBSSports.com).
2. Joe Maddon, Tampa Bay Rays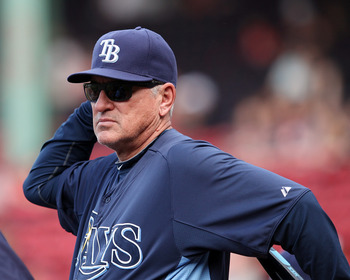 Gail Oskin/Getty Images
Last Week: No. 1
If anybody other than Joe Maddon was managing the Tampa Bay Rays, they'd be in last place in the AL East.
Make no mistake about it, the Rays' roster on paper isn't much to look at. Their starting pitching is great, but everything else is decidedly "meh." With Evan Longoria currently on the disabled list, things look even worse.
Yet the Rays currently have the fourth-best record in the American League at 35-27. This time last week, they were tied for first place in the AL East.
Maddon has all sorts of tricks up his sleeves that he uses to get the Rays to win games. His notorious infield shifts work better than you probably think, as the Rays currently rank third in baseball with 27 defensive runs saved, according to FanGraphs. Maddon's strange lineup variations have a way of paying off, and he does a fine job of keeping things loose in the clubhouse.
I mean, come on, how freaking awesome are his lineup cards? On separate occasions this season, he's used his lineup cards to compare his players to superheroes, rappers, and even golfers.
You'd be hard-pressed to find a ballplayer who wouldn't like to play for Maddon someday.
Sadly, I had to move Maddon down to No. 2 in the rankings this week. As much as I love the guy, the Rays have had to deal with their share of issues lately.
1. Buck Showalter, Baltimore Orioles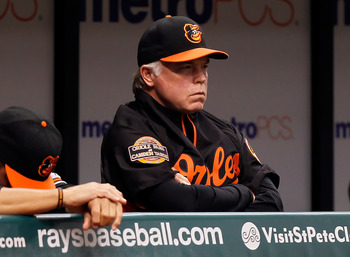 J. Meric/Getty Images
Last Week: No. 2
The Orioles are no longer the cool story of the 2012 Major League Baseball season. People were tuned in when they had the best record in the AL and were on top of the AL East, but people tuned out as soon as they hit the skids in late May and early June.
The O's were left for dead.
Those who wrote them off might want to check again. The O's have won seven of their last 10, and the only teams with better records than them in the AL are the Yankees and the Texas Rangers.
Yep, Buck Showalter's O's clearly still have plenty of fight left in them.
This is a point they've proven quite a few times this month. The Orioles have won three extra-inning games, and they've beaten some pretty tough opponents to boot. They got the better of the Boston Red Sox at Fenway Park yet again, took two of three from the Philadelphia Phillies and they're going for a sweep of the Pittsburgh Pirates today.
So if you gave up on the O's when they lost eight of 10 to close out May, now's the time to come back. Showalter's team still has plenty of wins left in it.
The O's are on pace to win 94 games, for the record. If they even get to 90, Showalter will win Manager of the Year in a landslide.
Last Week's Rankings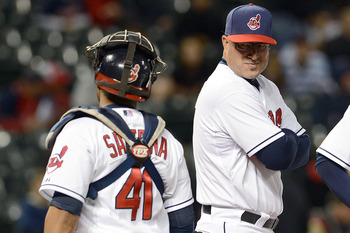 Manny Acta
Jason Miller/Getty Images
5. Manny Acta, Cleveland Indians
He's been in and out of my top five for weeks. Acta is doing a fine job this season, but his Indians are an impossible team to figure out.
4. Bobby Valentine, Boston Red Sox
A slight tumble, but he still deserves plenty of credit.
3. Robin Ventura, Chicago White Sox
Steady as she goes.
2. Buck Showalter, Baltimore Orioles
Movin' on up.
1. Joe Maddon, Tampa Bay Rays
Just wait 'til the Rays get Longo back...
If you want to talk baseball, hit me up on Twitter.
Keep Reading