AL Manager of the Year Rankings: Robin Ventura Catching Up to Joe Maddon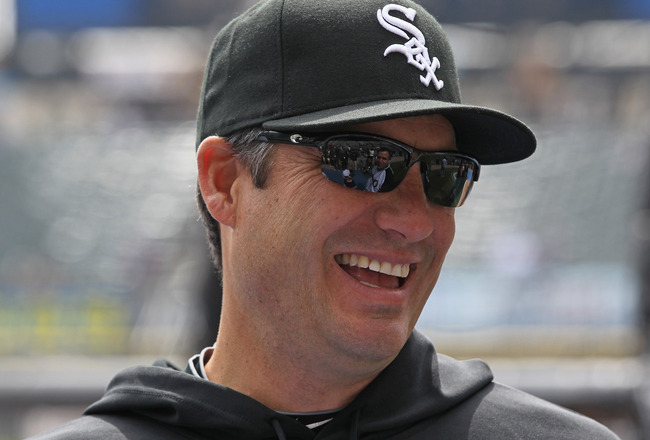 Robin Ventura's White Sox are still looking like the class of the AL Central.
Jonathan Daniel/Getty Images
Right now, it's looking like the 2012 American League Manager of the Year is going to come out of either the AL Central or the AL East.
In the East, all five teams are .500 or better, and they're only separated by a grand total of four games. Buck Showalter, Joe Girardi, Joe Maddon, John Farrell and Bobby Valentine are all doing good work.
There's not quite as much parity in the Central, but both Robin Ventura and Manny Acta have done well to keep their teams in the race. It's shaping up to be a tough two-horse race, and things will be even more interesting once the Detroit Tigers get their act together.
The Manager of the Year race promises to be a fluid situation all season long. Here's an updated look at how the top managers in the Junior Circuit stack up right now.
Note: Feel free to check out last week's rankings.
5. Manny Acta, Cleveland Indians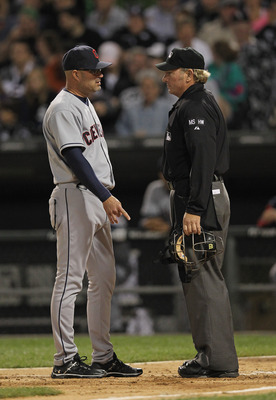 Jonathan Daniel/Getty Images
Last Week: Unranked
Are the Indians as good as their 30-26 record indicates?
No they are not. They're a middle-of-the-road ballclub both in terms of offense and pitching, and they're one of just six teams in the American League with a negative run differential.
Plus, you have to consider how the Indians have fared recently against solid ballclubs, and they haven't fared well at all to that end. Over the last month, the only team worth a darn that the Indians have gotten the better of is the Detroit Tigers, and the Tigers aren't even good.
Just as they were this time last season, the Indians are overachieving.
I mean this in a nice way, and I also mean it as a compliment to Manny Acta. He's had to deal with key injured players (Jack Hannahan, Travis Hafner), underperforming pitchers (Justin Masterson, Ubaldo Jimenez), and inconsistent hitters (Casey Kotchman, Shin-Soo Choo), yet he still has the Indians over the .500 mark.
It also reflects well on him that the Indians have played so well against the Tigers. Acta has clearly been able to sell the notion to his troops that beating the Tigers really matters.
Acta has been in and out of my top five for the better part of a month. For now, he's in.
4. Bobby Valentine, Boston Red Sox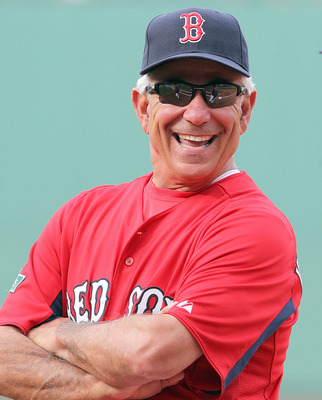 Jim Rogash/Getty Images
Last Week: No. 3
The Red Sox may be .500 at 28-28, but that's still significantly better than where they were a month ago. Bobby Valentine's club was seven games under .500 at one point in early May.
By all rights, the Red Sox should still be struggling. They have more injured players than any team in the American League, they haven't gotten good production out of Adrian Gonzalez, Jon Lester has been a complete mystery all season and they recently had to send No. 5 starter Daniel Bard down to Triple-A.
Despite all this, they're only four games out of first in the AL East. Valentine's ability to shuffle his lineups and get good work out of Boston's bullpen are key reasons why the Red Sox are still in the race. His cleverness is saving Boston.
There are, however, times when Bobby V pushes it a little. As Peter Abraham of The Boston Globe pointed out, the Red Sox are first in the American League with 15 sacrifice bunts this season. Sac bunts are rarely a good idea in the AL, and Bobby V has been too quick to push that button this season.
Even still, Valentine has managed to get the Red Sox back in the race despite having to deal with less than favorable circumstances. He deserves a lot of credit for having done so.
3. Robin Ventura, Chicago White Sox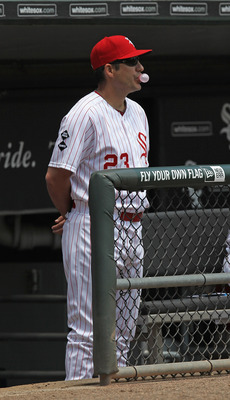 Jonathan Daniel/Getty Images
Last Week: No. 4
The White Sox have cooled off a little bit, as they've lost three of their last four games against the likes of the Seattle Mariners and Toronto Blue Jays.
This was bound to happen. No team is as good as it looks when it's in the middle of a long winning streak. The White Sox have proven to be no different.
Nonetheless, it's still looking like the AL Central is Chicago's division to win. The Tigers are faced with an uphill climb back to the top, and the White Sox have proven that they can handle Manny Acta's Indians.
Robin Ventura's role in Chicago is to just keep everything glued together. The White Sox have some great hitters and two very good starting pitchers in Jake Peavy and Chris Sale, so he doesn't have to tinker and mix and match as much as other managers do. He's more of a field general than he is a chess player.
As Dave van Dyck of the Chicago Tribune put it, Ventura has "kept the team on an even keel emotionally, always preaching confidence."
His approach has clearly rubbed off on his players, particularly on younger emerging stars like Dayan Viciedo and Alejandro De Aza.
2. Buck Showalter, Baltimore Orioles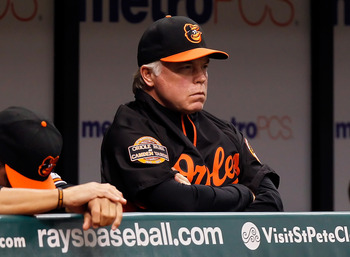 J. Meric/Getty Images
Last Week: No. 2
Thank goodness for the Boston Red Sox and Fenway Park. The Orioles were looking for an excuse to snap out of their recent funk, and a three-game series against the Sox at Fenway has proven to be just what the doctor ordered.
The Orioles didn't look so good for a while there, losing 10 of 13 games and temporarily falling out of first place in the AL East. They looked nothing like the club that had climbed to the top of the division using nothing but grit and a lot of home runs.
The Orioles have looked more like that team since arriving at Fenway, winning a tough extra-inning game in which they had a win, lost it, and then took it back. Then they outlasted Josh Beckett thanks to an excellent performance by Wei-Yin Chen.
The O's have been a thorn in Boston's side going back to last season, and that reality has Buck Showalter's fingerprints all over it. He wants his guys to want to beat the Red Sox, and, well, they have.
He also wants his guys to want to be in first place in the AL East, and they are. They won't be able to stay on top all season, but the fact that they're on top in early June is a testament to the job Showalter has done.
1. Joe Maddon, Tampa Bay Rays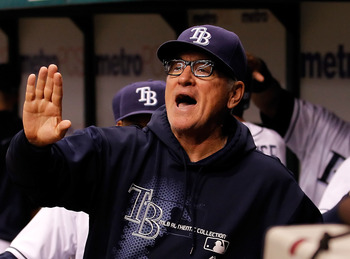 J. Meric/Getty Images
Last Week: No. 1
Joe Maddon's Rays have lost six of eight, and they are now in third place in the AL East behind the New York Yankees.
Don't look at Joe Maddon. It's not his fault. As he always is, he's doing what he can with what he's got.
He's at the top of this list because he doesn't have much. The Rays have a strong starting rotation, but beyond that they're one of the weakest looking teams on paper in the American League. Their offense, in particular, has more than a few holes in it.
The Rays have managed to get by largely because of Maddon's creativity. He squeezes runs out of subpar lineups, plays tricks with his defense and he knows which buttons to push and when with his bullpen.
You might be tired of hearing all of this stuff about Maddon. Truthfully, even I'm getting a little tired of it. But hey, it's all true. Maddon pulls more strings than any other manager in baseball, and his trickery works more often than not.
If he's not the manager of the Rays, we're not even talking about them right now.
Last Week's Rankings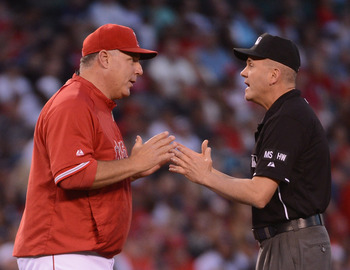 Mike Scioscia
Harry How/Getty Images
5. Mike Scioscia, Los Angeles Angels
He's still on the radar, but Scioscia's Angels have cooled off after an impressive run.
4. Robin Ventura, Chicago White Sox
Moving on up.
3. Bobby Valentine, Boston Red Sox
A slight drop this week, but Bobby V is still hanging in there.
2. Buck Showalter, Baltimore Orioles
Steady as she goes.
1. Joe Maddon, Tampa Bay Rays
Ditto.
If you want to talk baseball, hit me up on Twitter.
Keep Reading