Andrew Luck and Heralded Rookies with Most to Prove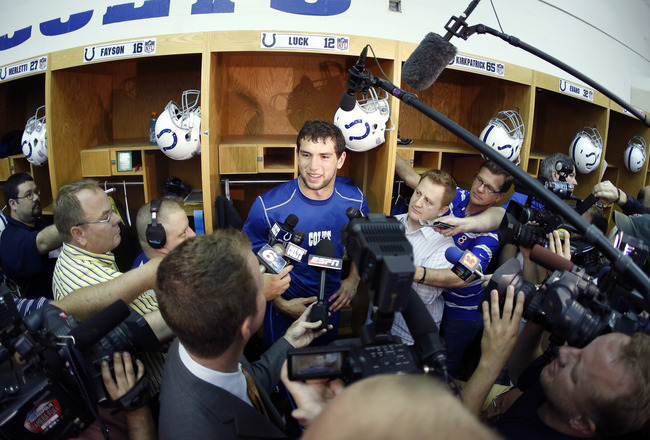 Joe Robbins/Getty Images
The 2012 NFL draft class featured some of the most highly-touted prospects of the last decade.
Andrew Luck, anyone?
It was a class front-loaded with two supposed transcendent quarterbacks, a potential All-Pro running back and an assortment of NFL-ready defenders.
With all the hoopla surrounding the cream of the 2012 crop comes immense expectations.
These must-have prospects will quickly be forced into starting roles at the professional ranks and will have plenty to prove from day one in the NFL.
Andrew Luck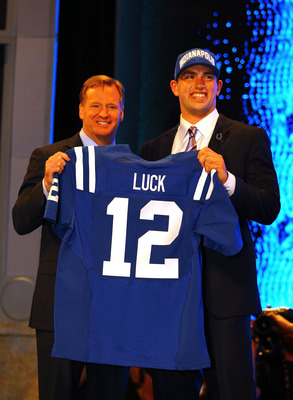 Al Bello/Getty Images
Luck has received just about every accolade imaginable from a countless number of draft analysts over the last two years.
Some say he's the best and most clean quarterback prospect since Peyton Manning. Others think he's the most impressive signal-caller to enter the league since John Elway.
At 6'4'', and with a strong, accurate arm, deceptive mobility and a firm grasp on a pro-style offense, what's not to like about the Colts new quarterback?
He does have the unenviable task of resurrecting a team that mustered only one win in 2011, but the expectations are undoubtedly through the roof.
Robert Griffin III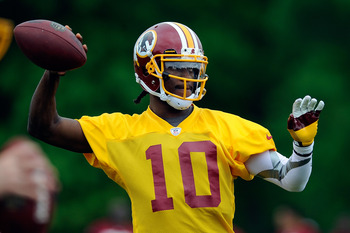 Patrick McDermott/Getty Images
Griffin III's college highlight reel exhibits the young quarterback's transcendent ability.
He is a pinpoint and oftentimes deadly pocket passer, a guy ready and willing to deliver strikes down the field.
If his throwing prowess wasn't appealing enough, RG3 is a track superstar who's as fast as many NFL wide receivers.
When things break down in front of him and Griffin III needs to improvise, that's not an issue. His stunning acceleration is accompanied by running back-like lateral agility.
In D.C., where quarterbacks have struggled for the last decade or more, RG3 will be relied upon to elevate the Redskins to new heights.
Trent Richardson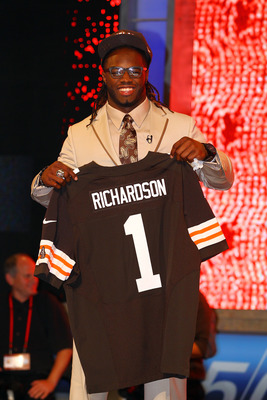 Al Bello/Getty Images
When Alabama won a national title in the winter of 2010, the eyes of many NFL scouts were on tailback Mark Ingram, an eventual first-round draft pick in the 2011 draft.
But during that game, a extraordinarily talented freshmen, Trent Richardson, reminded those very scouts that not only was he the next great Alabama runner, but he had the skills to be better than Ingram.
He finished that game against Texas with 109 yards on 19 carries and had a 49-yard touchdown sprint that showcased his surprisingly burst.
Two years later, that freshmen morphed into one of the best running back prospects to enter the NFL in a decade.
The Cleveland Browns, a team desperately searching for an offensive boost, grabbed Richardson at No. 3 overall and will likely make him the focal point of their offense.
He'll be looked upon to end the offensive misery in Cleveland.
Morris Claiborne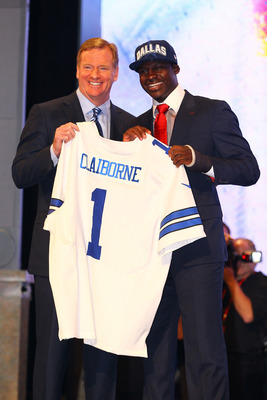 Al Bello/Getty Images
The Dallas Cowboys liked what they saw from LSU Tigers cornerback Morris Claiborne so much that they moved from No. 14 to No. 6 to grab him.
He was labeled as the No. 1 cornerback in the 2012 class and as a well-rounded defender with good ball skills, respectable athleticism and the ability to make an impact against the run.
Playing in the ultra-hyped NFC East on Cowboys, a team always in the spotlight, Claiborne has much to live up to the billing.
Dealing with receivers like Hakeem Nicks, Victor Cruz, DeSean Jackson, Jeremy Maclin and Pierre Garcon will certainly be a stern challenge for the newest member of the Dallas secondary.
Michael Floyd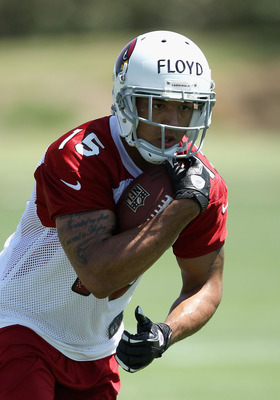 Christian Petersen/Getty Images
In the weeks leading up to the 2012 draft, many believed Floyd was the best overall receiving prospect, supplanting Justin Blackmon for that distinction.
His 6'3'', 220-pound size and his long-striding speed were attributes that many NFL teams coveted.
He landed with buddy Larry Fitzgerald on the Arizona Cardinals—a team that's floundered offensively since Kurt Warner called it quits.
Though Floyd can lean on Fitzgerald to play at his typical Pro Bowl level, the Cardinals are expecting the former Notre Dame standout to complement Fitz and create a formidable receiving duo that'll drive opposing secondaries crazy in the foreseeable future.
Playing in an NFC West that has an impressive San Francisco 49ers looking down on the rest of the division, Floyd has his work cut out for him when attempting to help the Cards return to prominence.
Keep Reading