MLB's 5 Best Power Pitchers Under 6'0" Tall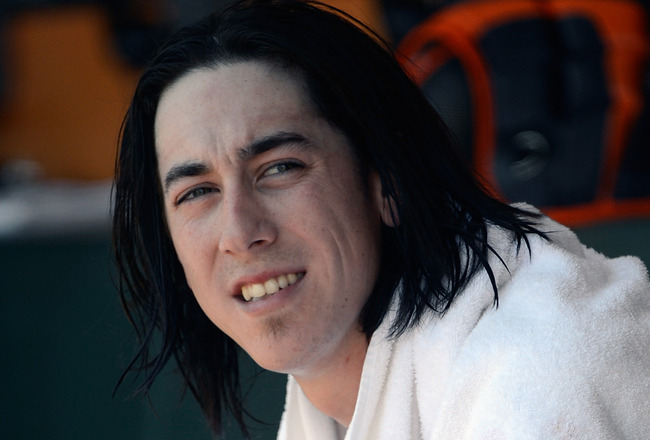 Thearon W. Henderson/Getty Images
There is a very select fraternity of MLB power pitchers under 6'0" tall. If you were going to go through each and every MLB roster, you would find it challenging to find pitchers who a) throw over 90 mph b) strike out at least one batter per inning pitched.
This list is short but the names have compiled a tall list of accolades that rival their larger competitors. Here are five pitchers who match either or both of the criteria listed above.
Let the debate begin!
Please follow me at Twitter @ #JohnAltamura
1. Tim Lincecum, RHP, San Francisco Giants, 5'11"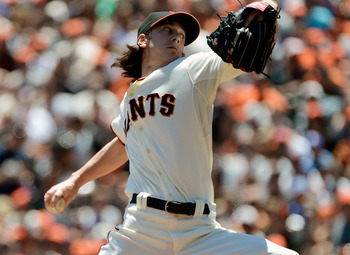 Thearon W. Henderson/Getty Images
Tim Lincecum has the capability to be the best power pitcher in MLB under 6'0" tall. From 2007-11, Lincecum fit the archetype as he won two NL Cy Young Awards and struck out 1,127 batters in 1,028 innings pitched.
2012 has not been as kind to Lincecum as he has posted 2-8 record with a 6.19 ERA. His strikeout per inning ratio is still better than 1:1 (77 K's in 72 IP) but according to fangraphs.com, his velocity has dropped into the 91-93 mph range.
MLB Network analyst and former hurler Al Leiter spoke to Alex Pavlovic of the MercuryNews about Lincecums' woes and potential drop in velocity.
"When he can't say 'I'm blowing this guy away,' that's when you stop having that gunslinger bravado," said Leiter. "... It's the result of him not making big pitches when he has to and walking so many guys. Guys are being more selective with him. Hitters look at the tape and see 88 mph or 89 and it's a different approach."
Lincecum is still putting up power numbers despite his poor record and lower velocity numbers. Lincecum gave up five runs in five innings pitched in a 7-4 loss to the Seattle Mariners on Saturday.
2. David Robertson, RHP, New York Yankees, 5'11"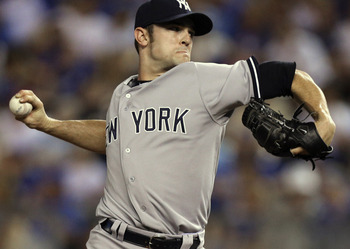 Ed Zurga/Getty Images
You don't need to be over 6'0" feet tall to pitch in David Robertson's neighborhood. The 5'11" New York Yankees set-up man has been battling injuries so far in 2012, but has historically posted strong strikeout numbers. He has averaged a strikeout per inning throughout his career, (295 K's in 217.1 innings pitched).
Robertson has averaged 92.9 mph on his fastball so far in 2012 according to fangraphs.com. Robertson returned from his prolonged DL stint on Friday against the Washington Nationals and he gave up a run in one inning of relief. The Yankees won the game 7-2.
3. Fernando Rodney, RHP, Tampa Bay Rays, 5'11"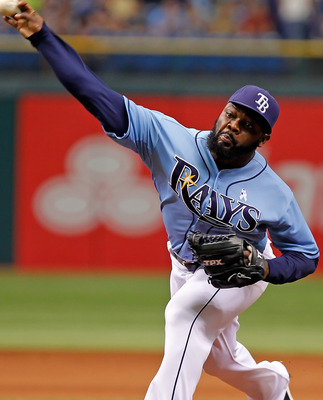 J. Meric/Getty Images
The 2006 Detroit Tigers captured the AL pennant with an impressive collection of power arms in the bullpen. Ironically enough, the two hard-throwing relievers who set up closer Todd Jones couldn't have been any different in a physical sense.
You had the 6'3" 215-pound Joel Zumaya, who fit the classic flame-thrower archetype. And then you had Fernando Rodney, whose 5'11" 225-pound frame didn't quite fit the classic power-pitcher mold. Still, Rodney has managed to put up impressive career strikeout numbers (420 K's in 460.2 innings pitched).
Rodney is averaging 95.7 mph on his fastball so far in 2012 according to fangraphs.com. He has also tallied 18 saves for the Tampa Bay Rays so far this season.
4. Jason Frasor, RHP, Toronto Blue Jays, 5'10"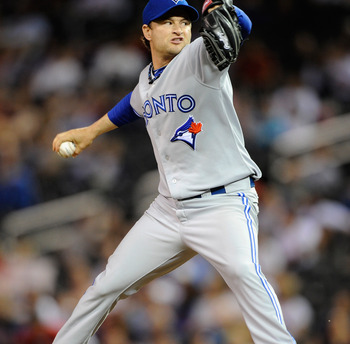 Hannah Foslien/Getty Images
Toronto Blue Jays reliever Jason Frasor has been able to throw relatively hard despite not having the classic hard-throwing pitcher's body. Frasor is the shortest pitcher on the list at 5'9", but has been able to record respectable strikeout numbers throughout his career (476 K's in 502.1 innings pitched).
He has been used in a variety of roles throughout his career, but currently serves as a reliever. He is currently registering 92.8 mph on his fastball according to fangraphs.com. Frasor pitched a scoreless ninth in the Blue Jays' 6-2 victory over the Philadelphia Phillies in interleague action on Sunday.
5. Johnny Cueto, RHP, Cincinnati Reds, 5'10"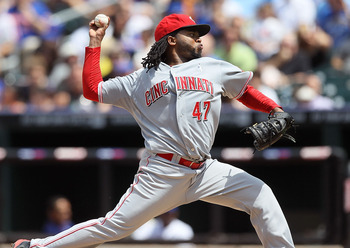 Jim McIsaac/Getty Images
You could make a good argument that Johnny Cueto is not a classic strikeout pitcher. His numbers don't dictate that he is—his strikeouts per inning have dropped from 8.2 in 2008 to 6.1 this season. His best strikeout stats came in 2008 when he struck out 158 in 174 innings pitched.
The 5'10" Cueto is still averaging 91.7 mph on his fastball this season—which still places him in power-pitcher category. His season stats are also strong as he has posted a 8-3 record with a 2.38 ERA. He even put up a strong showing against the New York Mets on Sunday, walking one and striking out eight in seven innings for the win.
Keep Reading