8 Burning Questions on Opening of NFL Minicamps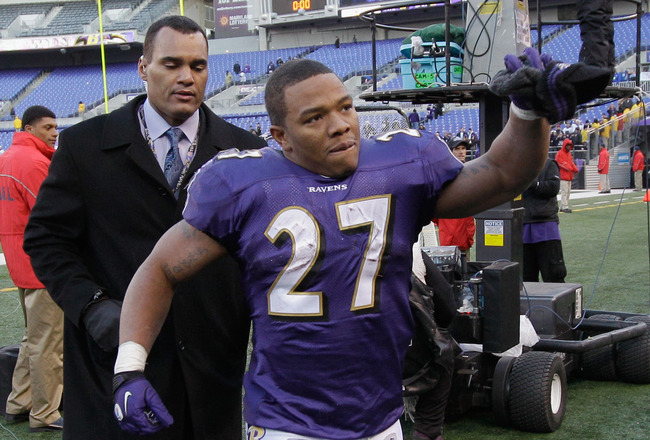 Rob Carr/Getty Images
NFL minicamps are much more important than you think.
And for 24 teams, minicamps start today.
They aren't voluntary like their brothers, the famed Organized Team Activities, or OTAs, and it's the last time coaches are with their players on the field until late July when training camp begins.
Guys who want new deals can make their first legitimate stand against management, and this is the time when positional battles are born.
We've all been longing for newsworthy, on-field happenings in the NFL, and with a slew of storylines and burning questions, we finally get to satisfy that craving.
Will Star Running Backs Get Long-Term Contracts?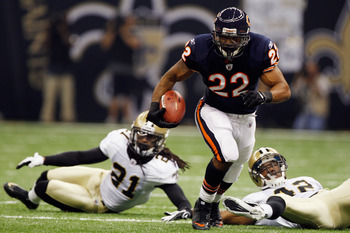 Chris Graythen/Getty Images
Matt Forte, Ray Rice, Maurice Jones-Drew and Willis McGahee are not content with their current contracts.
I bet, unless you're from Denver, McGahee being named in that group surprised you.
For Rice, there have been no reports of serious talks between the two sides. Nevertheless, the Ravens runner, via the Baltimore Sun, expects the situation to "take care of itself" and makes it clear that he's staying in great shape.
In Forte's dispute, which has raged on for a long time, no real progress has been made. He's told the media (ESPNChicago.com) that he's not looking to become the highest paid running back in the NFL and that he just wants "respect" from the Bears front office.
His quarterback Jay Cutler said Forte's in great shape and that he'd be "shocked" if Forte didn't report to training camp on time.
So, don't expect Forte at Chicago's minicamp.
The situation with Jones-Drew in Jacksonville doesn't look good, either. Tania Ganguli of the Florida Times-Union sent out a tweet stating that MJD wouldn't be reporting to minicamp and that she's hearing his holdout could extend into the regular season.
Yikes.
As for McGahee, the least publicized disgruntled running back, the issues with his contract were made known in March, via the Denver Post, but there haven't been any updates from him or the Broncos front office.
How Impressive Will Rookie Quarterbacks Be?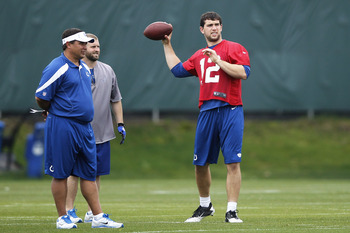 Joe Robbins/Getty Images
Andrew Luck and Robert Griffin III are the unquestioned starters on their rebuilding clubs. Brandon Weeden has a great shot to win the starting job in Cleveland.
Luck and Griffin III, to some, are the most NFL-ready quarterbacks to enter the league in quite a while. Will they start to exhibit their immense talent this week, or will it take them a while to acclimate themselves to the professional game?
Is Weeden ready? He'll be fighting with Colt McCoy all summer.
How about Ryan Tannehill?
He's beginning what should be an intriguing QB battle that includes Matt Moore and David Garrard. At least we'll be able to closely monitor this competition in August on HBO's Hard Knocks.
Is Ben Roethlisberger Happy with Todd Haley's New Offense?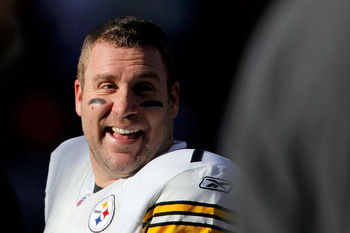 Justin Edmonds/Getty Images
Ben Roethlisberger became good buddies with former offensive coordinator Bruce Arians, which wasn't necessarily surprising.
Why? Well, Arians progressed his offense into a more pass-happy attack, something any starting quarterback would welcome.
Big Ben accumulated lofty numbers as a passer and set career highs with Arians as the Steelers offensive coordinator.
How will Pittsburgh's offense look this season, and will its franchise quarterback be comfortable?
Via SportsRadioInterviews.com, Big Ben said this regarding Haley's newly implemented system:
It's different. It's change. And I'm not saying that change is bad, but because it's different and it's something that you're not comfortable and used to doing, you're not going to be comfortable, obviously. But you've got to take the bull by the horns, as they say, and try and run with it.
He went on to say that he "thinks" the Steelers will be running a lot in 2012.
Will Big Ben be OK with that?
Who Takes the Early Lead in the QB Battle in Seattle?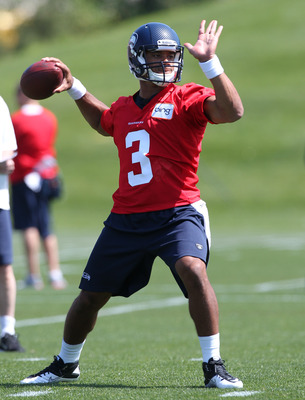 Otto Greule Jr/Getty Images
Matt Flynn was signed by the Seattle Seahawks during the free-agent period. Before the draft, everyone had him penciled in as the team's starter for this upcoming season barring an unforeseen spike in Tarvaris Jackson's play.
Then, the Seahawks selected Russell Wilson, one of the most intriguing players in the 2012 class.
He's got everything you'd want in a franchise quarterback, besides ideal size. Although the Wilson pick made people wonder if he'd challenge Flynn for the starting job, the thought seemed far-fetched.
John Boyle, Seattle's beat writer for the Everett Herald, shed some light on what looks like a true quarterback competition with this tweet:
Granted it's May, but this three-way QB competition is more than Pete Carroll hyperbole. All three splitting reps evenly in this week's OTAs

— John Boyle (@johnpboyle) May 24, 2012
Head coach Pete Carroll did say he planned on having an open QB competition. Which guy will take the early lead this week?
Doug Martin or LeGarrette Blount in Tampa?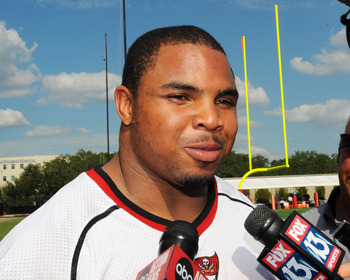 Al Messerschmidt/Getty Images
LeGarrette Blount went from undrafted free agent to the running back who led rookies with 1,007 rushing yards in 2010.
After a somewhat disappointing but still productive 2011 in which he accumulated 781 yards on the ground at a 4.2 yards per carry clip with five touchdowns, he may lose his job.
Greg Schiano, the team's new head coach, picked versatile Boise State runner Doug Martin, who has some Ray Rice-qualities about him, in the first round of this year's draft.
Could Wilson take carries and potentially the starting job away from the former Oregon Duck?
How Will the Jets Really Use Tim Tebow?
Jeff Zelevansky/Getty Images
In the first few weeks of the Jets' OTAs, Tim Tebow, according to Jenny Vrentas of the Newark Star-Ledger, was "focused on back-up quarterback duties—rather than any special packages or trick plays."
Later he did take some reps as the team's punt protector.
While that seems silly, it'll at least pose a legitimate threat of a fake, right?
Mark Sanchez has a somewhat tenuous grasp on the starting quarterback position already, and if Tebow plays well during the minicamps, training camp and the preseason, Gang Green could have an early quarterback controversy on their hands.
Will the New York Giants Offense Look Different?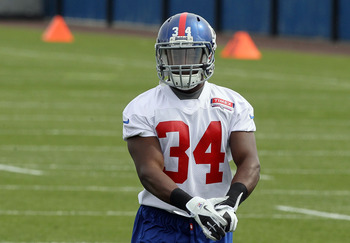 Jim McIsaac/Getty Images
Gone from the reigning Super Bowl champions are Brandon Jacobs and Mario Manningham.
Hakeem Nicks is nursing a broken bone in his foot.
The New York Giants have to prepare for life without Jacobs and Manningham and may have to alter their offensive game plan if they plan to take a more precautionary route with Nicks and the star receiver isn't fully recovered for the season opener against the Dallas Cowboys.
GM Jerry Reese pulled the trigger on David Wilson in the first round of this year's draft, a supremely athletic runner with breakaway speed and astonishing lateral agility.
Will the Giants look to feature more of their running attack with Ahmad Bradshaw and the youthful Wilson?
Remember, the G-Men finished the 2011 regular season with the worst statistical running game in the NFL.
Is Alex Smith Ready to Take the Next Step in 49ers' New-Look Offense?
Ezra Shaw/Getty Images
Alex Smith had the best year of his career playing under Jim Harbaugh in the 49ers' run-dominated offense in 2011.
The club was a few plays away from advancing to the Super Bowl, but clearly, Harbaugh wants more explosiveness from his passing game.
The team added legendary deep threat Randy Moss and Mario Manningham in the offseason. In the draft, they picked the underrated but sneaky smooth A.J. Jenkins in the first round.
LaMichael James was added as a complementary, check down running back.
Although Smith ended the 2011 season with a solid 90.7 QB rating, San Francisco wants more from him. Did he reach his ceiling last season as a game manager? Or can Harbaugh elevate his QB to new heights?
Then again, stats don't matter. Right, Alex?
Keep Reading