Has the AL or the NL Benefited More from MLB's Interleague Play Era?
June 9, 2012
From now until June 24, Major League Baseball will be in interleague mode.
If you can't get enough interleague action, you should enjoy the next couple weeks. If you don't enjoy interleague action, there's probably a good-sized rock near your place of residence that you can hide under for a little while. The choice is yours.
The news—which is either good or bad depending on your opinion of interleague play—is that this is the last season interleague play will be restricted to a roped-off segment of MLB's 162-game schedule. With the Houston Astros switching over to the American League in 2013, MLB will have two 15-team leagues. That means at least one interleague series is going to be going on at all times throughout the season.
It's going to be different, make no mistake about that. The bigger question, however, is whether interleague play every day is fair to teams from both leagues.
Since we can't look to the future for answers, we must look to the past. What have the first 15 years of interleague play revealed about the balance (or lack thereof) between the American League and the National League?
History is on the AL's Side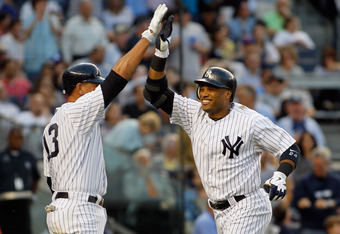 Mike Stobe/Getty Images
Fans of the American League love to brag about how much better the AL is than the NL. More often than not, they point to the 12 straight All-Star Games the AL won between 1997 and 2009. The tables have turned in the least two years, but the Senior Circuit still has some catching up to do.
The AL hasn't just flexed its muscles in the Midsummer Classic, though. Since interleague play began in 1997, the AL has done quite well for itself.
Per MLB.com, nine of the 14 teams in the American League boasted winning records in interleague play coming into the 2012 season. The Boston Red Sox, Chicago White Sox, Los Angeles Angels, Minnesota Twins, New York Yankees, Oakland Athletics and Seattle Mariners all boasted impressive interleague winning percentages over .540 entering this season.
This trend hasn't let up in recent years either. According to MLB.com, AL teams have won more games than NL teams in interleague play every year since 2004.
So historically, the AL has a clear edge. And while that's all well and good for the AL, it's also grounds for NL clubs to cry foul on interleague play. All those extra losses count towards the NL division races, and that can be an issue.
More on that in just a moment.
Interleague Play from an NL Perspective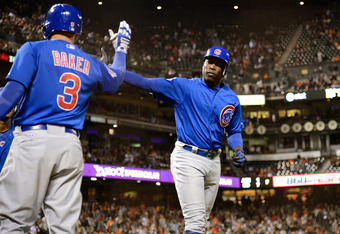 Thearon W. Henderson/Getty Images
When NL teams go to AL parks, they get to use the designated hitter. That may seem like an advantage, but that's not always the case.
The problem, obviously, is that a lot of NL clubs don't bother carrying DH-type players. There are some teams that carry a slugger that they can use in pinch-hitting situations, but NL teams generally look to load their benches with as many capable position players as they can get their hands on. These guys can play the field, but hitting isn't always their primary area of expertise.
Here's how one general manager summed up the problem, via Tom Verducci of Sports Illustrated:
It's worse for National League teams. When we go play in an American League park, they have a power guy as their DH hitting in the middle of their lineup. We have a fourth outfielder or backup infielder as our DH in the bottom of the lineup. You don't build a National League team the same way.
Because AL teams can use their customary DHs against NL teams when they play at home, they have an offensive advantage. By default, AL lineups are more powerful than NL lineups when interleague games are played in AL ballparks.
There are, thankfully, ways that NL clubs can offset this disadvantage. They are welcome to pencil in older position players at the DH position, thus giving them a day off from playing the field. Chipper Jones, for example, has logged over 100 at-bats as a DH. Barry Bonds was also able to log over 100 at-bats as a DH (h/t Baseball-Reference.com).
In addition, playing in AL ballparks allows some NL teams to give DH duties to defensive liabilities, a la the Cubs and Alfonso Soriano.
Even still, NL teams are forced to play a different style of baseball when they travel to AL ballparks, and it's a style of baseball that few NL teams are equipped to play.
Just as concerning for the NL is the fact that not all NL teams play the same number of interleague games. For example, some NL clubs will play 18 interleague games, and others will play only 15, and this can be an issue.
Case in point, the 2007 Chicago Cubs edged the Milwaukee Brewers by two games in the NL Central race, and that year they benefited from an 8-4 record in interleague play. The Brewers went 8-7 in interleague play. Those three extra losses ended up looming large.
Just sayin'.
Interleague Play from an AL Perspective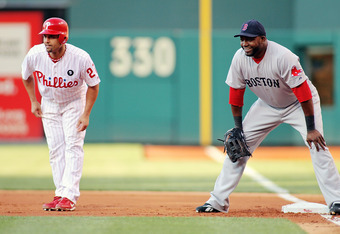 Len Redkoles/Getty Images
The whole time you were reading all that stuff about NL clubs in AL parks, you were probably wondering about AL teams losing the DH when they travel to NL parks.
That's a disadvantage, too. It's just not as big of a disadvantage as you probably think.
We can complain all we want about AL clubs losing the DH when they travel to NL ballparks, but this isn't a huge problem for one reason: There aren't that many pure DHs out there anymore.
Only three players serve as DHs on a regular basis these days: Billy Butler of the Kansas City Royals, David Ortiz of the Boston Red Sox, and, when he's healthy (which is never), Travis Hafner of the Cleveland Indians. Most other DHs around the league (i.e. Adam Dunn, Edwin Encarnacion, Michael Young) can and will play the field.
Though the Indians don't use Hafner in the field, Butler and Ortiz are capable of playing in the field, and they do play the field when their teams play on the road in NL ballparks. Both of them are used at first base.
The issue is that both the Royals and Red Sox are forced to make sacrifices when they play Butler and Ortiz in the field. The Royals have to move Eric Hosmer to the outfield, and the Red Sox have to do the same with Adrian Gonzalez.
The fact that the Royals have struggled in interleague play both throughout history and in their recent history doesn't tell us all that much. They have been, after all, one of baseball's most unsuccessful franchises for a long time.
The Red Sox, on the other hand, could have used the DH in their interleague road games last season. Three of their four interleague road losses in 2011 were by two runs or fewer, and that helped lead to an unspectacular 10-8 interleague record.
Meanwhile, the Tampa Bay Rays, a team could plug everyday DH Johnny Damon into left field, went 6-3 in NL parks in 2011 and 12-6 in interleague play overall. Those extra wins proved to be a big deal at the end of the 2011 season.
Collectively, however, AL teams don't really have a right to complain about interleague play even despite the occasional loss of the DH. The AL's dominance in interleague play over the years is proof that the Junior Circuit fares just fine in interleague play.
Who Benefits More from the Increased Attendance Numbers?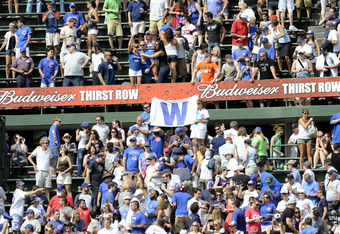 David Banks/Getty Images
Every time interleague play comes around, Major League Baseball executives love to boast about attendance numbers. 
As well they should. Per MLB.com, the average attendance figure for a given interleague game is right around 33,000. The league would love it if that was the average attendance of every single game played every single day.
When interleague play made its 2012 debut earlier this season, MLB got to celebrate a minor attendance record. According to the Associated Press, MLB's first interleague weekend this season drew a total of 1,652,935 fans for 45 games in three days. That was baseball's biggest weekend draw in three years.
But is there any kind of noticeable advantage between the two leagues? Do NL teams draw more fans when they host AL teams? Do AL teams draw more fans when they host NL teams?
Not really. You have to remember that MLB takes great care to come up with interleague matchups that they think will stuff ballparks with fans, and the league does a pretty good job to this end.
That's because MLB doesn't have to do a whole lot of thinking. You don't need to be a rocket scientist to figure out that games between the Mets and Yankees, Cubs and White Sox, A's and Giants, Astros and Rangers, Nationals and Orioles and so on are going to draw a ton of fans to the ballpark, no matter at which venue the games are held.
You may be thinking that the Red Sox and Yankees probably help NL teams draw more fans to the ballpark, and they most certainly do. For example, the Yankees helped the Reds nearly double their average attendance (per Baseball-Reference.com) when they visited the Reds for a three-game series in 2011, and the Red Sox helped the Pirates and Astros draw huge attendance numbers when they visited Pittsburgh and Houston last season.
However, the road goes both ways. The Phillies helped the the Mariners and Blue Jays draw big attendance numbers when they traveled to Seattle and Toronto last season, and the series that the Reds played in Baltimore last season was a big-time success.
So despite the fact interleague play can occasionally result in strange matchups, MLB generally does a good job of arranging matchups that fans will pay to watch. Both the AL and the NL benefit from it.
The Grand Conclusion
So which league benefits more from interleague play: the American League or the National League?
There's no clear edge as far as business is concerned. Interleague play is good for business, and neither league does better business than the other. People from both the AL and the NL pocket a lot of money when interleague play rolls around.
On the field, the NL is at a disadvantage when its clubs have to visit AL ballparks. AL teams get to remain at their full offensive strength, and NL clubs lack the personnel to match that strength. With the DH gone in NL ballparks, the playing field is more level. 
The book is still far from being closed on interleague play in 2012, but from 1997 to 2011 the AL holds the edge in interleague play with a record of 1,937-1,773.
So in the first 15 years of interleague play, the AL won 164 more games than it lost. That's roughly 11 games a year that the NL has lost to the AL—not an insignificant amount.
However, the National League has won seven of the last 15 World Series, and that's a sign that elite NL teams are very much capable of going up against elite AL teams. Interleague play, therefore, hasn't exactly killed the Senior Circuit.
On the Horizon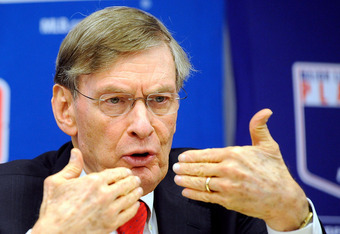 Patrick McDermott/Getty Images
So what will it take to put AL teams and NL teams on the same level? With interleague play about to become an everyday thing, how can Major League Baseball make sure things are competitive on a daily basis?
It's simple: Either take the DH away from AL teams, or give the DH to NL teams.
The latter possibility is more likely. According to Sports Illustrated, the powers that be in Major League Baseball are not blind to the fact that changes are going to have to be made going forward and that putting the DH in both leagues is a definite possibility.
"I would be shocked if 10 years from now there's not a DH in both leagues," said a baseball source, per SI.
Even Bud Selig admitted a change could be on the horizon:
 At the moment there is no conversation about [the NL adopting the DH] . . . That doesn't mean it won't happen. I've always said it would take something of a cataclysmic event to get that done. Geographic realignment would be such a cataclysmic event.
Translation: Putting the DH in both leagues would take a change a lot like the change that's about to be made.
Like it or not, this is a change that probably is going to be made at some point in the near future. Not having the DH in both leagues isn't an everyday problem now, but it's about to become an everyday problem. Sooner or later, MLB will have to fix it.
So prepare yourselves for the inevitable, my friends. A few years from now, there won't be any difference whatsoever between the American League and the National League.
If you want to talk baseball, hit me up on Twitter.