Pittsburgh Steelers: Why Steelers' NFL Draft Class Will Be the Best in 2012
June 6, 2012

Jared Wickerham/Getty Images
The Pittsburgh Steelers have always been known for drafting well behind GM Kevin Colbert and the Rooney family and their 2012 draft class is no exception.
The Steelers got great value with each of their first five picks and draft guru Mike Mayock had some very high praise for what is widely considered the best draft class for any team in 2012.
Not only did Pittsburgh address several glaring needs on both sides of the ball, they did it while also selecting the best player overall on their draft board in many circumstances.
6'5" 315 lb former Stanford guard David DeCastro was considered perhaps the best guard prospect to enter the NFL draft in a decade. How he fell to the No. 24 pick is astounding and the Steelers wasted no time in taking the young phenom.
Former Ohio State tackle Mike Adams was regarded as a first-round caliber prospect until he tested positive for marijuana at the NFL Combine. As a result, he fell all the way to the Steelers second round pick where they had to do a little more homework before they selected him.
Adams was taken off the Steelers draft board after the incident, but they were convinced to put him back on when he reached out to them according to this article. An act like that shows a lot of courage and maturity for a college player and the Steelers acknowledged that and decided he was a player worthy of wearing the Black and Gold. 
By adding DeCastro and Adams, the Steelers make a huge strides toward protecting star quarterback Ben Roethlisberger who has been sacked 122 times in the past three years and has played injured most of the time as a result.
DeCastro should start immediately and it shouldn't be much time before he is considered one of the best guards in the NFL and a perennial Pro Bowler. Adams also could have the opportunity to start Week 1, and while he might struggle at the beginning of the season, expect him to line up with DeCastro and center Maurkice Pouncey as one of the best young offensive line cores in the NFL.
With the Steelers' third round pick, they selected Miami linebacker Sean Spence, an aggressive 5'11" 215 lb. playmaker who will give Dick LeBeau some options on defense. Spence is athletic enough to line up at any linebacker position and there is even some speculation that he could eventually replace Troy Polamalu at safety in a few years.
Regardless of where he will play, Spence provides the Steelers with some youth on defense and he can take his time studying the 3-4 scheme behind the leadership of guys like Lawrence Timmons and James Harrison.
The Steelers traded away their fourth round pick and sixth round pick to move up 10 spots and select University of Washington nose tackle Alameda Ta'amu. Outside of DeCastro in the first round, this could be the Steelers' best selection in the 2012 draft.
Ta'amu was regarded by most experts to be the second best nose tackle prospect in the draft and was projected to go no later than the third round. When he fell to the fourth round, the Steelers realized the opportunity to get Casey Hampton's future replacement and pounced on it.
Ta'amu is a bit of a project at nose tackle and is no guarantee to be as good as Hampton was. But the 6'3" 348 lb behemoth can take a year or two to study under Casey Hampton, Steve McLendon and Dick LeBeau. This will have Ta'amu taking up lineman and freeing linebackers in no time.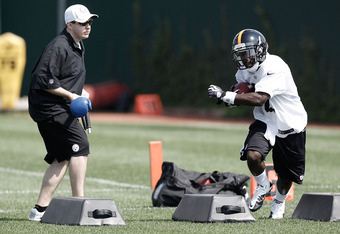 Jared Wickerham/Getty Images
Colbert and the front office then went out and added a new dimension to the Steeler offense in the fifth round by taking Florida running back Chris Rainey. The Steelers have never had a Darren Sproles-type player and Rainey gives them their biggest home run threat since the days of Willie Parker.
Furthermore. new offensive coordinator Todd Haley has had success with these type of players before. Last year, while he was with the Chiefs, Haley helped the speed Dexter McCluster rack up 844 yards of total offense through the air and on the ground.
Not to mention, Rainey will also help take some of the load off of Pro-Bowl wideout Antonio Brown in the return game.
The Steelers didn't make any big splashes with any of their late-round picks, but did pick up a tall, physical wide receiver in Toney Clemons and a polished cornerback in Texas A&M's Terrence Frederick.
It is hard for Steelers fans not to get excited about the potential of their 2012 draftees as the first five picks all profile as future starters or useful players at the next level. By adding DeCastro and Adams to a shaky offensive line, the Steelers are helping protect their franchise quarterback and allowing new offensive coordinator Todd Haley to go back to the old days of ground-and-pound football that Pittsburgh loves.
Spence and Ta'amu inject a slowly aging defense with some youth and Ta'amu could step right in and be the next Casey Hampton in a few years.
Providing a defense as good as Pittsburgh's with this kind of playmaking ability is something that usually takes a first or second round pick and the Steelers were able to do it in the third and fourth rounds.
While DeCastro, Adams, and possibly Rainey will be able to step in right away and contribute significantly, it may take a couple years for this draft class to mature and realize its full potential.
Nobody is better at getting the most out of their players than the Rooney family and head coach Mike Tomlin, and it should show with the development of the talented players drafted this April.
The Steelers' ability to not only address the important needs of their team while also picking the best available players on their board gives them the best draft class of 2012.