2013 MLB Mock Draft: Breaking Down the Biggest Stars in Next Year's Class
June 5, 2012

Ronald Martinez/Getty Images
Like the 2012 class, the 2013 Major League Baseball draft class looks a lot more volatile than anything else right now. 
There are a few intriguing names at the top, but there is so much that is going to happen between now and next June that it is hard to say what exactly we should expect teams to do. 
Instead, we are going to present you with a very early mock draft breaking down the best players in next year's class. 
(Note: Order is based on current 2012 record.)
1. Chicago Cubs: Jeremy Martinez, C, Mater Dei HS (CA)
Martinez is arguably the best high school player in next year's draft class, with the frame and skills to stay behind the plate in professional baseball. His body is going to get a little thicker as he gets older, but he is a prototypical catcher. 
Where he separates himself from the pack is on the offensive side. He has a nice, smooth swing, and he controls the strike zone very well. 
Catching is the hardest position on the field to fill, so Martinez is the best and most valuable pick of the 2013 class. 
2. San Diego Padres: Austin Wilson, OF, Stanford
Wilson has tremendous power with enough plate discipline to keep his average high. He is athletic and should be able to drive the ball out in cavernous PetCo Park. 
3. Minnesota Twins: Stephen Gonsalves, LHP, Cathedral Catholic HS (CA)
Gonsalves is a tall, lanky left-handed starter right now who should grow into more velocity as he adds more bulk to his frame. He has looked outstanding in several national showcase tournaments. 
4. Houston Astros: Austin Meadows, OF, Grayson HS (GA)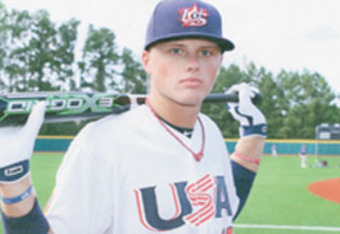 Meadows is an excellent two-way player, but his future lies in the outfield as a power-hitting right fielder. He has the arm strength and athleticism to play center field at the next level. 
The Astros were able to get arguably the most exciting bat in the 2012 draft in Carlos Correa. They could end up doing the same thing depending on how they finish this season and how much Meadows' stock continues to climb over the next 12 months. 
5. Oakland Athletics: William Abreu, OF, Mater Academy HS (FL)
With the A's radically changing their draft approach this year, there is no reason to think they won't go back to the high school well for a high-upside bat that offers plenty to get excited about. 
Abreu is committed to Miami, but being taken in the top 5 could dissuade him from going to college. He has a terrific bat, with one of the prettiest swings in the class, and power projection to be more than worthy of this selection. 
Defensively, he is likely going to end up playing right field, with an above-average arm and athleticism. 
6. Colorado Rockies: Kris Bryant, 1B, San Diego 
Bryant has one of the best bats in this class, with the bat speed, control and discipline to hit for average and big power that should play right away. He is limited to first base defensively, but hitting is such a precious commodity that teams will take it wherever they can get it. 
7. Seattle Mariners: Colin Moran, 3B, North Carolina
Moran has a sweet swing with a lot more power than his slight frame would suggest and bat control. He did miss time this season with a broken bone in his hand, but made it back in time for the Tar Heels' road to Omaha. 
8. Kansas City Royals: Ryne Stanek, RHP, Arkansas
Adding Kyle Zimmer to their system this year does not curtail the Royals' need for starting pitching. Stanek has looked much better this season, showing better command and getting hitters out with his mid-90s fastball and curveball-slider combination. 
9. Arizona Diamondbacks: Oscar Mercado, SS, Gaither HS (FL)
If up-the-middle players are going to start being all the rage in the draft, it would be a surprise to even see Mercado get to this spot in the draft. 
Mercado is a pure shortstop with the arm and natural instincts to stay at the position. He also has a good bat that projects some power in the future. He has tremendous upside as a potential five-tool shortstop, and those players don't last long. 
10. Milwaukee Brewers: Karsten Whitson, RHP, Florida
Whitson was supposed to be one of the first players taken in this draft, and he still may be, but his stock is slipping due to injuries and no improvement in three years since spurning San Diego as a first-round pick. 
11. Detroit Tigers: Ryan Eades, RHP, LSU
Eades will follow in the footsteps of LSU's 2012 first-round pick Kevin Gausman, though his upside is more like that of a No. 3 starter than an ace. 
12. Los Angeles Angels: Clinton Hollon, RHP, Woodford County HS (KY)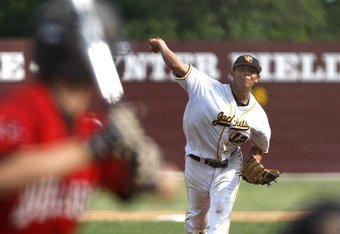 Hollon could end up going much higher than this next year. He has a terrific arm with a mid-90s fastball and hard slider. He does have some effort in his delivery and is only listed at 6'1", which could push him down some draft boards. 
If you believe in the stuff—and right now, there is no reason not to—he should be an early first-round selection in the 2013 draft. 
13. Philadelphia Phillies: Chris Rivera, SS, El Dorado HS (CA)
Rivera is an excellent athlete who profiles as a power hitter at the next level. Depending on where he plays at the next level—either shortstop or third base—he could sneak into the top 10. He has the arm to handle short, but he could outgrow the position. 
14. St. Louis Cardinals: Dylan Covey, RHP, San Diego
Covey was taken in this same spot three years ago by the Brewers, but failed to sign and wound up attending college at San Diego. He still has the electric stuff and command that made him one of the most sought after high-school arms in 2010. 
15. Pittsburgh Pirates: Austin Kubitza, RHP, Rice
Call it my anti-Rice bias, but Kubitza could end up sliding though no fault of his own, but thanks to the program's propensity to ride its pitchers until their arms fall off. If he makes it through the season, he has command and velocity to be a first-round pick. 
16. Boston Red Sox: Jacoby Jones, OF, LSU
Jones is a gifted athlete with power and bat speed to profile in a corner outfield spot. He has the arm to stick out in right field, but he is also talented enough to play third base if a professional team wants him to. 
17. Toronto Blue Jays: Sheldon Neuse, SS, Keller Fossil Ridge HS (TX)
Looking at what the Blue Jays have done in the draft the last three years, it is easy to fall in love with their philosophy on high-upside high school players. 
If they follow that thinking next year, Neuse would be a perfect addition to their system. He has the footwork, glove and arm to play shortstop, with an outstanding bat that profiles more for average than power at this point. 
Even if Neuse doesn't hit a lot of home runs, it is hard to find shortstops with four above-average or better tools. 
18. Atlanta Braves: Adam Plutko, RHP, UCLA
Plutko is not quite at this level yet, but he has a good fastball with command, and he should move quickly through a system. Unless the Braves are looking at a Georgia high school player, they will go with a college arm. 
19. Cleveland Indians: Bobby Wahl, RHP, Mississippi
Wahl is making strides with his off-speed stuff, which will help him play up his low-90s fastball that he commands well. 
20. New York Yankees: Michael Lorenzen, OF, Cal State Fullerton
While the Yankees love high school athletes, Lorenzen is the kind of player they can easily talk themselves into. An athletic outfielder with a rocket arm and speed, he might end up being one of the first college players taken in this class. 
Lorenzen can pitch, but his maximum value will come playing the field. He has all the makings of a dynamic centerfielder at the next level. 
21. Baltimore Orioles: Zach Farmer, LHP, Piketon HS (OH)
Farmer doesn't have big velocity right now, but he brings a lot of projection from the left side with a lot of polish. 
22. Cincinnati Reds: Scott Frazier, RHP, Pepperdine
Polished college pitchers with a smooth delivery, easy velocity and a three-pitch mix should not be available at this spot. 
23. New York Mets: A.J. Vanegas, RHP, Stanford
Vanegas does not have quite as much upside as Mark Appel, but he does bring an excellent curveball that complements his mid-90s fastball. 
24. San Francisco Giants: Conrad Gregor, 1B, Vanderbilt
Don't be fooled by the first base label; Gregor is an outstanding athlete who should turn into an above-average big leaguer. He has a big frame with power and a short, compact swing path to the ball.
Defensively, Gregor has all the makings of a Gold Glove winner. He has instincts and a great mind for the position to go along with his athleticism. He could play in the outfield if a team wants to maximize his value, though he would likely be limited to left due to a less-than-ideal arm. 
25. Chicago White Sox: Jordan Sheffield, RHP, Tullahoma HS (TN)
Sheffield is a project right now. He has a good fastball with clean arm action and plenty of upside to be worthy of a selection late in the first round. 
26. Tampa Bay Rays: Reese McGuire, C, Kentwood (WA) 
McGuire could end up being the first catcher taken. He has outstanding defensive tools right now, with a strong arm, receiving skills and the ability to throw out would-be base stealers. 
He also boasts an excellent hitting tool—very easy, fluid swing that will allow him to hit for average and future power potential. McGuire's body will fit nicely behind the plate on a big league team. 
27. Miami Marlins: Aaron Judge, OF, Fresno State
At 6'7", 230 pounds, Judge is a physical specimen that will draw a lot of interest. He has long limbs and good athleticism to handle center field at the next level. 
28. Washington Nationals: Matt Vogel, RHP, Patchouge HS (SC)
Assuming Vogel remains a pitcher, he could sneak into the first round. He has a projectable 175-pound frame with a low-90s fastball already. The Nationals are going to take the best player available with the most upside. 
29. Texas Rangers: Jan Hernandez, SS, Puerto Rico
Hernandez has the bat and athleticism to move way up draft boards as the 2013 evaluations begin to take shape. He has a quick bat and always manages to find the barrel to make hard contact. 
Power will come for Hernandez as his body matures and he learns to hit advanced pitching. He is most likely going to end up at third base in pro ball, with the arm and footwork to be a plus defender. 
30. Los Angeles Dodgers: Dominic Ficociello, 3B, Arkansas
Ficociello is an outstanding hitter, with a smooth swing and the ability to spray the ball all over the field with power.