Boston Red Sox: 3 Trade Rumors Sox Fans Will Love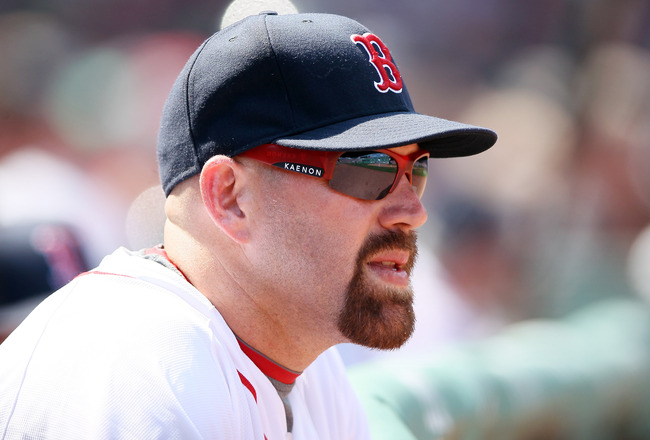 Elsa/Getty Images
For the first time all season, the Boston Red Sox were three games above .500 after defeating the Toronto Blue Jays 7-4 Saturday at Rogers Centre.
However, this season has been nothing short of a disappointment for Red Sox fans—ups and downs around every corner, a collection of talent on the shelf until the second half of the season and a pitching staff that is still on the chopping block after last September's epic collapse.
Still, the Red Sox pulled themselves out of the chasm they put themselves into in April.
They are still breathing while playing in the gauntlet that is the AL East. They have talent coming back, but there are still moves to be made.
Here are three trade rumors out there that will get Sox fans excited about what may be ahead.
Trade Rumor No. 1: Kevin Youkilis on the Hot Seat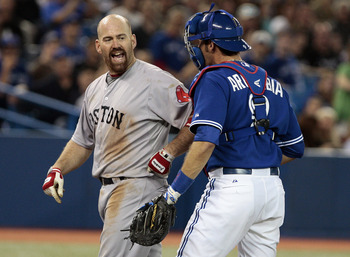 Abelimages/Getty Images
For the better portion of the last three seasons, Sox fans have had to deal with the frustrations of third baseman Kevin Youkilis, whose "in and out of the lineup" reputation grows with every 0-for-4 day at the plate.
Youkilis was known as an incredibly selective hitter for most of his professional career coming up the ranks and for his first five major league seasons.
Between 2007 and 2010, Youkilis averaged a .400 OBP, 22.75 home runs and 88.5 RBI per season, providing key hits in the playoffs and helping the Red Sox win the 2007 World Series as an integral part of the offense.
Between 2009 and 2011, however, Youkilis missed 128 regular season games and has appeared in 28 games this season while battling with a variety of injuries that have hampered him in recent years.
Therefore, the prospect of trading Youkilis isn't the craziest thing in the world. He turned 33 in March and has battled countless injuries.
However, considering his age and $12 million price tag, there are fewer suitors than expected for a disciplined hitter such as Youkilis. According to NESN's Jen Slothower, the short list of teams interested in Youkilis include the Los Angeles Dodgers, Philadelphia Phillies and Arizona Diamondbacks.
General manager Ben Cherington commented in the same source, saying that the only talks involving the 33-year-old are "ones other teams are starting."
Moving Youkilis is more about solidifying positions around the diamond than about adding something in particular.
With rookie Will Middlebrooks holding down the hot corner, Adrian Gonzalez locked in financially at first base and a carousel of an outfield expecting starters to return at some point in the near future, the odds that Youkilis remains with the Red Sox by the turn of the trade deadline grow thinner and thinner with every trade rumor.
As hard as it may be for fans and Youkilis to go their separate ways, it's becoming more of a reality as each day passes.
Rumor No. 2: Wandy to Beantown?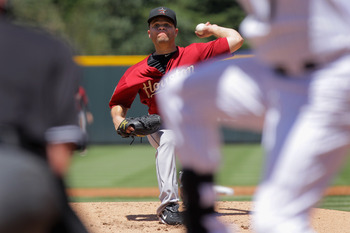 Doug Pensinger/Getty Images
For the longest time, Houston Astros starter Wandy Rodriguez has been linked to trade rumors.
This season, the notion of the 33-year-old left-hander leaving Texas may come to fruition.
According to FOXSports.com's Jon Paul Morosi, Rodriquez has long been on the Red Sox's radar, the earliest reports coming during the offseason.
Rodriguez is 4-4 this season with a 3.14 ERA and 53 strikeouts over 77.1 innings.
He has a career 4.01 ERA, but has extreme home-and-away splits (4.67 ERA in 101 career road starts). His extreme splits could potentially be a cause for concern if he joined a legitimate contender, where he would more than likely have to make a least one road start somewhere during the playoffs.
Still, adding Rodriguez would really help to add depth in the pitching staff for the Red Sox, if they so choose to attempt to acquire him. With Josh Beckett, Jon Lester and Clay Buchholz all having difficulties on the mound this season for Boston, Rodriguez would be a nice addition and a left-hander who could eat more innings.
Look for Rodriguez to continue to be among the usual names in the rumor mill as the summer goes along.
Rumor No. 3: King Felix Moving East?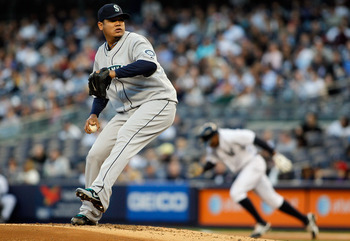 Mike Stobe/Getty Images
This one's an extremely far-fetched scenario, but if Boston could land the 26-year-old Felix Hernandez—a stellar difference-maker on the mound for anyone not named the Seattle Mariners—it would put the Red Sox back into instant contention.
That's how much of a difference Hernandez can be on the mound.
Over the last three full seasons (not including 2012), the flame-throwing right-hander has averaged a 2.73 ERA, punched out 671 batters over 722 innings and has a ridiculously low 1.13 WHIP.
At 26, Hernandez is at the top of his game. Unfortunately, his "game" is tied up contractually for the Mariners through 2013, so the likelihood of Hernandez being dealt anywhere this season is a stretch.
However, according to Bob Condotta of the Seattle Times, Hernandez has grown weary and frustrated from all the trade rumor questions over the last couple of seasons.
Bottom line—the Mariners need to start over, and it's a shame to see one of the best five pitchers in baseball waste away his talents on a fourth-place team in the AL West.
Although the likelihood of Hernandez moving elsewhere this season is very doubtful, expect the odds to increase if he goes to management himself and asks for a fresh start for a different franchise.
It could be said that the Mariners are in rebuilding mode (they have been for some time now) and that Hernandez's best days are being spent for a bottom-basement club (and they are), but nothing will really happen unless he pushes the buttons himself.
Still, if he did and the Red Sox were able to work something out to land him, he's the one guy who could really move the needle in the AL East.
Keep Reading

Boston Red Sox: Like this team?