2012 NFL Rookie Team: Which New Players Are the Most NFL-Ready?
June 1, 2012

Thearon W. Henderson/Getty Images
Each draft class is a melting pot of players with high-ceilings, low-ceilings, overachievers and underachievers. 
While every team would like high-impact rookies, some are willing to pass on the more-polished youngster for the player with much more natural, physical ability (and therefore, with more long-term upside).  This imaginary team is not necessarily comprised of the most talented and gifted individuals of the class, but rather the players whose game has already developed enough to make an impact early in the NFL.
There are too many external factors that prevent one from saying a particular player will be productive his first season, but these players have a very good chance to do so if the opportunity presents itself.

Quarterback
Andrew Luck, Colts
While Robert Griffin III has a skill set that better lends itself to carrying a poor supporting cast to greater heights in 2012, Luck is arguably the safest prospect at the position since Peyton Manning.  His floor is much higher than Griffin's for that reason. 
In addition, he played in a pro-style offense during his time at Stanford and has worked mostly under center.  Luck will most likely struggle to do much with the tools Indianapolis currently has (e.g. a porous offensive line, thin receiving corps and a shaky defense putting pressure on him to score early and often), but he is the most polished signal caller in the class.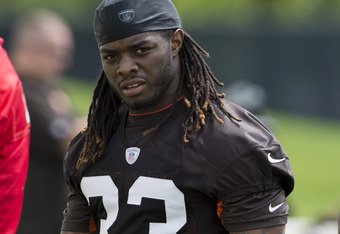 Jason Miller/Getty Images

Running Back
Trent Richardson, Browns
Contrary to Jim Brown's attempts to affix the spotlight back on himself, Richardson's running style, work-ethic and character will serve him very well at the next level.  His body didn't get much wear and tear in Tuscaloosa, so he should be ready to make an early impact at the next level. 

Wide Receiver
Juron Criner, Raiders
Criner is not a physical specimen who runs a blazing 40-yard dash, but he is a very smooth route runner, a trait that too often gets overlooked in the evaluation process. 
His game is reminiscent to that of Bills WR Stevie Johnson: while he'll drop the occasional easy one and lacks the top-end speed teams crave, he creates separation with his routes and can make highlight-reel grabs.

Tight End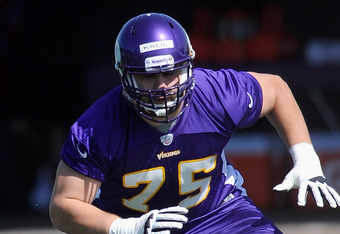 Hannah Foslien/Getty Images
Dwayne Allen, Colts
Despite being drafted after the Colts' second-round tight end Coby Fleener, Allen is the more well-rounded of the two.  Allen can be a factor in the receiving game, but has experience staying in-line and blocking as well.  Fleener has a better chance to make more big plays given his size, speed and ability to stretch the field, but Allen's impact won't always show up on the stat sheet like Fleener's will. 
The nod goes to the more balanced player.

Offensive Tackle
Matt Kalil, Vikings
In a tackle class littered with question marks, Kalil has the most marketable skills right now.  He still needs to develop strength, and his technique has room for improvement, but he has the feet and length to play right away and try to protect the franchise's 2011 investment in Christian Ponder.

Offensive Guard
David DeCastro, Steelers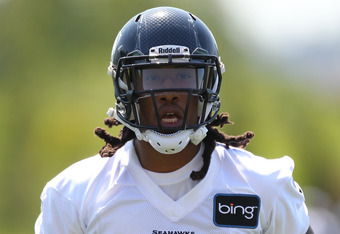 Otto Greule Jr/Getty Images
What an absolute steal by Pittsburgh (For the reader's sake I'll avoid the obvious pun opportunity). 
DeCastro is the most complete guard to come out in years. The fact that the rest of the league continues to gradually devalue the position is to the Steelers' benefit.
DeCastro has the best chance of making the Pro Bowl as a rookie.

Center
Peter Konz, Falcons
While it appears he'll work at right guard for the time being, Konz is by far the most-polished center in the class.  This year was not particularly strong for centers, and Konz sticks out amongst the crop.

Defensive End
Bruce Irvin, Seahawks
Seattle General Manager John Schneider takes a lot of heat for his first-round picks, yet for the second year in a row I'm on board with his decision.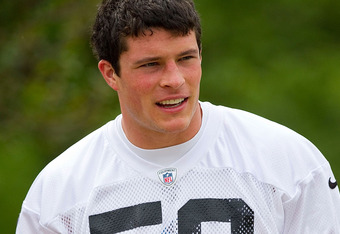 Brian A. Westerholt/Getty Images
Irvin can't play the run at 248 pounds, but shouldn't be asked to.  Don't try to make the player what he isn't. Take advantage of what he is. 
As a pass-rush specialist that only comes in on passing downs, Irvin has the ability off the edge to be very productive.  If the 'Hawks overuse him, his effectiveness will dwindle. 
Just look at his production at West Virginia.  As a situational player, he dominated in 2010.  In 2011, as he took on a heavier work load, his production suffered. 
If Seattle uses him the right way, I believe he could make quite an impact this season.

Defensive Tackle
Brandon Thompson, Bengals
Although currently listed as Domata Peko's backup in Cincinnati, Thompson should flash starting-caliber ability if given the opportunity this season.  He had been underrated throughout the process and should prove to be a nice pick up for the Bengals.  His defensive tackle classmate Devon Still may have more natural ability, but must improve his consistency.

Inside Linebacker
Luke Kuechly, Panthers
In a similar situation to that of Konz, Kuechly is not lining up at his college position at this time, moving to outside linebacker.  Kuechly is not the type to make high-impact plays, but he'll be a rock-solid starter early in his career for Carolina. 

Outside Linebacker
Mychal Kendricks, Eagles
Despite playing inside his final season at Cal, Kendricks will return to outside linebacker and play the SAM (strong-side linebacker) position for Philadelphia.  Kendricks had maturity issues early in his collegiate career, but he has since developed a good work ethic.  Matching that with his instincts and speed, he fits very well with what the Eagles like to do defensively. 

Cornerback
Morris Claiborne, Cowboys
Claiborne has the hips, long arms and awareness to contribute early in Big D.  Corners historically struggle in their first year, but Claiborne is talented enough to buck that trend.

Safety
Mark Barron, Buccaneers
Even though I feel that Barron was being overrated by most pundits, he may not have been drafted too high specifically for the Bucs.  He is a very good fit in their Cover 2 scheme and should get many opportunities to get his hands on the ball. 
Barron could end up with impressive numbers, both tackles and interceptions, his first season in Tampa Bay.