Adrian Gonzalez vs. Prince Fielder: Who's the Better First Baseman?
May 31, 2012

Jim Rogash/Getty Images
The Detroit Tigers and Boston Red Sox will wrap up a four-game series at Fenway Park on Thursday night. When the final out is squeezed, the two teams won't meet again until late July.
So it will be a while before we see Prince Fielder and Adrian Gonzalez out on the same field again. That's a damn shame, as Fielder and Gonzalez are two of the best—and highest-paid—first basemen the American League has to offer.
They have their differences, of course. And because of that, it would be hard to come up with a concrete answer if somebody decided to ask which one of them is the better player.
Allow me to do the honors: Who's a better player? Prince Fielder or Adrian Gonzalez?
Good question, if I don't say so myself. To answer it, we have to consider a number of different factors.
This is where the fun begins.
Power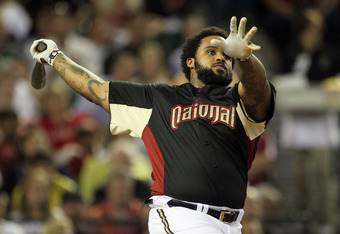 Jeff Gross/Getty Images
Power is Fielder's game, but there's not as much of a divide between him and Gonzalez as you might think.
Fielder has hit 238 home runs in his career, 236 of which have come since the start of the 2006 season. Only two players—Ryan Howard and Albert Pujols—have hit more balls out of the park than Fielder in the last six-plus seasons.
He has one 50-homer season in his career, and he hit 46 back in 2009. He's hit at least 30 in each of the last five seasons.
Gonzalez has hit 199 home runs in his career, including 192 since the start of the 2006 season. He hit a career-high 40 home runs in 2009, but his home run totals proceeded to decline in 2010 and 2011. This year, he has only four home runs in 50 games.
Fielder doesn't just have the edge where home runs are concerned. He has a career. 538 slugging percentage and a career .254 ISO (a measurement of a hitter's raw power). Gonzalez has a career .509 slugging percentage and a .217 career ISO. 
Granted, the one variable that has to be discussed here is home ballparks. Fielder got to play a lot of games at Miller Park, a place where he slugged .566 and hit 123 of his 238 career home runs. Gonzalez had to play a lot of games at Petco Park, where he slugged .442 and hit 57 of his 199 career home runs.
In his five full seasons with the Padres, Gonzalez had an OPS+ of 141. In his six seasons with Milwaukee, Fielder had an OPS+ of 144. That's pretty close.
Even still, it's hard to argue that Gonzalez is as good or better than Fielder at hitting for power. He's more of a hitter with power than he is a power hitter. The edge here goes to Fielder, who is a pure power hitter.
Advantage: Fielder
Hitting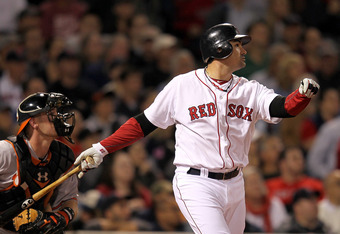 Jim Rogash/Getty Images
Though we obviously think of Fielder as a power hitter first and a hitter second, he really doesn't get enough credit for his hitting abilities.
Fielder has a solid career batting average of .284 and an even more impressive career OBP of .389. He's never had a full season in which he's hit over .300 (though he's headed down that path this year), but he's hit .299 twice and he hit .288 the year he slugged 50 home runs in 2007.
If the mark of a good hitter is an ability to use the whole field, it's worth noting that 269 of Fielder's 1,057 career hits have gone to left field, according to FanGraphs. That's roughly 25 percent of them.
Gonzalez has a slight edge on Fielder in the average department, as he has a career average of .292. This figure is as high as it is thanks largely to his career-best .338 batting average in 2011, his first year playing with the Red Sox.
Of Gonzalez's 1,167 career hits, 358 have come on balls hit to left field. That's almost 31 percent. 
This obviously isn't a huge surprise, as Gonzalez has a well-deserved reputation of being one of the best opposite field hitters in baseball. He wasn't able to capitalize on this ability playing at Petco Park, but he very much got to show off his opposite field stroke in 2011. Per FanGraphs, he hit an even .500 when he put the ball in play to left, with 19 doubles and 10 home runs.
For the record, Gonzalez hit .347 at Fenway Park last year. In over 1,400 at-bats at Petco Park, he hit a mere .267.
Because of that, Gonzalez's career batting average of .292 simply doesn't reflect how good of a hitter he really is. He gets the edge here.
Advantage: Gonzalez
Speed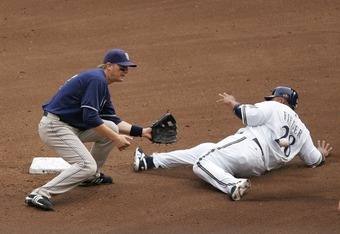 Jonathan Daniel/Getty Images
There are glaciers that move faster than Gonzalez and Fielder, so comparing their speed may seem a bit silly.
Not so fast. He may be the size of a tank, but Fielder surprisingly has 17 career stolen bases next to his name, and he's stolen at least one base in seven straight seasons. He stole a career-high seven bases back in 2006.
Gonzalez has two career stolen bases. Pitchers can trust him to stay put when he gets on base.
We can end this argument by taking a look at both players' career speed scores (see FanGraphs definition, but it's just what it sounds like). Fielder has a career speed score of 2.5. Gonzalez has a career speed score of 2.0.
I'd say this one's open and shut.
Advantage: Fielder
Fielding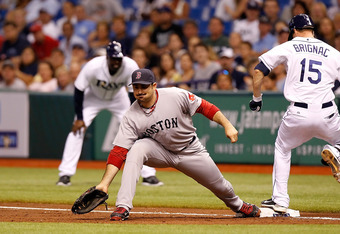 J. Meric/Getty Images
There's really no comparison in the fielding department.
Gonzalez is one of the best fielding first basemen in baseball. He had a down year on defense in 2010, but he's still managed to post positive UZRs in each of his last three full seasons, and he's going to do so again this year.
In 2011, Gonzalez led all major league first basemen with an 11.1 UZR and 12 defensive runs saved, according to FanGraphs. He did more than enough to earn his third Gold Glove.
Fielder, on the other hand, is one of the worst defensive first basemen in baseball. He has a habit of racking up double-digit errors, and he's only had one full season in which he's posted a positive UZR. He's been in the negative in defensive runs saved in five of the last six seasons, and he's headed down that path again this year.
For all the runs Fielder drives in on offense, he gives quite a few away with his play on defense. Gonzalez, meanwhile, saves quite a few runs on defense.
Advantage: Gonzalez
Versatility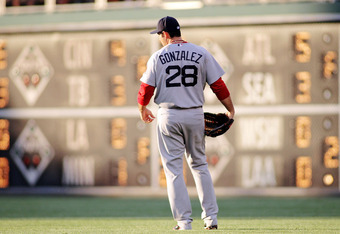 Len Redkoles/Getty Images
Fielder has only ever appeared as a first baseman, a designated hitter, and as a pinch-hitter.
Gonzalez has been used in those same three capacities, but the Red Sox have also used him in right field at times since the start of the 2011 season. 
They've had to do this quite a bit recently, of course. In Boston's last 11 games, Gonzalez has been featured in right field eight times.
Hey, don't look at them. He volunteered to play right field (see the Boston Globe report), and his willingness to play in the outfield has allowed Bobby Valentine to keep him, Kevin Youkilis and Will Middlebrooks in the lineup on a consistent basis.
This is something the Red Sox don't want to last for long, but the fact that Gonzalez is even capable of playing in the outfield is very much an advantage he has over Fielder.
Advantage: Gonzalez
The Grand Conclusion
Basically, the dilemma we're trying to solve here is this one: If you were starting a team and got to choose between Gonzalez and Fielder for your first baseman, who would you choose?
I'd choose Gonzalez.
He's a more complete player than Fielder, and he's a complete hitter who can hit for average and power. Plus, he's a far, far better fielder than Fielder.
Fielder is a better power hitter and a better speedster, but he doesn't have a significant advantage over Gonzalez in the power department and the speed advantage basically doesn't count for anything.
WAR is the tell-all statistic. Since 2006, Gonzalez's WAR is 29.2, according to FanGraphs. Fielder's is 24.5. Gonzalez has him beat since the start of the 2011 season too, 7.4 to 6.7.
And wouldn't you know it, Gonzalez is even cheaper.
If you want to talk baseball and/or cheesy horror movies, hit me up on Twitter.