10 Players Fighting for Their NFL Careers in 2012 Training Camps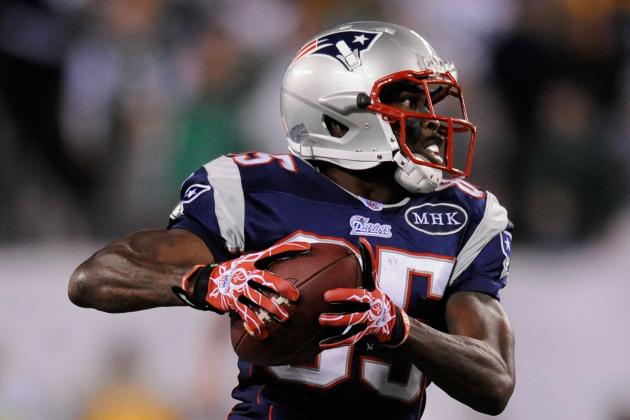 Patrick McDermott/Getty Images

With OTAs already underway and minicamp, then training camp not far off, NFL rosters will soon have to be pared down.
And while undrafted rookies and other "no-name" players will certainly make up a major portion of those players who fall by the wayside, every year, there are a few well-established veterans who are unable to make the roster, either due to nagging injury, another player taking their place or for salary reasons.
Remember last year when the Jaguars cut David Garrard, or when the Patriots cut Brandon Meriweather?
In retrospect, those two players fought for (and lost) their jobs during the 2011 training camps. These 10 will do the same this upcoming summer.
NOTE: Don't take the phrase "fighting for their NFL career" too literally here. I'm not suggesting that all 10 of these players will be forced into retirement and never find another job if they don't have a great...although some will. No, I'm instead suggesting that if they don't have fine camps and are let go prior to the season, it will set them back a great deal, both financially and in terms of opportunities to get on the field.
Lead image courtesy of nfl.com.
Begin Slideshow

»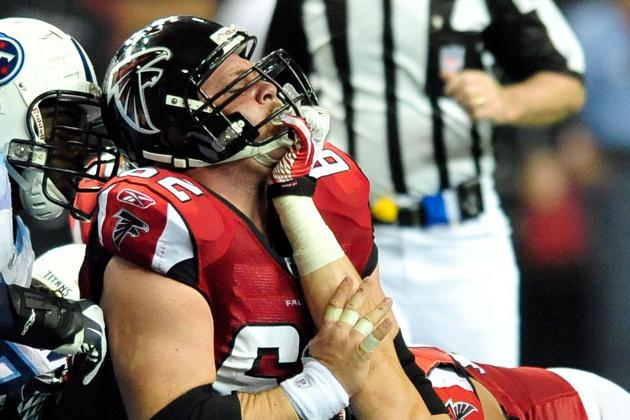 Grant Halverson/Getty Images

Experience: 12 years
Although he's not exactly a household name, or even a Pro Bowler, center Todd McClure has been a staple of the Falcons offensive line for a decade.
The former seventh-round pick became a starter in 2001, and until last year, he only missed one start in those 10-plus years.
After testing the free-agency waters this spring, he re-signed with the club in March, but when Peter Konz fell to Atlanta in the second round of the draft, it led to speculation that the Wisconsin rookie would take McClure's job in a year or two.
Reports out of Atlanta have Konz learning both guard and tackle right now and McClure holding his spot. But in recent years, rookie centers (i.e. the Pouncey twins) have shown an ability to step in right away and learn NFL offenses. Don't be surprised to see Konz get more and more work at center during the preseason.
If that's the case, McClure might be out of a job. The Falcons won't necessarily cut him (he's making less than $1 million on a one-year deal), but Mike Smith will put the 11 best players out there.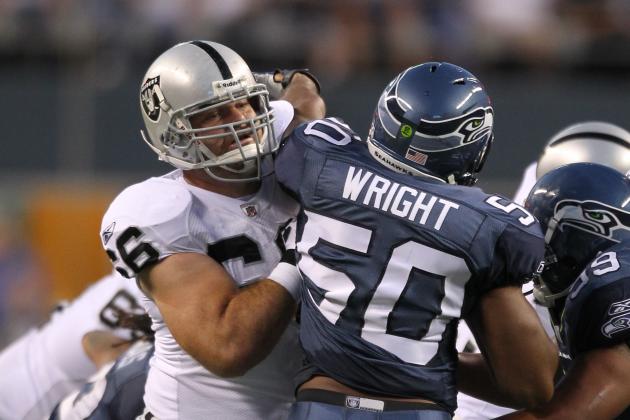 Otto Greule Jr/Getty Images

Experience: 12 years
Just like Todd McClure, Cooper Carlisle was given a one-year deal to come back and play the interior offensive line for a team he's been with for years.
And much like Todd McClure, Cooper Carlisle will need to impress his team's new offensive coordinator this summer just to play out that one-year deal.
But unlike McClure, Carlisle actually has two players to fend off for the role of right guard.
Not only did the Raiders sign Mike Brisiel, who started 13 games last year for that fine Texans offense, but they also spent their top pick (a third-rounder) on Tony Bergstrom. The Utah product has great size and physical maturity (he'll soon be 26, having spent two years on a Mormon mission) and is projected to be a guard, not a tackle, where he played in college.
The presence of those two far younger players could put Carlisle out of work.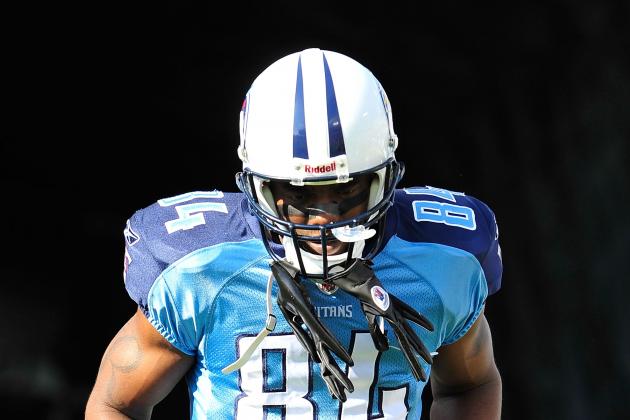 Grant Halverson/Getty Images

Experience: 13 years
Although he sat out all of last year (either voluntarily or involuntarily), Moss has garnered a great deal of attention this offseason. He's reportedly been very impressive at San Francisco 49ers OTAs, and Jim Harbaugh seems to be a real advocate of his.
But that doesn't guarantee him a starting role, or even a spot on the roster. Far from it.
Moss' antics were excusable, even negligible, five or 10 years ago, when he was arguably the best receiver in the game. Not today, when his skills have seemingly diminished and he is over the age of 35. And especially not on a team that came (perhaps) within an overtime fumble punt of reaching the Super Bowl.
So for all the numbers on his résumé, Moss will have to earn a spot on the 49ers roster through both great play and tangible proof that he won't bring the type of circus to San Francisco that he brought to New England, Minnesota and Tennessee in 2010.
This is truly his last chance.
Ronald Martinez/Getty Images

Experience: Four years
Most, not all, of the names on this list feature veterans whose spot on the roster is in jeopardy because of some blend of age and physical wear and tear. That's not the case with Leodis McKelvin, who is only 26 years old.
Nevertheless, because the Bills already had a rising young corner in Aaron Williams before they drafted Stephon Gilmore with the 10th overall selection (they also drafted Ron Brooks from LSU in the fourth round), McKelvin's place on the roster is in question. Terrence McGee is also expected to return from knee surgery by Week 1.
In Tom Brady's AFC East, the Bills probably could use all the secondary help they can get. But considering how much money they shelled out this offseason for defensive upgrades (Mario Williams, Mark Anderson), they might be considering saving a million or so by parting ways with McKelvin.
Surely he'd find another team to pick him up, but he won't have nearly the same type of leverage when it comes to negotiating a new deal after the 2012 season.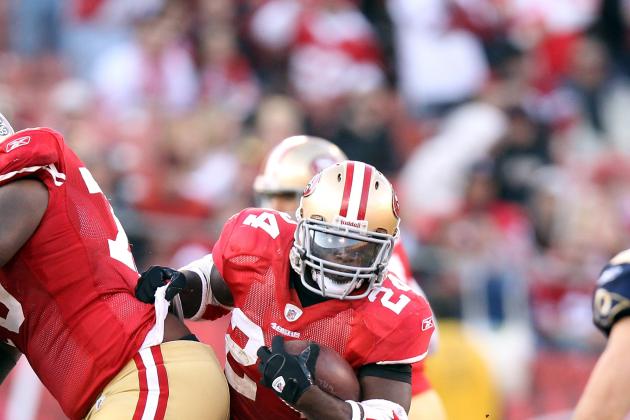 Ezra Shaw/Getty Images

Experience: Two years
Here's another relatively young player who might find himself unemployed thanks to offseason moves.
Prior to the 2011 draft, Dixon seemed to have a pretty nice future in the NFL. He was coming off a solid rookie season and sitting behind the oft-injured Frank Gore.
But since then, the 49ers spent a fourth-round pick on Kendall Hunter, who quickly rose to second string, limiting Dixon to just 29 carries during the entire 2011 campaign.
Then, this spring, San Francisco signed Brandon Jacobs, presumably taking away any remaining opportunities for Dixon.
It would seem that Jim Harbaugh and his staff don't have that much faith in Dixon's ability to do all the things necessary (not just run the ball, but block, pick up blitzes and catch the ball), so unless he has an excellent camp, he might be looking to one of the other 31 NFL teams for a job.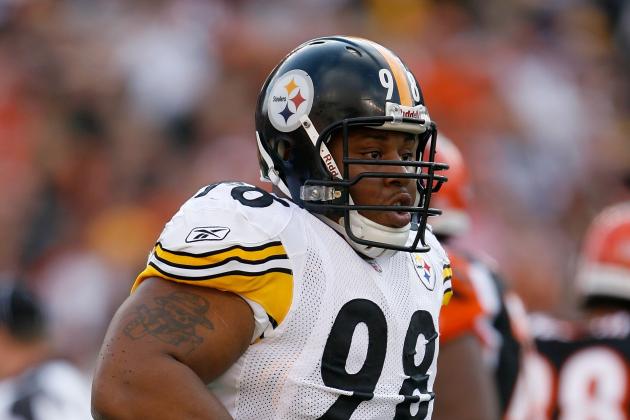 Andy Lyons/Getty Images

Experience: 11 years
After parting ways with Hines Ward, James Farrior and Aaron Smith, it's almost unimaginable that the Steelers would unload yet another staple of their quasi-dynasty. And make no mistake about it, since 2001, Hampton has been absolutely key to the Steelers defense annually finishing in the top three of run, pass, scoring and overall defensive rankings.
But Hampton just has so many miles that if there is a concern that he won't make it through the season, then paying him his $2.8 million salary for 2012 is not ideal.
And even if he is given a clean bill of health (recovering from knee surgery, there's been speculation that he might start the season on the PUP list), the Steelers do have a very promising young prospect thanks to a savvy draft choice in April's fourth round. Alameda Ta'amu was a three-year starter in the Pac-10/12 and features the ideal size and strength for a 3-4 nose tackle.
So given Ta'amu's potential and the fact that they have Steve McLendon as a reserve, if Hampton doesn't prove he's healthy and able to stay healthy throughout 2012, he might join Ward, Farrior and Smith in retirement.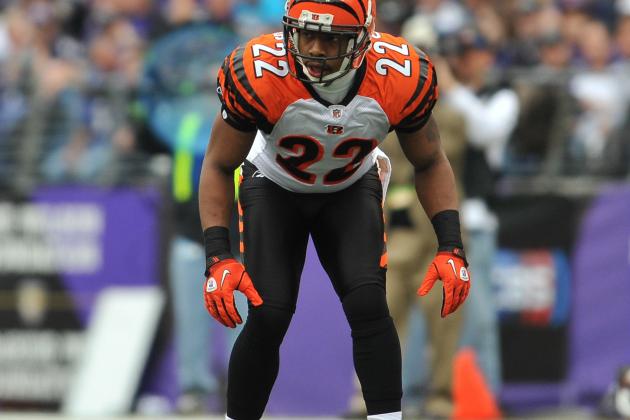 Larry French/Getty Images

Experience: 11 years
Yet another case of free agency and the draft resulting in an established veteran's uncertain place on his current team's roster.
Last year, the Bengals defense was one of the most surprising and underrated groups in the NFL. The addition of cornerback Nate Clements was a big reason why.
But in the last few months, Cincinnati signed Terence Newman at a much cheaper price. Newman is making less than $1 million in 2012; Clements is making more than $4 million. And by spending their first pick (17th overall) on Dre Kirkpatrick, they've added two big-name, potentially excellent corners.
So when you add Newman and Kirkpatrick to a roster that already has Leon Hall and Adam Jones (maybe Pacman's background is a problem, but he's stayed out of trouble lately and isn't making very much money either), Clements might be searching for his third team in the past three seasons.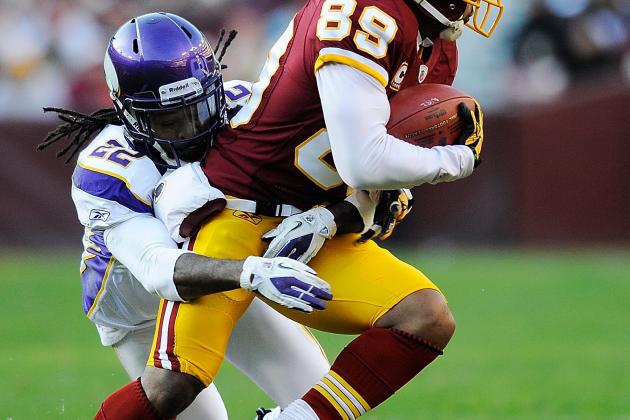 Patrick McDermott/Getty Images

Experience: 11 years
Maybe this is the year of reckoning for the Class of 2001: Hampton, Clements and now Moss, each a first-round pick that year.
For years, Moss has been one of the few bright spots in the Redskins offense. He's averaged just under 70 catches and 1,000 yards during his seven-year stay in D.C.
But Washington now has a logjam at the wide receiver position. And since it's a combination of established veterans (Pierre Garçon, Josh Morgan) and young potential stars (Anthony Armstrong, Niles Paul, Leonard Hankerson), the $7 million that Moss is due over the next two seasons might be too high of a price.
It would really sting if Moss—after suffering through seasons where Patrick Ramsey, Todd Collins, Jason Campbell, John Beck and Rex Grossman—didn't get the chance to play in a Mike Shanahan offense featuring Robert Griffin III.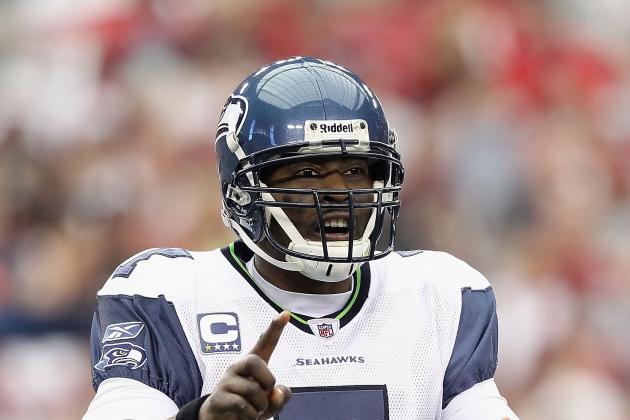 Christian Petersen/Getty Images

Experience: Six years
The world of NFL quarterback-ery just doesn't seem fair, does it?
A few years after Brett Favre swooped in and stole his job with the Vikings, Jackson thought he found a permanent home in Seattle, where he was given a two-year, $8 million deal.
And although he didn't exactly post Drew Brees or Aaron Rodgers-like numbers, Jackson did have a pretty solid season (3,091 yards passing) in 2011, which included an impressive stretch run that pushed the Seahawks back to .500.
Nevertheless, the Seahawks spent big money on Matt Flynn this offseason, then a third-round pick on Russell Wilson, making for an awkward scenario with three (possibly) viable starters.
The Seahawks don't have to unload one of those QBs, but if the season were to start today, they probably would. And since Flynn seems to have a higher ceiling and Wilson is a high-profile rookie, it stands to reason that the expendable one would be Jackson.
Still, if he has an amazing camp (and remember, he's the only one with experience in Darrell Bevell's scheme), the Seahawks can't cut him. But if he doesn't, he'll probably be cut and have to scramble to find a new club. And it won't be for $4 million a season.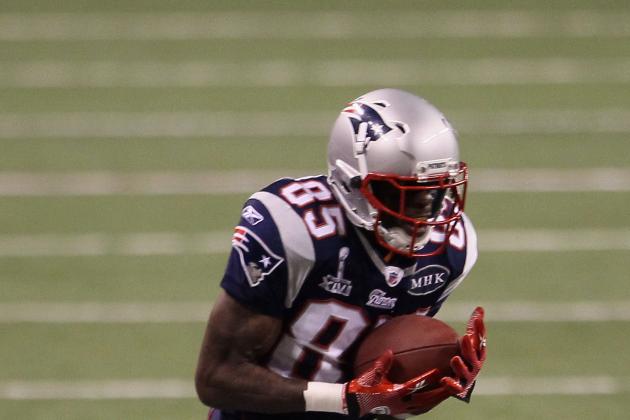 Jeff Gross/Getty Images

Experience: 11 years
The way things are going for him right now (and I don't mean his stolen Starbucks card), Ochocinco might not even have a chance to make it to training camp.
Despite all the fanfare, Ochocinco did almost nothing last year with the Pats, and things don't expect to change in 2012.
Forget for a minute that he's due to make more than $1 million in 2012. More than just financial reasons are responsible for the former Mr. Johnson's perilous spot on the New England roster.
For one, the Pats are probably the least wide receiver-dependent team in the NFL. Tom Brady throws the ball so much to Rob Gronkowski and Aaron Hernandez, as well as his deep backfield.
Secondly, they have a perennial Pro Bowler in Wes Welker (who recently signed his one-year tender) to go along with Deion Branch and the recently-signed Brandon Lloyd, who's had two great seasons in offenses featuring minimal talent. They even have Donte' Stallworth to be a spot player.
And finally, since—according to a report from the Boston Globe—Ochocinco doesn't even have a good handle of the offense.
If that doesn't change (and soon), Ochocinco might have to find a new team with a new jersey number, and maybe even a new last name.