MLB Power Rankings: Who Are the Top 25 Closers Right Now?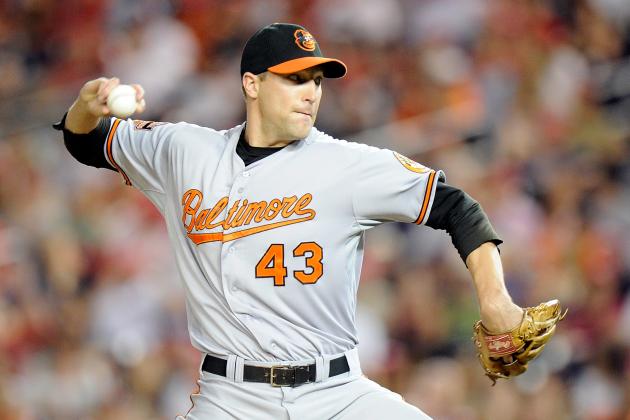 Greg Fiume/Getty Images

The highly skilled role of closer on a Major League Baseball team has certainly evolved over the years. While the 1960s and 1970s featured relievers capable of throwing multiple innings in order to seal the victory for their teams, today's closer is essentially just a ninth-inning specialist, with few exceptions.
When managers make the call to the bullpen in the late innings, they're expecting their closer to shut down the opposition. In 2012, struggles by several established closers forced managers to make changes.
In some cases, injuries played a large part in the reshuffling of the back end of the bullpen as well.
As a result, we've seen some new names featured in box scores designated with an "S", while other names have been familiar sights in those same box scores for several years.
Here is our list of the top-25 performers from the closer's position thus far in 2012.
Begin Slideshow

»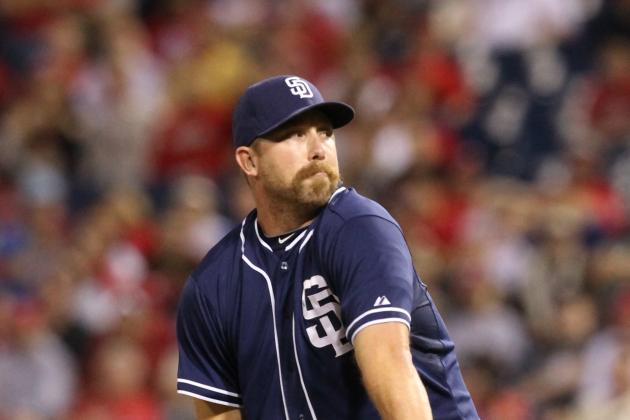 Hunter Martin/Getty Images

When newly acquired closer Huston Street went down with a strain near his pitching shoulder in the 10th inning of a game against the Miami Marlins on May 4, San Diego Padres manager Bud Black intended to use a trio of relievers to fill the void—Andrew Cashner, Luke Gregerson and Dale Thayer.
However, Thayer stepped up and killed that notion.
Thayer, brought up in late April when Micah Owings was sent to the DL, has been outstanding thus far, notching five saves in as many opportunities, with a 0.00 ERA and 10 strikeouts in 10 innings of work.
Street has begun a throwing program and could be back for the Padres in a matter of weeks, depending upon upcoming bullpen work and provided there's no more discomfort.
Thayer will likely fall back to another role in the pen, but the body of work presented thus far in his current role has been outstanding.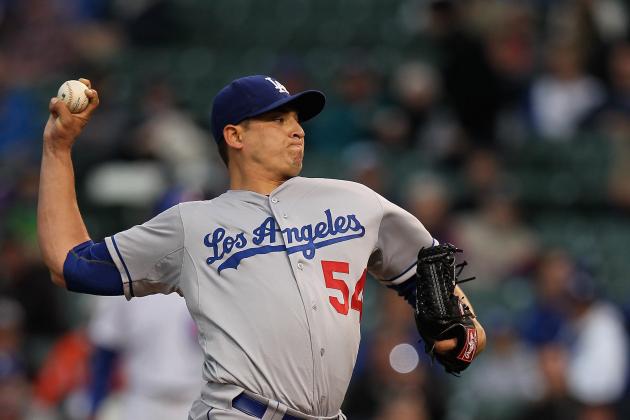 Jonathan Daniel/Getty Images

The Los Angeles Dodgers are blessed with two terrific young arms in their bullpen—Kenley Jansen and Javy Guerra. In fact, Guerra was terrific last season when manager Don Mattingly named him the closer midway through the season, finishing with 21 saves, a 2.31 ERA and a 1.17 WHIP.
This season, Guerra found life in a pressure-packed role a bit tougher. While he started out hot—notching five saves in the Dodgers' first seven games—things quickly went south.
After a botched save chance on May 6 that resulted in a 4-3 loss to the Chicago Cubs, Mattingly had seen enough, giving the closer's role to Jansen.
Guerra's numbers thus far—eight saves in 11 chances, a 3.86 ERA, 1.50 WHIP and .294 BAA.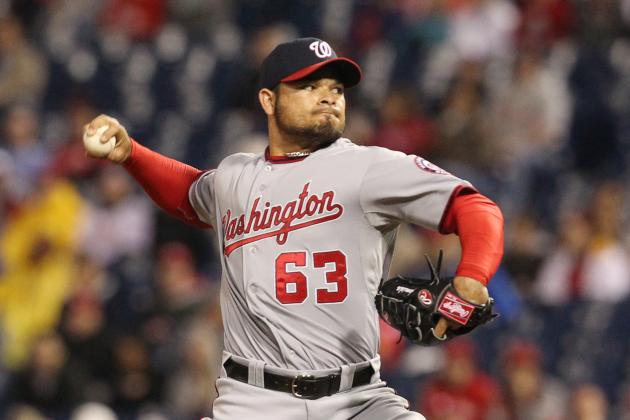 Hunter Martin/Getty Images

Washington Nationals closer Henry Rodriguez has a bazooka for an arm—a real flamethrower. But along with that power arm comes bouts of wildness, and his wildness finally caught up to him.
After being named the closer with Drew Storen on the disabled list until sometime around midseason, Rodriguez was terrific throughout the first month of the season, not allowing an earned run until April 28 and keeping his wildness under wraps.
However, in the month of May, Rodriguez imploded. It got so that manager Davey Johnson and pitching coach Steve McCatty could tell how Rodriguez's evening would end up based on his warm-up pitches.
Johnson finally announced after Monday night's game that Rodriguez was no longer the closer and that he would use a closer-by-committee rotation purely based upon matchups at the time and who was fresh and available.
Rodriguez notched nine saves in 12 chances with a 4.50 ERA, 1.28 WHIP and held opponents to just a .156 batting average.
But the wildness simply was his undoing.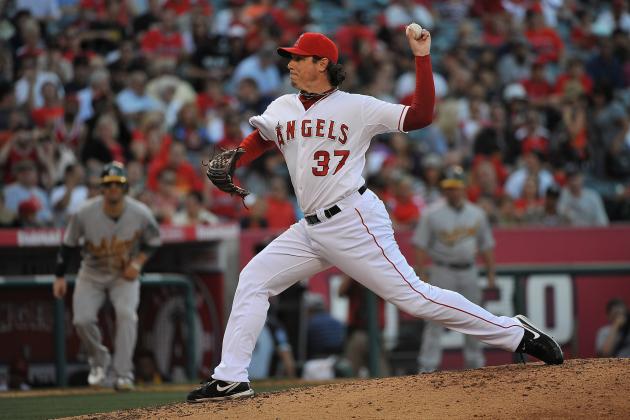 Jonathan Moore/Getty Images

Los Angeles Angels relief pitcher Scott Downs was outstanding last year in his first year in Anaheim—a 1.34 ERA and 1.00 WHIP in 60 appearances.
This season, Downs assumed a different role in mid-April, taking over as closer for Jordan Walden, who continues to rack up blown saves despite having outstanding stuff.
Downs has done well in the role, picking up three saves along the way. However, with the recent acquisition of Ernesto Frieri from the San Diego Padres, Frieri is now in the mix for save opportunities as well, notching his first on May 23 in a win over the Oakland A's.
Angels manager Mike Scioscia has said that Downs is his primary guy in the ninth inning, but he also stated his desire to have an established closer in the position as well.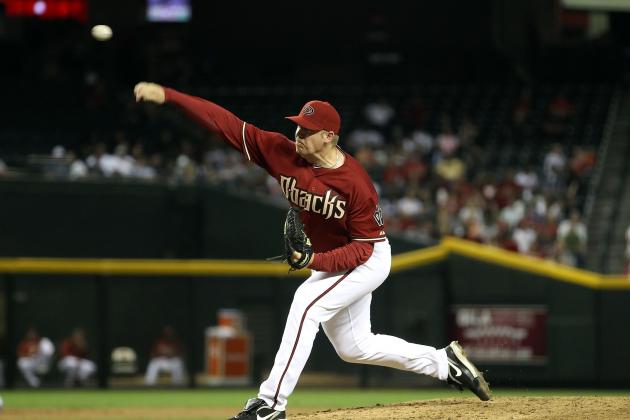 Christian Petersen/Getty Images

Last season, during the Arizona Diamondbacks' improbable run to capture the National League West Division title, closer J.J. Putz was an integral factor in the team's success, notching 45 saves, a 2.17 ERA and 0.91 WHIP.
This season has seen the D-Backs stumble to a 19-25 start, and Putz has stumbled along with them.
Putz has collected nine saves, but has also blown three saves which resulted in losses. His 7.20 ERA and 1.53 WHIP are certainly not what was expected at all.
Putz's dismal start to the season is not the reason for the D-Backs' early struggles, but his performance thus far certainly hasn't helped, either.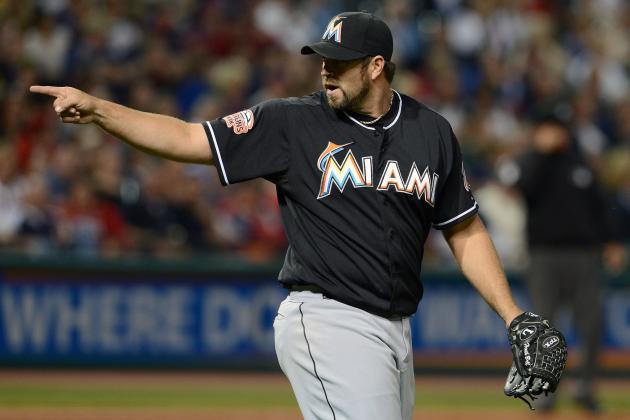 Jason Miller/Getty Images

Much like the Arizona Diamondbacks, the Miami Marlins stumbled out of the gate, as did their new closer, Heath Bell.
Bell was astoundingly bad in the month of April, racking up three blown saves and posting an ERA of 10.88. Manager Ozzie Guillen was forced to remove Bell from his role to work out his issues in a less stressful role in the bullpen.
However, unlike J.J. Putz and the D-Backs, the Marlins finally woke up, and over the past week, Bell has flashed signs of his former self, racking up four saves and lowering his ERA to 7.16.
It's too early to tell whether or not Bell is fully recovered from his horrible start, but the last week has definitely shown signs of hope.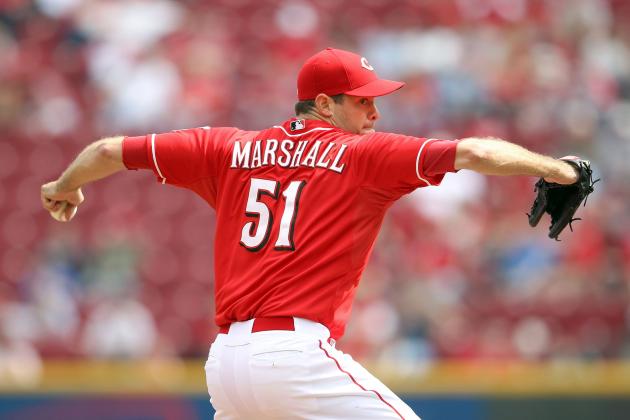 Andy Lyons/Getty Images

During his career with the Chicago Cubs, Sean Marshall made the transition from starter to reliever.
After a few bumps in the road, Marshall became one of the most consistent bullpen forces in the National League, posting a 2.45 ERA over 158 appearances in his last two seasons with the Cubs.
Sent to the Cincinnati Reds over the offseason as the Cubs sought to bolster their farm system, Marshall was being looked upon as the setup man for newly signed closer Ryan Madson.
However, Madson was finished before the season even started, down for the year with a torn ulnar collateral ligament that required Tommy John surgery.
Now, Marshall is being asked to assume Madson's role, and the results have been mixed.
In his new role, Marshall has picked up eight saves in nine opportunities, but at times has looked shaky in the process. Marshall has a 4.80 ERA, 1.67 WHIP and opposing batters are hitting .333 against him.
Not exactly lights-out stuff.
Due to Marshall's struggles, Aroldis Chapman and Logan Ondrusek have been given chances to close, with Chapman recording a win and two saves so far.
Jonathan Daniel/Getty Images

Last season, Detroit Tigers closer Jose Valverde was a driving force in the Tigers' spectacular season that saw them reach the ALCS. Valverde was a perfect 49-for-49 in save opportunities with a 2.24 ERA and 69 strikeouts in 72.1 innings.
This year, Valverde has been a bit less than perfect.
While he has seven saves, he's also blown two thus far and has posted a 5.51 ERA and 1.78 WHIP.
Opponents are hitting .270 against Valverde, and on two occasions, he has needed 30 pitches or more to garner a save, causing manager Jim Leyland to re-think the idea of smoking in the dugout.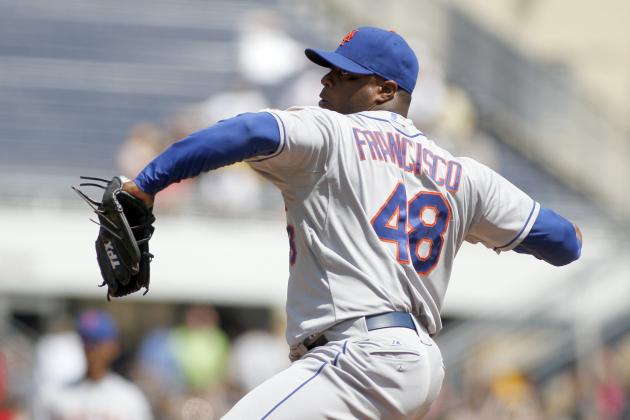 Justin K. Aller/Getty Images

During Mother's Day weekend in a three-game series with the Miami Marlins, New York Mets closer Frank Francisco picked up the loss in two of the games, prompting manager Terry Collins to put his job on notice.
Francisco has picked it up a bit since, notching three saves, but the season has been just a bit of a struggle.
Francisco has 12 saves overall, but with a 6.75 ERA, 1.82 WHIP and opponents batting .300 against him, he hasn't exactly been an overwhelming success.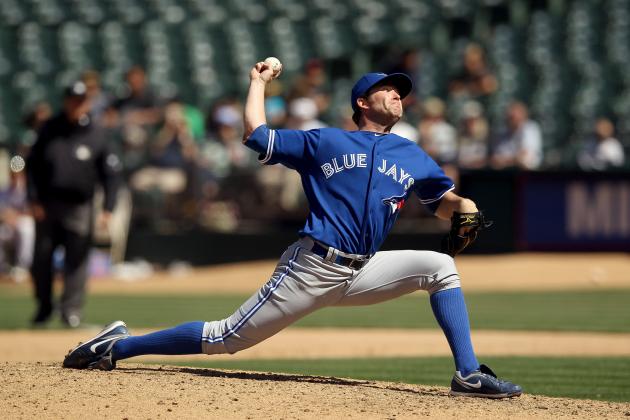 Ezra Shaw/Getty Images

For the first month of the season, the Toronto Blue Jays lost their brand-new closer, Sergio Santos, to right-shoulder inflammation, and his rehab progress has been slow, delaying his return.
Francisco Cordero, also a new acquisition and with 327 career saves to his credit, spit the bit. Up until May 9, the Jays had seven blown saves in 11 chances.
That was until Casey Janssen was handed the job.
Janssen hasn't had many opportunities since taking over full-time two weeks ago, but he's been perfect thus far, with three perfect innings resulting in three saves.
Janssen has settled the Jays' bullpen, and with Santos' return currently up in the air, Janssen may be the option in the ninth inning for quite a while. Based on his performance since taking over, not many are complaining.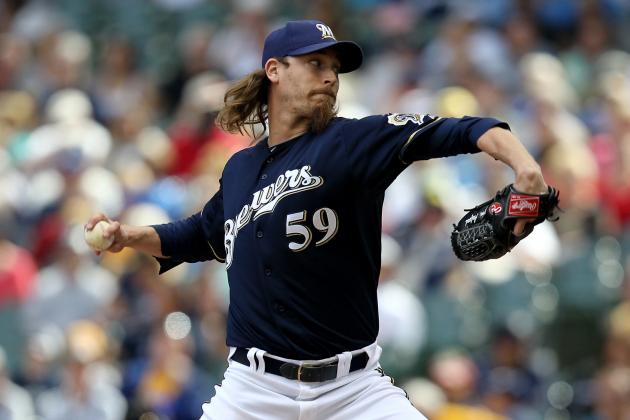 Mike McGinnis/Getty Images

Last year, Milwaukee Brewers closer John Axford blew a couple of saves early, but after April 18, he was absolutely perfect.
Axford led the NL with 46 saves, notching a 1.95 ERA with 86 strikeouts in 73.2 innings. In the latter stages of the season, Axford and setup man Francisco Rodriguez were a powerful one-two punch at the back end of the bullpen for the Brewers.
The 2012 season has seen chinks in the armor, however.
Axford has just seven saves in eight chances with a 4.11 ERA and 1.63 WHIP, and his Brewers have struggled to give him the regular save opportunities that he enjoyed last season.
Axford certainly has not been the cause of the Brewers' woes—a spate of season-ending injuries has taken its toll—but the shine is off the apple just a wee bit for Axford thus far.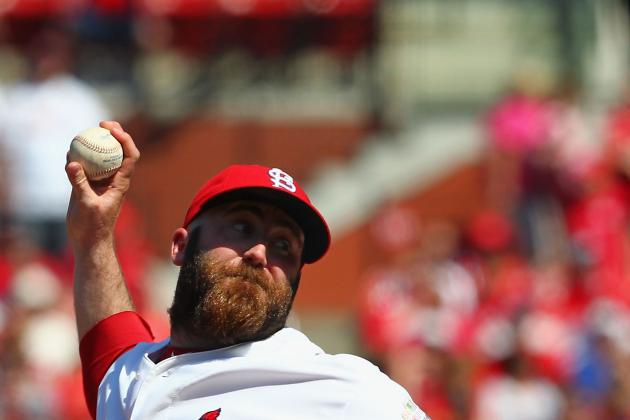 Dilip Vishwanat/Getty Images

When new St. Louis Cardinals manager Mike Matheny anointed Jason Motte as his closer during spring training, it seemed like a slam-dunk decision, considering Motte's brilliant performance last year during the Cards' improbable run to the World Series championship.
Motte hasn't been terrible, but he hasn't been great, either: eight saves in 11 chances thus far, with one blown save resulting in a loss and the other two resulting in wins and Motte being saved by walk-off glory.
A 2.00 ERA and 0.83 WHIP are definitely nice numbers as well, with opponents only hitting .175 thus far against Motte. He's definitely a man on the way up the closer charts.
Gregory Shamus/Getty Images

After spending seven seasons in the majors essentially as just another arm in the bullpen, the Seattle Mariners gave Brandon League the opportunity to be their full-time closer last year.
League shined in the role, picking up 37 saves with a 2.79 ERA and 1.08 WHIP.
This year, League has been, well, just okay, with nine saves in 12 chances, a 3.72 ERA, 1.50 WHIP and opponents batting .264 against him.
Again, just okay—nothing like 2011.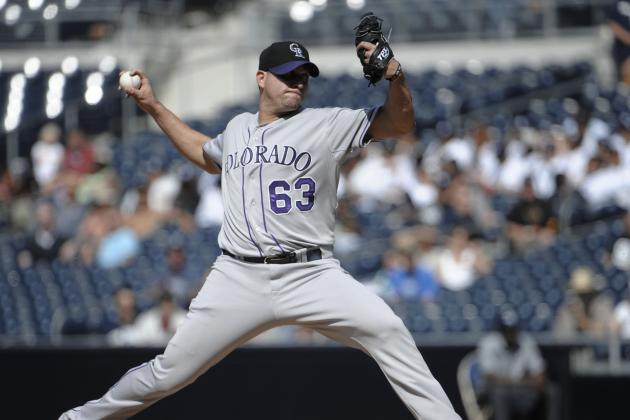 Denis Poroy/Getty Images

Reliever Rafael Betancourt has been outstanding for the Colorado Rockies since his trade from the Cleveland Indians in July 2009.
During that time, he's posted an 11-3 record, 3.00 ERA, 0.92 WHIP and struck out 207 batters in 165 innings. Now, he's getting his chance to shine as a closer.
Unfortunately for Betancourt, the play of his team hasn't allowed for many chances thus far, but he's done well with what he's been given—seven saves in eight chances, a 2.81 ERA, 1.06 WHIP and .203 BAA.
Too bad his 16-27 Rockies can't give him more to work with.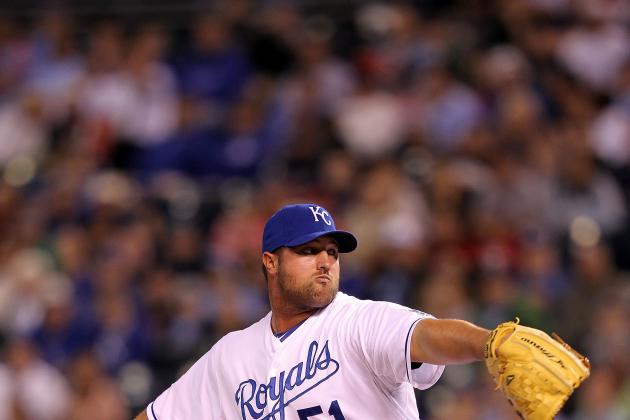 Jamie Squire/Getty Images

Jonathan Broxton spent seven seasons with the Los Angeles Dodgers, becoming one of the National League's top closers with 36 saves in 2009 and earning an All-Star selection that year, and another in 2010 after a fabulous first half.
Then, the roof caved in.
Poor performance and a spate of injuries doomed Broxton, and the Dodgers moved on without him. The Kansas City Royals came calling, willing to give Broxton a one-year, $4 million deal to be the setup man for Joakim Soria.
Broxton was healthy for the first time in a while and prepared for his new role with his new team. Then Soria was felled with elbow issues, requiring Tommy John surgery for the second time in his career and leaving Broxton to be the closer.
While Broxton hasn't been the overpowering pitcher that notched a 13.5 K/9 rate in 2009, he has nonetheless been effective, notching eight saves in 10 chances with a 2.16 ERA and 1.26 WHIP.
Much like Rafael Betancourt before him on this list, his 17-26 Royals haven't given him many opportunities to close out games, but Broxton has, for the most part, done his job well.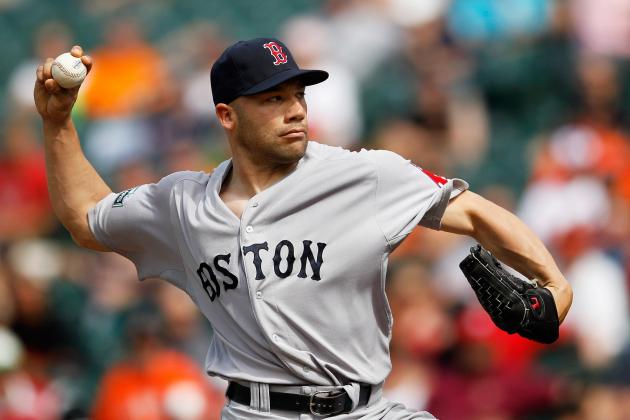 Rob Carr/Getty Images

Last season for the Boston Red Sox, Alfredo Aceves was Mr. Everything, pitching in long relief, short relief and even starting four games for manager Terry Francona.
About the only thing Aceves didn't do was close out games, with closer Jonathan Papelbon firmly entrenched.
Now, with Papelbon saving games for the Philadelphia Phillies and newcomer Andrew Bailey on the shelf after thumb surgery, Aceves is doing just that—closing out games.
At first, it was a struggle for Aceves; a couple of blown saves early ballooned his ERA to above 10.00.
However, in the month of May, Aceves has been simply brilliant—a 1.27 ERA in 11 appearances with six saves, including a four-out save on Wednesday in the Red Sox's 6-5 victory over the Baltimore Orioles.
Overall, Aceves has dropped his ERA to 4.15 since his horrific start, with 11 saves in 13 opportunities.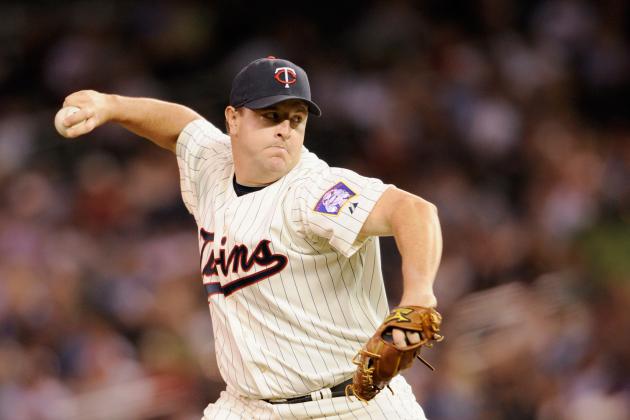 Hannah Foslien/Getty Images

Minnesota Twins closer Matt Capps has rediscovered his split-finger fastball, and as a result, has rediscovered his dominance.
With nine saves in as many chances, Capps has rebounded from a tough 2011 campaign which saw him lose his job to Joe Nathan.
With Nathan gone, Capps once again ascended to the closer's role, and while his Twins team is tough to watch, Capps has been very solid at the back end when given the chance.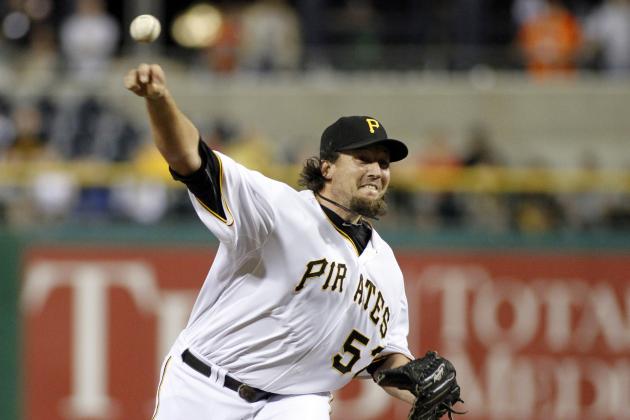 Justin K. Aller/Getty Images

After the Pittsburgh Pirates traded Octavio Dotel to the Los Angeles Dodgers at the trade deadline in July 2010, reliever Joel Hanrahan was given the opportunity to close out some games and later assumed the role full-time in 2011.
Hanrahan shined, notching 40 saves with a 1.83 ERA and earning his first All-Star selection in the process.
Hanrahan has been solid thus far in 2012 as well, with 10 saves in 11 chances, a 2.87 ERA, 1.15 WHIP and opponents hitting only .130 against him—the lowest BAA among closers in the majors.
Otto Greule Jr/Getty Images

Closer Joe Nathan had to suffer through an up-and-down season in 2011 after missing all of the previous season recovering from Tommy John surgery.
Nathan lost his job to Matt Capps after a horrible start, but regained it later in the season, posting a 4.84 ERA with 14 saves.
After signing a two-year, $14 million contract to close games for the Texas Rangers, Nathan has been much more consistent—10 saves in 11 opportunities, a 2.41 ERA, 0.96 WHIP and 23 strikeouts in 18.2 innings.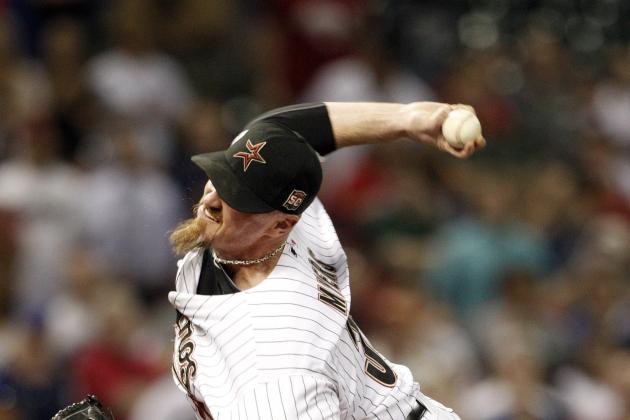 Bob Levey/Getty Images

When new Houston Astros general manager Jeff Luhnow came up with the idea of having starter Brett Myers close games, Myers readily accepted the challenge.
"I know I'm going to enjoy it," Myers said at the time. "It's something that I've done before. I want to give it another shot, see if I can."
Myers definitely seems to be enjoying it, and no doubt, Luhnow is enjoying watching it as well. Thus far, Myers has 11 saves in 12 chances, posting a 1.69 ERA, 0.81 WHIP and .179 BAA.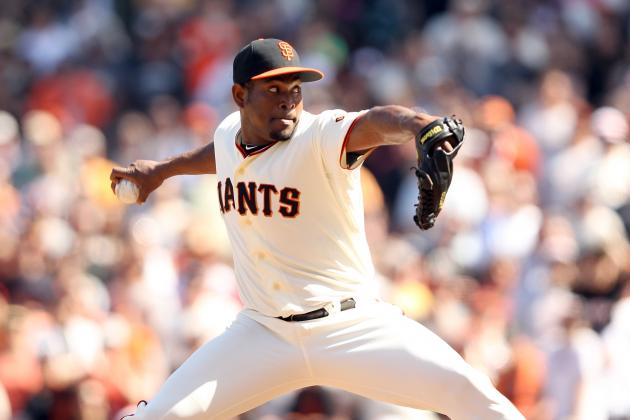 Ezra Shaw/Getty Images

When San Francisco Giants closer Brian Wilson went down with an elbow injury requiring Tommy John surgery, manager Bruce Bochy immediately named Santiago Casilla as his replacement, and Casilla has done absolutely nothing to disappoint.
Casilla has been brilliant—11 saves in 12 chances, a 1.37 ERA, 0.97 WHIP and opponents only hitting .171 against him.
It's hard to argue those numbers from a replacement.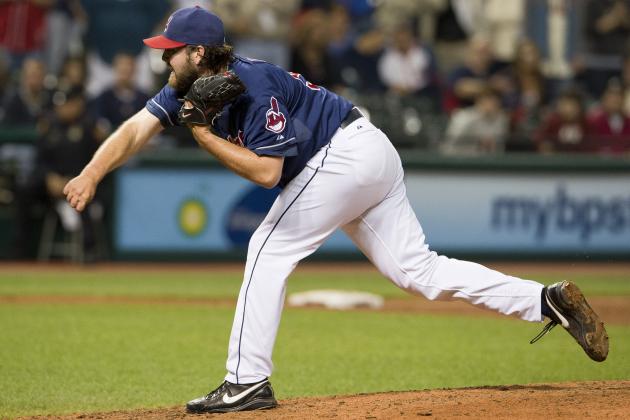 Jason Miller/Getty Images

While Cleveland Indians closer Chris Perez has been left to defend his comments concerning Indians fans, manager Manny Acta continues to stand by Perez and watch him close games in terrific fashion.
Yes, sometimes Perez can cause a little drama, but he's more than effective in the ninth inning—15-of-16 in save chances, a 2.95 ERA, 1.09 WHIP and .186 BAA.
Yes, only a little more than 15,000 fans show up at each game despite the Indians being in first place in the AL Central, but Perez will continue his efforts with or without them in the seats.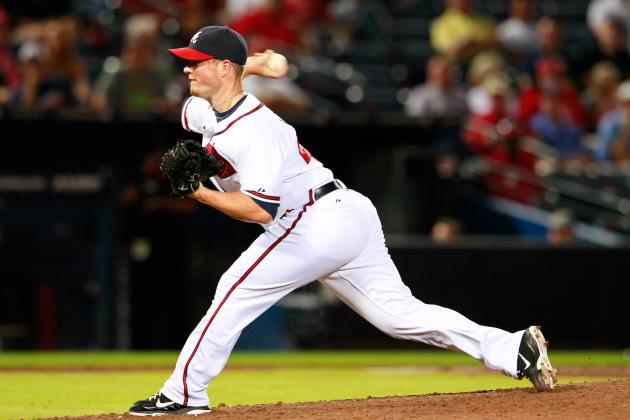 Kevin C. Cox/Getty Images

No sophomore jinx for Atlanta Braves closer Craig Kimbrel—at least not yet.
Last year's runaway Rookie of the Year is following up with another pretty solid season thus far, with 13 saves in 14 chances, a 2.25 ERA, 1.25 WHIP and .175 BAA.
Along with Jonny Venters, the back-end tandem is once again getting it done, and Kimbrel can now call himself one of the elite closers in Major League Baseball.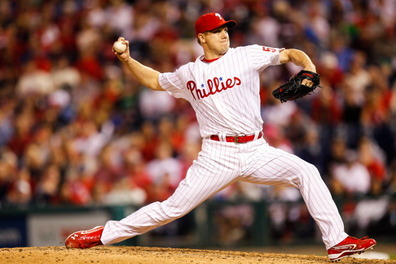 Brian Garfinkel/Getty Images

The Philadelphia Phillies have clearly stumbled out of the starting blocks, with a 21-23 record, but it hasn't been new closer Jonathan Papelbon's fault.
In his first season in Philly, Papelbon has been perfect—12-for-12 in save chances, a 2.60 ERA, 0.98 WHIP, .206 BAA and 21 strikeouts in 17.1 innings.
That's about all you could ask for from a $50 million closer. Too bad he can't hit.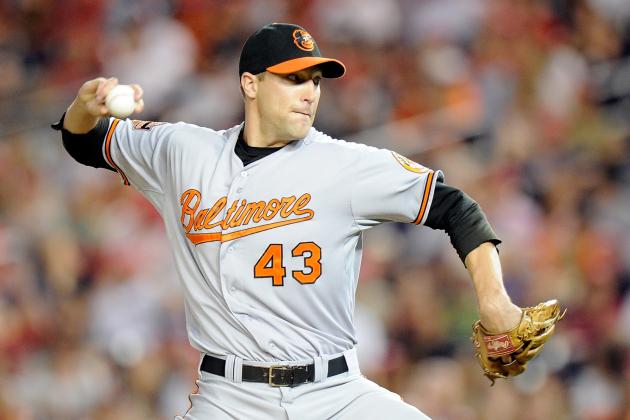 Greg Fiume/Getty Images

Considering the outstanding performances of the top-two guys on this list, I can't commit myself to a No. 2 man—they both deserve top honors.
The Baltimore Orioles' bullpen is a big reason why the O's are off to a 28-17 start and on top in the AL East. With a collective 2.25 ERA, the Orioles are ranked second in the majors, and closer Jim Johnson has been a big reason why.
Johnson has collected 16 saves in as many chances, notching a nifty 0.87 ERA, 0.77 WHIP and .167 BAA.
He has been utterly dominant.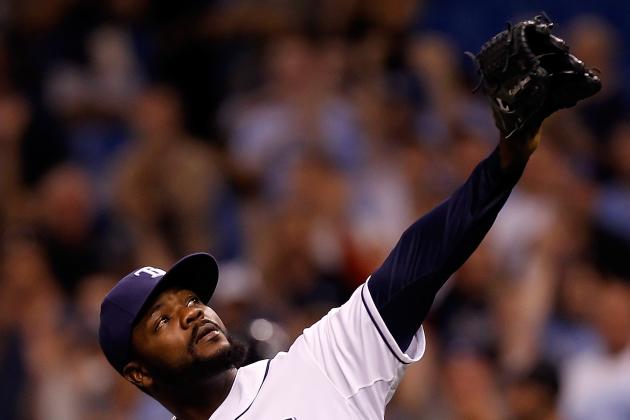 J. Meric/Getty Images

Along with Jim Johnson, Tampa Bay Rays closer Fernando Rodney has been simply brilliant himself this season—a big surprise given his very disappointing 2011 campaign with the Los Angeles Angels.
Taking a major pay cut to play with the Rays, Rodney has been worth every penny and more—14-for-14 in save chances, a 0.40 ERA, 0.75 WHIP, .173 BAA and 22 strikeouts in 22.2 innings.
Rodney's fastball is back and moving, and his signature changeup has been nearly unhittable all year long.
If held at gunpoint and forced to choose, I would give only a slight nod to Rodney, if only for the fact that his performance was not exactly expected.
Doug Mead is a featured columnist with Bleacher Report. His work has been featured on the Seattle Post-Intelligencer, SF Gate, CBS Sports, the Los Angeles Times and the Houston Chronicle. Follow Doug on Twitter, @Sports_A_Holic.