NL Rookie of the Year Rankings: Zack Cozart Falls, Yonder Alonso Rises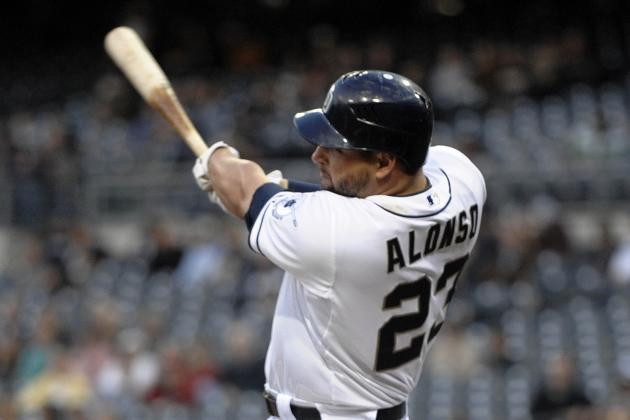 Denis Poroy/Getty Images
Yonder Alonso just keeps hitting for the San Diego Padres.
After holding relatively steady for the past couple of weeks, we have some shuffling in the NL Rookie of the Year rankings.
There's a change at the top, due to the previous week's front-runner fighting through a slump. That's created an opportunity for others to move up, including one guy whose bat has stayed hot.
One reminder, since we clarified the matter last week: St. Louis Cardinals pitcher Lance Lynn is not a rookie. He exceeded 45 days in the major leagues last season, thus using up his eligibility. I'm not making this up. It's been reported by people who cover the team.
With that, here are this week's top five candidates for NL Rookie of the Year.
Begin Slideshow

»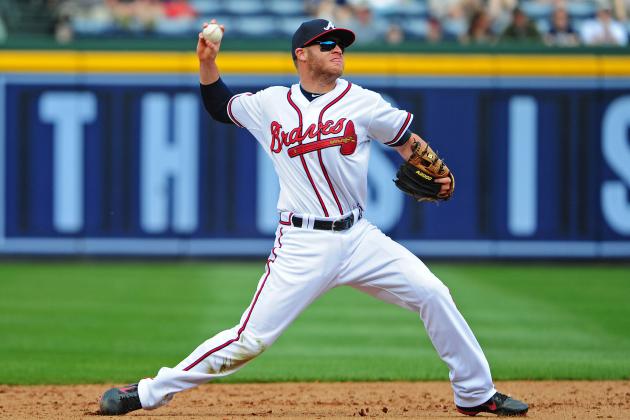 Scott Cunningham/Getty Images
Tyler Pastornicky has been steady at shortstop all season for the Atlanta Braves.
Bumping Tyler Pastornicky down a spot from last week's No. 4 probably isn't fair. It's not like he played worse during the past week.
On the contrary, Pastornicky was pretty steady, batting 6-for-22 (.273). That's kept his batting average about where it was last week. He hasn't been hitting for extra bases over his past few games, however, which has nudged his slugging percentage down.
Steady performance throughout the season can be enough to win the Rookie of the Year award. We've seen it happen plenty of times before. If the 22-year-old Pastornicky doesn't experience the deep slumps that have nicked his peers, he may very well rise to the top.
But one scorching hot streak certainly wouldn't hurt his cause.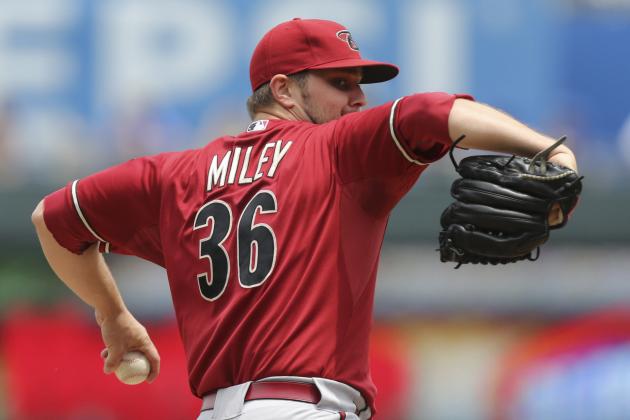 Ed Zurga/Getty Images
Wade Miley has allowed one total run in his past two starts for the Arizona Diamondbacks.
OK, here's the real reason Tyler Pastornicky got pushed down a spot. Wade Miley deserved moving up in these rankings with his two starts for the Arizona Diamondbacks last week.
Miley, the No. 43 overall selection in the '08 draft, allowed only one run over 13.2 innings. He gave up 14 hits and struck out eight batters, but only issued three walks. Miley isn't going to blow an opposing lineup away with his stuff, but he's not going to beat himself either.
Did Miley compile those numbers against weaker teams? Well, yes and no. He did pitch seven scoreless innings against the Kansas City Royals in his last start, and they don't present a powerhouse lineup.
But prior to that, he held the Los Angeles Dodgers, the team with the best record in baseball, to one run. No, the Dodgers aren't the same team without Matt Kemp, but they've been beating plenty of other pitchers with that lesser lineup.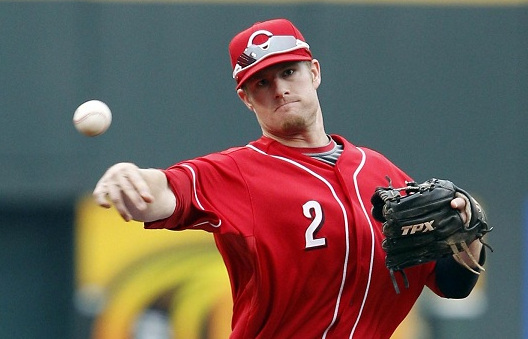 Reds shortstop Zack Cozart slumped last week before turning it around in his two most recent games. (Frank Victores-US PRESSWIRE)
Here's our big change of the week. But Zack Cozart couldn't hold his top spot in these NL Rookie of the Year rankings after slumping the way he did over his past eight games.
During that stretch, Cozart went through a 4-for-30 skid. That actually includes him batting 3-for-7 in his past two games. In the other six, Cozart was 1-for-23 (.043). The drought dropped his batting average from .264 to .239, and his OPS decreased by 59 points.
But as mentioned, Cozart may have already broken his slump with his last seven at-bats. That includes a home run off the Braves' Mike Minor, which turned out to be the second of three consecutive homers for the Reds.
Showing an ability to bounce back after encountering some adversity is an important development for a rookie. That sort of resilience might push Cozart back near the top of these rankings next week.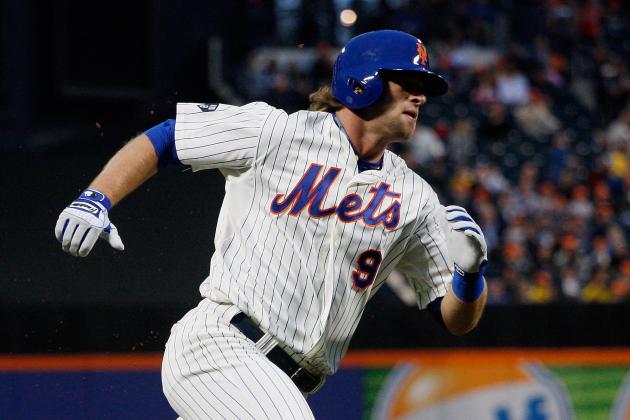 Mike Stobe/Getty Images
Kirk Nieuwenhuis continues to produce steadily for the New York Mets.
Holding down the No. 2 spot for another week is Kirk Nieuwenhuis. He's been a steady, reliable performer for New York Mets manager Terry Collins, who knows he can count on Nieuwenhuis to knock a hit or two and get on base from the leadoff or second spot in the batting order.
Collins surely appreciated his rookie outfielder even more as his veteran center fielder, Andres Torres, fights through a 1-for-33 slump. That put Torres on the bench for Tuesday's game against the Pittsburgh Pirates and perhaps gave the rookie from tiny NAIA Azusa Pacific University another chance to show he should be the Mets' starter in center field.
As the New York Times' Andrew Keh reports, however, Collins prefers Torres' defense and baserunning speed. But if Torres can't get on base and doesn't start hitting, while Nieuwenhuis keeps hitting regularly, the manager will eventually have to make a change.
If that were to happen, there could be a debate as to whether Torres lost his job or Nieuwenhuis won it. But any time a rookie can supplant a veteran, it's worth noting. We're still talking hypothetically here, of course.
But without Nieuwenhuis' contributions so far this season, where would the Mets offense be? Collins probably doesn't even want to think about that.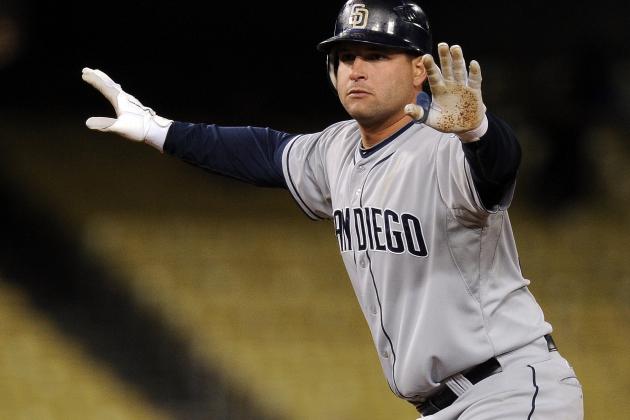 Harry How/Getty Images
Yonder Alonso wants everyone to pay attention to how well he's been hitting.
Meanwhile, Yonder Alonso just keeps hitting for the San Diego Padres.
During his past eight games, Alonso is 9-for-27 with three doubles and three RBI. As we've said frequently with Alonso, he's not a slugger. He won't hit a bunch of home runs. But he'll hit plenty of balls into the gaps and ring up a bunch of doubles. His 14 doubles are tied for second in the NL.
Going into Tuesday night, Alonso had boosted his slash average to .301/.380/.420, his highest totals of the season.
Some people might like a bit more pop out of their first baseman, but his swing is well suited for Petco Park's big outfield. It's the reason the Padres opted for Alonso over touted prospect Anthony Rizzo, who's now launching loads of baseballs out of the park for the Triple-A Iowa Cubs.
Can a solid hitter playing on the West Coast for a last-place team get enough notice from the national press to win NL Rookie of the Year? Maybe not. Unless Alonso just keeps hitting, while everyone else fluctuates around him. Alonso is certainly making that look possible.