MLB AL Cy Young Award Rankings: Brandon Morrow Emerging as a Legit Contender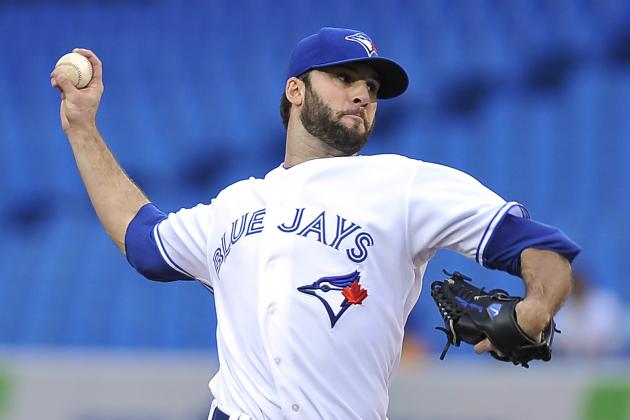 Brad White/Getty Images

With a little over a week to go in the month of May, the race for the American League Cy Young award is starting to heat up.
As things stand right now, there are some pretty heavy hitters in the mix to win the award, including several former Cy Young winners. The guys who are supposed to be pitching well are pitching well, which I suppose makes perfect sense.
There's always at least one surprise contender every year, however. In recent weeks, Toronto Blue Jays right-hander Brandon Morrow has been stating his case to win the award, as he's been on a hot stretch that has pushed his record to 5-2 and his ERA comfortably below 3.00.
Morrow is definitely a guy to watch as things move forward in the American League. For the time being, here are my weekly top five contenders for the AL Cy Young.
Note: Feel free to check out last week's rankings.
Begin Slideshow

»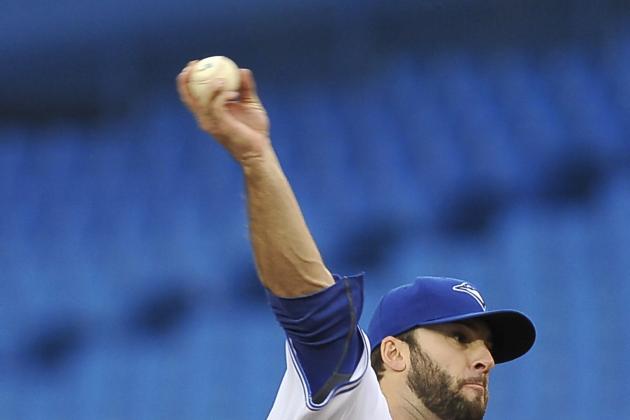 Brad White/Getty Images

Last Week: Unranked
I really wanted to include Brandon Morrow in the top five when I sat down to put my rankings together last week, but the timing wasn't quite right. He had just given up six earned runs in five innings in a start against the Tampa Bay Rays.
The timing is much better now. Morrow's last start was a complete-game shutout of the New York Mets in which he gave up three hits and one walk.
Morrow's overall numbers now look pretty good. He's got a record of 5-2, an ERA of 2.63 and a WHIP of 0.96. He ranks in the top 10 in the American League in wins, innings pitched, strikeouts, ERA and WHIP.
As for that six-run stinker, it must be noted that Morrow didn't have his best luck that day. And since it's his only bad start in his last six outings, we can do him a favor and overlook it.
For the record, if you take that start of the equation, Morrow has an ERA under 2.00 for the season. Which, of course, is not too shabby.
All told, Morrow has a WAR of 1.2, according to FanGraphs, and that places him among the pitching leaders in the American League.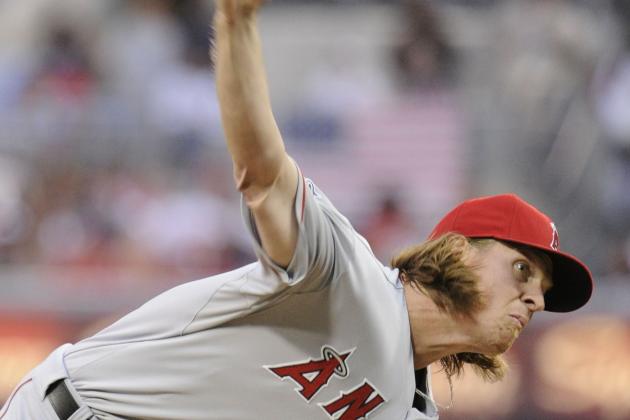 Denis Poroy/Getty Images

Last Week: No. 3
Jered Weaver was coming off a brutal start against the Texas Rangers when I last wrote about him, as he gave up eight earned runs on 10 hits in just 3.1 innings.
He righted the ship with an impressive seven-inning performance against the San Diego Padres at Petco Park. This was to be expected seeing as how he was, you know, facing the Padres.
Like Morrow, Weaver has solid numbers across the board. He has a 6-1 record, a 2.80 ERA and a 0.93 WHIP, not to mention a very impressive 4.08 strikeout-to-walk ratio. Weaver is tied for first in the AL in wins, and he ranks in the top 10 in innings pitched, strikeouts, ERA and WHIP.
Truth be told, you could make the case that Morrow should be fourth on this list, and Weaver fifth. I give Weaver the edge because of his no-hitter back in April, which is a pretty big feather in his cap.
Per FanGraphs, Weaver has a WAR of 1.8. That ties him for third among American League pitchers.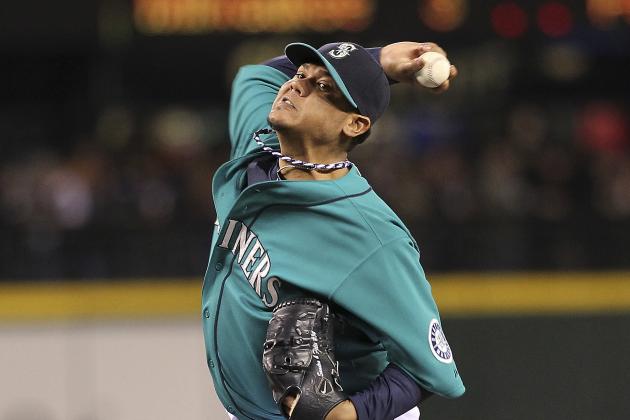 Otto Greule Jr/Getty Images

Last Week: No. 2
King Felix had two lousy starts in a row against the New York Yankees and Cleveland Indians, but I never got the sense that there was anything to worry about. It was surely just a matter of time before Hernandez got back on track.
Sure enough, Hernandez silenced the Texas Rangers for eight innings on Monday night, giving up one run on six hits and two walks. He easily outdueled Yu Darvish in the process.
As a result of that start, King Felix's numbers look much better than they did a few days ago. His 4-3 record is just okay, but he has a 2.80 ERA and a 1.17 WHIP.
There are AL pitchers out there with better numbers, but what gives Hernandez an edge over all but two of them are his innings and strikeout totals. He leads the American League with 70.2 innings pitched, and he's tied for first in the AL with 68 strikeouts.
Hernandez is tied with Weaver with a WAR of 1.8, per FanGraphs. He's going to have some off days here and there, but when he's on, he's one of the best pitchers in baseball.
I'll wager he's the most underappreciated pitcher in baseball no matter how he's pitching on a given day.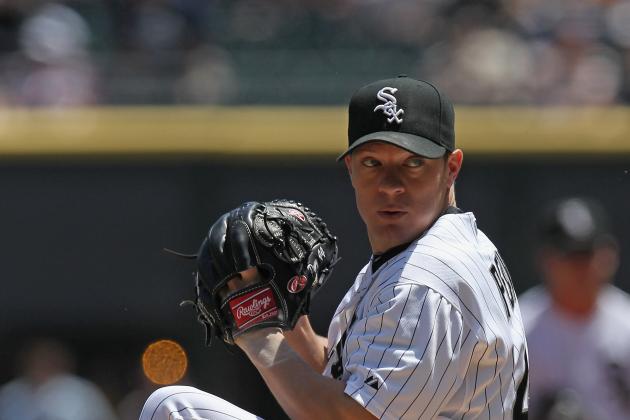 Jonathan Daniel/Getty Images

Last Week: No. 4
Jake Peavy has had one bad start this season.
Actually, it was more like one bad inning. On May 15 against the Detroit Tigers, he gave up six earned runs while getting just one out in the sixth inning.
If you take that one bad inning out of the equation, Peavy has an ERA of 1.57 this season.
Even despite that one bad inning, Peavy's numbers are solid across the board. He has a 5-1 record, a 2.39 ERA and a 0.91 WHIP. He ranks in the top 10 in the AL in wins, innings, strikeouts, ERA, WHIP and so on, and so on.
I've said this before, but the only question I have about Peavy's Cy Young candidacy is whether he'll stick around long enough in the American League to make a run at it. He's trade bait. And considering the state of the White Sox organization, they'd be wise to trade him.
Until (or if) Peavy is traded to the National League, he'll loom large in the AL Cy Young race.
Leon Halip/Getty Images

Last Week: No. 1
Justin Verlander is doing it again.
The reigning AL MVP and Cy Young winner had some ups and downs in the first couple weeks of the season, but he's starting to catch fire now. Call me crazy, but I could swear he had a rather deranged look in his eye during his last start.
The Pittsburgh Pirates must have been spooked by it. Verlander tossed a one-hitter against them, and the only reason it wasn't a no-hitter was because Josh Harrison managed to send a seeing-eye single into center field in the ninth inning. It would have been Verlander's third career no-no, which is pretty remarkable given the fact he hasn't hit 30 yet.
Thanks to the shutout, Verlander's record now sits at 5-1, and he has a 2.14 ERA and a 0.80 WHIP. He leads the American League in ERA and WHIP, and he's tied with Hernandez for the lead in strikeouts with 68.
Per FanGraphs, Verlander has the AL lead among pitchers with a WAR of 2.5, and it's really not all that close. Until further notice, he's the man to beat in the AL Cy Young chase.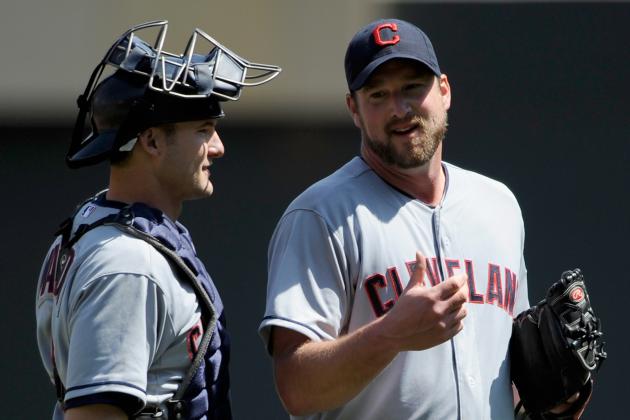 Hannah Foslien/Getty Images

5. Derek Lowe, Cleveland Indians
He's in the mix, but I pushed him down to make room for Brandon Morrow.
4. Jake Peavy, Chicago White Sox
In retrospect, I probably should have had him higher last week.
3. Jered Weaver, Los Angeles Angels
He's going to be in the mix all season long.
2. Felix Hernandez, Seattle Mariners
Ditto.
1. Justin Verlander, Detroit Tigers
Freak.