NFL Rookie Rumors: Who Is Gaining Most Momentum Heading into Training Camp?
May 24, 2012

Patrick McDermott/Getty Images
Minicamps have concluded, and some NFL rookies are beginning to make a splash as focus shifts to training camp.
As the offseason rolls on, here are three fledglings emanating energy throughout the league.
Robert Griffin III (QB, Washington Redskins)
It's hard to believe it's possible, but RG3 is exceeding expectations as the 2012 season nears kickoff.
In his first practice with veterans, the quarterback impressed Washington's receivers, eliciting praise from Santana Moss and prompting Pierre Garcon to remark:
"He doesn't look like a rookie. He's throwing and he's putting the ball where it needs to be. He's doing a great job. He's accurate on his deep ball and everywhere else.''
It's looking like Griffin III could shock a pulse back into D.C.'s football scene in 2012.
Dont'a Hightower (DE, New England Patriots)
Former Baltimore Raven and Boston football analyst Mike Flynn believes that Dont'a Hightower could make more of an immediate impact than Chandler Jones, New England's first pick of the draft.
Hightower is versatile and could be used in a variety of ways, whereas Flynn believes Jones will be used more situationally this year.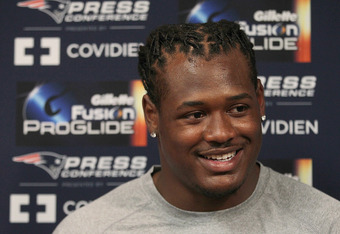 Jim Rogash/Getty Images
This could easily be the case.
Hightower was a champ at rushing the quarterback at Alabama, but he also felt comfortable dropping back into coverage.
In an April press conference, Hightower highlighted his flexibility:
[T]hat's something I'm definitely going to use here - my versatility, whether it's getting after the quarterback, getting on the running back or dropping in coverage, just trying to throw the quarterback off.
The ability to transition between roles wins big in New England where wideout Julian Edelman found himself on the other side of the ball playing slot corner last season.
Bill Belichick will harness Hightower's talent to make him an immediate contributor for the Pats.
Dwight Bentley (CB, Detroit Lions)
Dwight Bentley is a small guy from the Sun Belt Conference, but he's gaining momentum heading into training camp.
The Louisiana-Lafayette product is just one of six players drafted from the Sun Belt in 2012 (compare that with the nine SEC players selected in the 2012 draft's first round alone).
But in spite of all that, Bentley looks primed to compete in the majors.
The corner makes up for size with athleticism. His quick feet are well suited for the fast-paced NFL, and he can get height on his jumps.
The Detroit Lions inked Bentley to a four-year deal, and he didn't disappoint in minicamp.
ESPN.com believes the rookie could be a viable contender for a starting role this season.
Bentley will likely have an opportunity to contribute regardless. Detroit's secondary was notoriously porous last season.