San Diego Chargers: Reviewing Their 2012 NFL Draft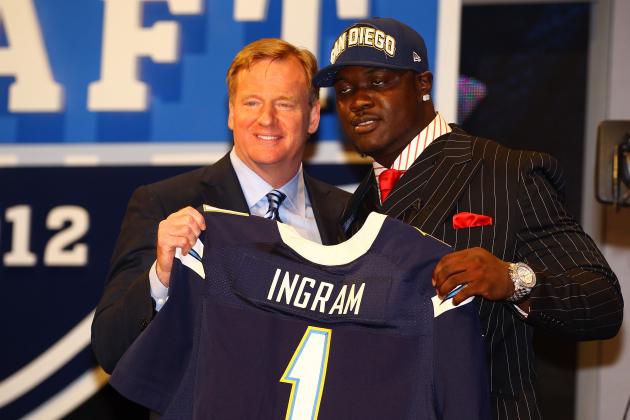 Al Bello/Getty Images

For months leading up to the draft, I consistently insisted that the San Diego Chargers would be focused on drafting offensive linemen in the early rounds of the 2012 NFL Draft, and received consistent responses from readers that the Chargers would focus on upgrading their defense in the early rounds.

As it turned out, Chargers fans were much more in tune with their favorite team's draft plans than I was. The Chargers used their first three picks to select defensive players and did not draft an offensive lineman until Round 5.

Did the Chargers make a mistake by failing to focus on rebuilding their offensive line? Read through the following slides to find out.
Begin Slideshow

»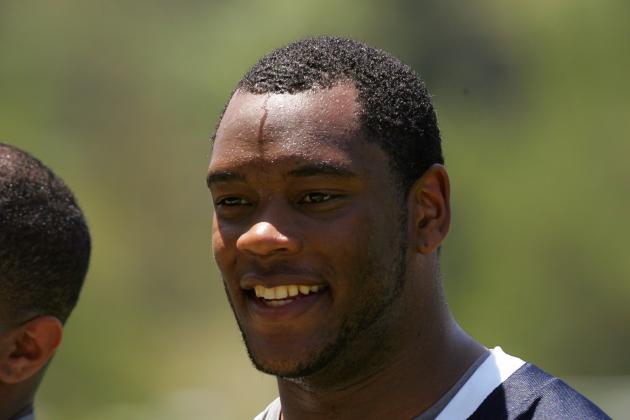 Kent Horner/Getty Images
Kendall Reyes
Round 1, Pick 18: Melvin Ingram, OLB, South Carolina

Overall Prospect Rank: No. 8

Ingram is an ideal fit to play as a pass-rusher in the Chargers' 3-4 defense. He is the most explosive pass-rusher in the draft class. His best skill is his ability is to get into the backfield and pursue the quarterback, but he is also physical against the run. Ingram's short arms are a legitimate concern, but he should make up for his less-than-ideal physical stature with his explosive athleticism.


Round 2, Pick 49: Kendall Reyes, DT/DE, Connecticut

Overall Prospect Rank: No. 52
Reyes is an explosive interior penetrator who projects very well to playing 5-technique defensive end. He has a long frame, is very strong and is a terrific athlete for his size. His game needs development, but he has the potential to develop into an impact player on the Chargers' defensive front.


Round 3, Pick 73: Brandon Taylor, SS, LSU

Overall Prospect Rank: No. 166

Taylor was one of the many productive standouts in a loaded secondary at LSU. He is a very good tackler in run support and was a playmaker for the Tigers, but the strength of the entire unit hid his flaws. He is a subpar athlete for an NFL safety and he sometimes struggles in coverage. That said, he has the skill set to be a solid safety and special teams contributor.


Round 4, Pick 110: Ladarius Green, TE, Louisiana-Lafayette

Overall Prospect Rank: No. 49

Green is the perfect tight end to develop behind Antonio Gates. Like Gates, Green is a former basketball player who comes from a small FBS program, but has a tremendous combination of size and athletic ability.

Green needs to bulk up and is not much of an in-line blocker, but he is a tremendous downfield receiving threat.


Round 5, Pick 149: Johnnie Troutman, G, Penn State

Overall Prospect Rank: No. 282

Troutman was a late addition to the Senior Bowl and actually emerged with a strong performance in Mobile. There is nothing particularly special about his game, but he is a solid blocker who should provide solid depth at the position.


Round 7, Pick 226: David Molk, C, Michigan

Overall Prospect Rank: No. 123

Molk is a solid all-around center who won the Rimington Trophy and was a consensus All-American in his senior season. He is undersized, but he is a decent athlete for the center position and he has great strength. He is a perfect fit to be a backup center and can potentially develop into an eventual starter.


Round 7, Pick 250 (compensatory selection): Edwin Baker, RB, Michigan State

Overall Prospect Rank: No. 228

Baker's game never stood out at Michigan State in terms of his ability or productivity. That said, he is a solid all-around running back who runs hard with good size and decent speed and power. He is also a good receiver out of the backfield. He should be able to be a backup running back and contribute on special teams.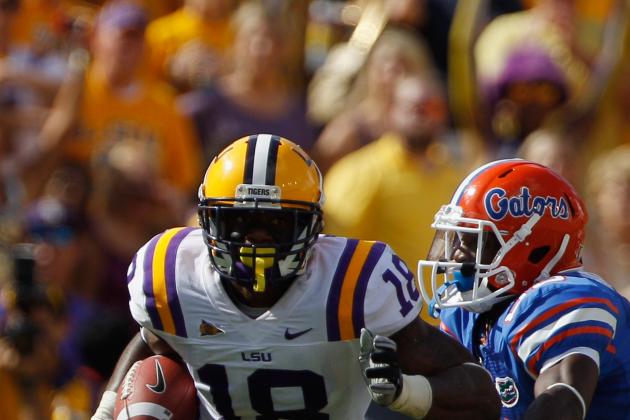 Chris Graythen/Getty Images
Brandon Taylor
The Chargers traded Round 3, Pick 78 and Round 6, Pick 183 to the Miami Dolphins for Round 3, Pick 73.

While the Chargers needed to add a strong safety, giving up their sixth-round picks to move up five spots in Round 3 to select LSU's Brandon Taylor may not have been necessary.
With a weak class of safeties, the Chargers' rationale was likely that Taylor was the only safety who they really liked on the board and felt they could not afford to miss out on him. It is hard to blame them for making this move, but they traded up in Round 3 for a player who was a Day 3 value.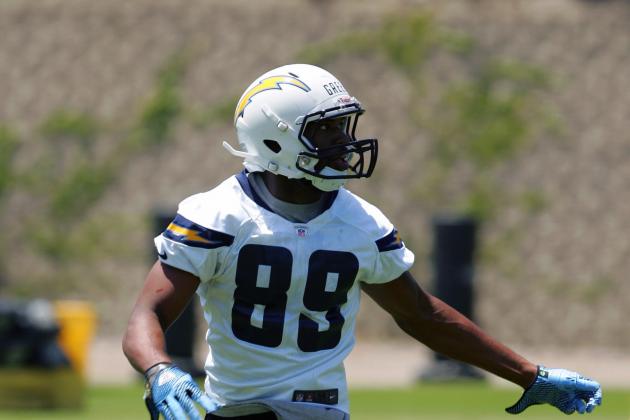 Kent Horner/Getty Images
Ladarius Green
Taylor was somewhat of a reach in Round 3, but the Chargers got tremendous value with the rest of their draft, especially at the top.

In an era where pass-rushers are valued more than ever before, the Chargers got a tremendous steal by being able to select the best pass-rusher in the draft class, Ingram, at the No. 18 overall selection. Ingram would have been a worthy top-10 pick and his value was too good for the Chargers to pass up.

Reyes was also solid value in Round 2, and Green is a sleeper who could end up being a major steal as an impact receiving tight end out of Round 4. The Chargers did not have any bad reaches in this draft and got very good value in Round 7 with Molk.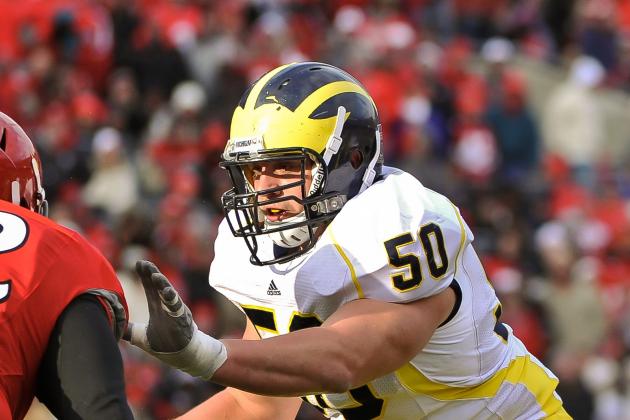 Jamie Sabau/Getty Images
David Molk
While I felt strongly that rebuilding the offensive line was the Chargers' biggest need, they needed to add impact players to their defense as well, and they really addressed those needs well with this draft class.

The Chargers really needed a premier pass-rusher and they should have one now in Ingram. The Chargers also added Jarret Johnson via free agency, which should turn outside linebacker from a position of weakness to a position of strength.

Defensive end was not a pressing need, especially having drafted Corey Liuget in the first round of the 2011 draft, but Luis Castillo's play has declined in recent seasons. The addition of Reyes gives the Chargers another playmaker in their defensive line rotation, again building the position into an area of strength.

The Chargers really needed to upgrade at strong safety, and added one in Taylor.

The need that still remains is offensive line. The Chargers drafted solid depth in Troutman and Molk, but could still use upgrades at guard and right tackle. That said, if left guard Tyronne Green, right guard Louis Vazquez and right tackle Jeromey Clary all perform up to their ability, and the Chargers can get Troutman and Molk ready to contribute as rookies, the offensive line will not be in dire straits.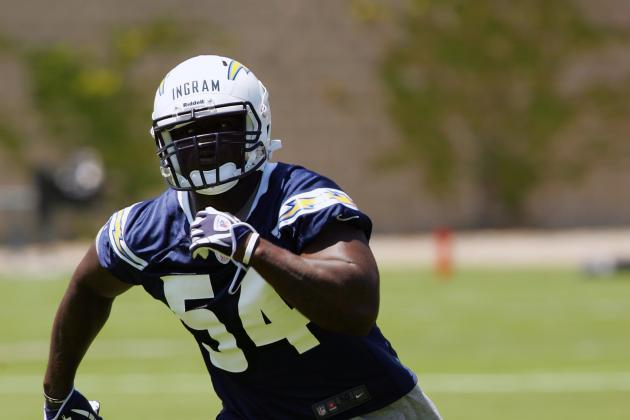 Kent Horner/Getty Images
Melvin Ingram
The Chargers needed a pass-rushing outside linebacker, and Melvin Ingram's value was much too good to pass up with the No. 18 overall selection. The Chargers ended up with one of the best selections of the entire first round, and their strong draft continued going forward.

Kendall Reyes will likely start out as a rotational player, but could make an immediate impact on the defensive front. Brandon Taylor is a polished strong safety, whose upside and coverage skill are limited, but he should be able to play at the position right away.

Ladarius Green can make an immediate impact on offense as a downfield receiving threat, while Johnnie Troutman and David Molk should provide solid depth on the offensive line.

The Chargers may not have added any starters to the offensive line, but they addressed all of their other needs and got consistent value in doing so.

Grade: A-


Thanks for reading!

Throughout the month of May, I am reviewing one team's draft each day, in the order of the original 2012 NFL Draft order.

Follow me on Twitter @Dan_Hope.