An Open Letter to Detroit Lions Head Coach Jim Schwartz
May 18, 2012

Jonathan Daniel/Getty Images
Dear Coach Schwartz,
We've never met. But after three years of reading about you, seeing you on television, and watching from the stands at Ford Field as you went to war on game days, it feels like I've gotten to know you well enough to offer a few friendly suggestions.
But before I do, I'd like to say thanks.
The Detroit Lions have had a lot of head coaches since Buddy Parker and George Wilson led Detroit to three NFL championships in the 1950s. Some—like Joe Schmidt, Monte Clark and Bobby Ross—got the Lions into the playoffs.
Wayne Fontes actually blew out the Dallas Cowboys at the Pontiac Silverdome in 1991 to win Detroit's first playoff game since the postseason run that led to our last championship title in 1957.
Now, three short years after you took the reins of a club coming off of the worst record in NFL history, the Lions are a playoff team once again.
Early on, you said that it was your intention to take full advantage of how bad the Lions were, and you did.
You didn't do it alone, of course. You had a lot of front-office help from Martin Mayhew, Tom Lewand and Shack Harris. Together, you rebuilt the Lions' talent base practically from the ground up, and did it the way it should be done, through the draft.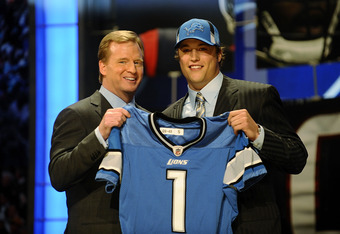 Jeff Zelevansky/Getty Images
Sure, you were shrewd enough to bring in a few seasoned veterans like Kyle Vanden Bosch, Nate Burleson, Corey William, Rob Sims, Stephen Tulloch, Shaun Hill, and Chris Houston. For the most part, though, you loaded the team up with talented draft players that haven't reached their prime yet.
The Lions now have young, quality starters at most positions on both sides of the ball, and solid depth behind them.
Good job!
As NFL head coaches go, you're sort of unique.
Your father was a cop and your mom stayed at home and raised you and your seven sisters and brother. You played linebacker for four years at Georgetown University while earning a degree in economics and graduating with honors.
You learned the ropes under Bill Belichick at Cleveland and Jeff Fisher at Tennessee.
You have three guitars in your Allen Park office, even though you can't play a lick. You have over 5,000 songs in your iTunes library ranging from Kid Rock to Hank Williams, Jr., to Megadeth. "I'm an awful singer," you admitted to ESPN. "I'm awful at whatever instrument you want to play, but I love music."
You're the guy who made Detroiters proud when you got in Jim Harbaugh's face for disrespecting you and the Lions following a hard-fought loss to the 49ers at Ford Field last season. Believe me when I say that every Lions fan in the world is looking forward to the Week 2 rematch with San Francisco at Candlestick Park this year.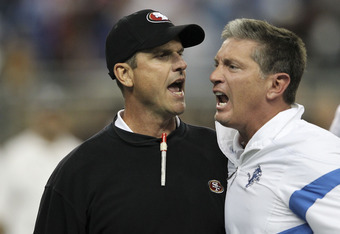 Leon Halip/Getty Images
I suspect that you are too.
In many ways, you're the ideal head coach for our blue-collar Motor City football franchise—young, smart, hip, seasoned, passionate about football and absolutely dedicated to building a Super Bowl-caliber dynasty here in Motown
In that spirit, I'd like to make three suggestions.
First, I know that the only thing you can do when injuries sideline key players is to make sure quality backups are ready to step up and help win games. When Matt Stafford was injured, for example, Shaun Hill and Drew Stanton won games for you. When Nick Fairley fractured his foot, Corey Williams and Andre Fluellen were ready to go.
However, when Mikel Leshoure tore his Achilles tendon in a preseason practice last year and you lost Jahvid Best to a concussion during the Week 6 game against San Francisco, our cupboard was bare.
You had to scramble to make a trade with Philadelphia for Ronnie Brown, and when that fell through, you brought Kevin Smith out of retirement to patch up the backfield. We ended the regular season with the 23rd least-feared running game in the league.
If Best, Leshoure, and Smith all remain healthy this season, our running game will be in great shape—and if frogs had wings, they wouldn't bump their butts so much.
To prevent a repeat of our depleted 2011 backfield situation, please consider working a trade for a durable, productive running back like 25-year-old Jonathan Stewart. In 2011 Stewart carried the ball 142 times for Carolina, averaging 5.36 yards/carry. He also had 47 receptions, averaging 8.8 yards/catch.
Even if Joique Bell or Stephon Green shows promise during the preseason, they should be the fifth running back in your rotation, not the fourth. If you don't want to carry five running backs on your 53-man roster, put Bell or Green on the practice squad. But we need to add someone like Stewart to our roster until we know how Best, Leshoure, and Smith will hold up this year. 
Second, you've got to dramatically reduce the number of penalties the Lions commit.
You were head coach of the second-most penalized offensive team in the NFL during the 2011 regular season. Your offense drew flags on 128 plays, costing you 1,075 penalty yards and the forfeiture of whatever gains occurred before some of those flags were tossed.
Detroit was also the third-most penalized defensive team in the league last season. You gave opponents an additional 982 yards because the Lions committed 119 defensive penalties, many of them resulting in first downs.
Coach, reducing penalties—especially the dumb ones—would give the Lions a significant competitive boost and maybe an extra win or two. And it won't cost you a penny of cap space. Get it done, please.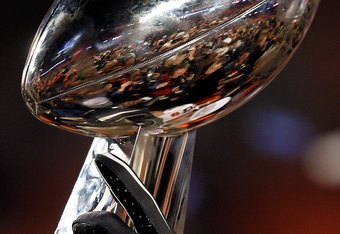 Jonathan Daniel/Getty Images
And lastly, if you've got Queen's "Another One Bites the Dust" on your iTunes playlist, please delete it immediately.
In 1980, Monte Clark's Lions got cocky after getting off to a 4-0 start. The team recorded a video of themselves performing a rendition of that song. Other teams used the video as motivation before they played the Lions. Detroit finished 9-7 that season and didn't make the playoffs.
Last year, you got off to a 5-0 start and managed to avoid unnecessarily provoking your opponents. Keep it that way. The six losses that followed were mostly due to injuries and an off game by Matt Stafford against Chicago the second time around.
Your humble but effective philosophy of focusing only on being a better football team one day after the next will continue to pay dividends over time.
It's already won you first place in the National Football Post's head coach power rankings this year, and it's about to reward you with a new, well-deserved contract.
I'm pretty sure that I speak for all Lions fans when I express my thanks to you for finally restoring the roar in Detroit after more than 50 years of meows. You've earned our trust and respect. Now go out and win us some Super Bowls.
Sincerely,
Pancho Smith, Bleacher Report Correspondent