Tim Tebow: Distasteful T-Shirts Prove New York Is Bad Spot for Jets QB
May 17, 2012

Mike Stobe/Getty Images
It didn't take long for the New York hype machine to go overboard in its love and devotion to Jets backup quarterback Tim Tebow. 
In a report from TMZ, the clothing website CubbyTees.com has designed a t-shirt that uses the Jets' green and white oval logo with the phrase "My Jesus" instead of "NY Jets" inside. 
Needless to say, Tebow and his camp were not happy to find out about this particular piece of clothing. According to the TMZ report, Tebow's attorneys sent a cease and desist letter to the company in April. 
While this was just one instance of someone going overboard with Tebow and his religious beliefs, you know that New York is going to play off his faith and try to profit with it as much as humanly possible while he is playing in that city.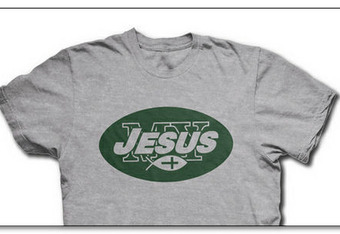 When Tebow was in Denver, he was able to profess his faith on a national level. There was no real indication that anyone was going to exploit it for personal gain, simply because the national media doesn't really care about what happens in Denver. 
However, when you take a personality like Tebow and put it in the biggest media market in the world, the sharks are going to smell blood in the water. They will do whatever they can in order to use that faith for their personal reasons. 
That's why the move to New York never made sense. Besides the fact that adding Tebow to the roster puts more undue pressure on Mark Sanchez, Tebow is the kind of person that will see his beliefs exploited at every turn. 
Fair or unfair, Tebow is in the worst possible spot right now. He is going to see more things like this shirt popping up all over the city, especially if he starts playing and playing well, and it is going to take its toll on him emotionally.