Donovan McNabb: Andy Reid's Support Won't Be Enough to Lure Interest in QB
May 15, 2012

Hannah Foslien/Getty Images
To this point in the NFL's offseason, it's honestly not surprising to see Donovan McNabb remain unsigned.
Fortunately for McNabb, though, Philadelphia Eagles head coach in Andy Reid has vouched for him. According to Brian McIntrye of NFL.com, Reid stated in an interview on Total Access:
"I tell them to take him," Reid said. "I still think he can play. I got a chance to see him at Brian Dawkins' retirement (ceremony). He looks good. He looks physically good. He looks like he could go out and play tomorrow. I would highly recommend (him)."

Despite that support from his former coach, that's easier said than done for Reid. Yes, the man knows what Donovan is capable of, but he also already has a quarterback to rely on in Michael Vick.
As for McNabb, don't expect him to get a call any time soon because the wheels for the 2012 season are already in motion. With few teams needing a quarterback, none are that desperate for McNabb.
Recent Production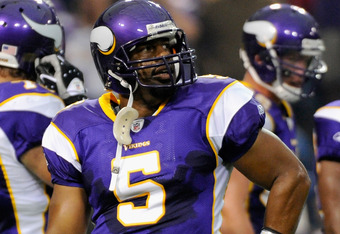 Hannah Foslien/Getty Images
Since leaving the Eagles after the 2009 season (which was a Pro Bowl year), McNabb has played in just 19 games, and the production took a nosedive.
With the Washington Redskins in 2010, McNabb threw more interceptions than touchdowns for the first time of his career and had a career-low rating of 77.1. Furthermore, McNabb had a career-high with 10 fumbles, and the 'Skins went 5-8 with him at the helm.
Playing in Minnesota last season, the Vikings saw enough after just six games. Twice during 2011 did McNabb complete below 48 percent of his passes, and only once did he complete more than 20 passes in a game.
Now, he obviously wasn't helped by the Vikings defense or unproven receiving corps, but it was clear that the 1-5 start didn't help McNabb's cause.
Physical Capabilities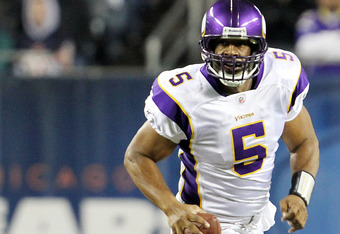 Tasos Katopodis/Getty Images
It's not so much McNabb's age as it is the miles on his body that are a concern. Yes, he'll be turning 36 years old later in the year, but Peyton Manning is 36 and Tom Brady will be 35.
The difference, however, is that McNabb spent quite a bit of time as a scrambler, which slowed him down as the years passed. From 1999-2009 in Philadelphia, McNabb collected over 3,200 rushing yards and scored 28 times on the ground.
Those numbers are undoubtedly impressive, especially considering that McNabb earned six Pro Bowl selections with the Eagles and went to four NFC title games. And even though he ran for more yards in 2010 than he did in 2008 or 2009, McNabb's mobility was virtually non-existent in 2011.
He developed as a better pocket passer toward the back end of his time in Philly, but that never carried over to Washington or Minnesota. Otherwise, Rex Grossman or Christian Ponder wouldn't have gotten their opportunities.
Impatience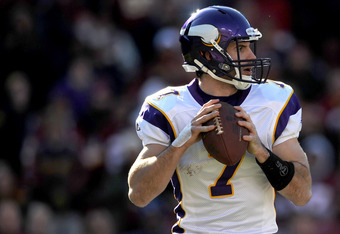 Patrick Smith/Getty Images
This section sort of ties into McNabb's lack of production the past two years, because we're seeing teams gradually become less and less patient with a quarterback.
Tom Brady (missed 2008) and Peyton Manning (missed 2011) are part of a select few that can come back and start after an injury just like Matthew Stafford (played in 13 games between 2009 and 2010). McNabb, however, just wasn't able to perform well the past two seasons, and it simply cost him the position.
Blaine Gabbert in Jacksonville is on thin ice, and Colt McCoy is currently fighting for his job in Cleveland. Despite proving his value to Miami last season, Matt Moore has to battle with Ryan Tannehill, and Seattle brought in two quarterbacks despite Tarvaris Jackson coming off his best year.
There's simply no more patience for quarterbacks being unproductive or proven in the NFL, and the time has passed on McNabb.
John Rozum on Twitter.