Colorado Rockies 2012: Grading the First Month of the Rox' Season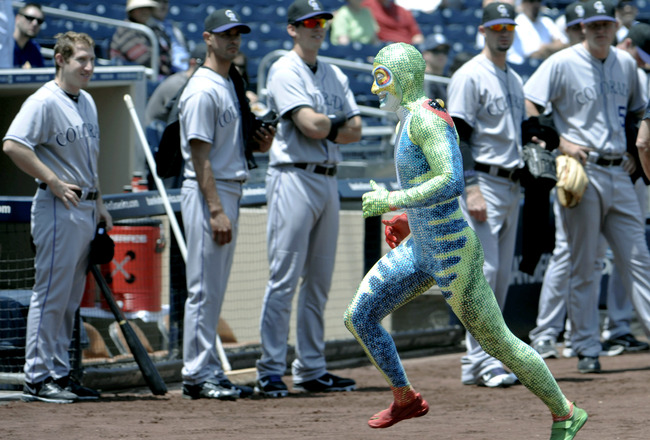 A Rockies win is becoming rarer than seeing this on the field
Denis Poroy/Getty Images
The luster and optimism of the Rockies from Opening Day is long gone. A month into the season, tortured Rox fans are beginning to fear the worst. Colorado is notorious for slow starts, but this team currently looks every bit as poor as its 13-21 record suggests.
Even worse, you can start to see the look of fear in the faces of those donning the black-and-purple hats, as if they know this season will be more miserable than a road trip through Nebraska. In a few months, players may begin disguising themselves in amphibious costumes just to avoid another day on the field.
Is there any silver lining for the rest of the season? Read on for more.
Offense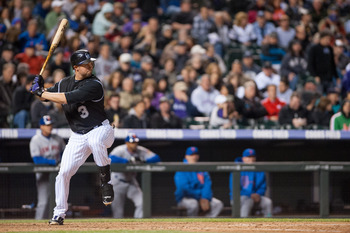 Michael Cuddyer has been a nice addition, and is 3rd on the team in batting average
Dustin Bradford/Getty Images
Colorado's offense has long been a staple of baseball in the mile-high altitude.
This group may not be the Blake Street Bombers, but they certainly aren't slouches. The stats are impressive, as they are one of the highest scoring teams in the league. The bats have been dominant at home, compiling a .282 average with 25 homers and 114 RBI. But, in typical Rockies fashion, the offense has struggled mightily away from the comfortable confines of Coors Field. The road numbers are abysmal. A .214 average with 13 bombs and 47 RBI.
A major issue is that the Rockies are a power-hitting team. Many players in the lineup are high-risk, high-reward guys who will either strike out three times a night or claim air time on SportsCenter with a 430-foot blast. The offense has power, but consistency is a must.
Grade: B
Starting Pitching
Jhoulys Chacin is 0-7 in his last 9 starts
Doug Pensinger/Getty Images
Wow, where to start?
Colorado ranks as one of the three worst teams in the league in ERA, batting average and runs allowed, and the majority of the blame falls on its ragtag group of starters.
Granted, some players, such as Drew Pomeranz and Alex White, have been thrown to the wolves and asked to perform outside of their ability, but nearly all players have been massive disappointments.
Jhoulys Chacin was supposed to be the de facto ace, but has yet to record a win in his seven starts. His 7.30 ERA is unacceptable on any level.
Opponents are pounding starters for a .299 average. The lone highlights of the starting staff include Jamie Moyer becoming the oldest player to win a game and Juan Nicasio successfully returning from a horrific injury last fall. With all due respect, those accomplishments don't bode well in the grand scheme. And they definitely don't bode well for the long haul of the MLB season.
Grade: D-
Relief Pitching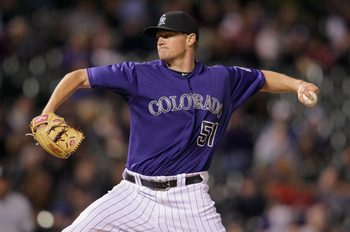 Matt Reynolds leads the Rockies with 3 wins
Doug Pensinger/Getty Images
Colorado's issues on the starting side have spilled over into the bullpen. Since the relievers' predecessors have combined to throw the fewest amount of innings in the National League, the men from the pen are forced to work overtime.
The results have been surprisingly encouraging. Matt Belisle and Rafael Betancourt have been their usual reliable selves, with each sporting a ERA below 2.50. Matt Reynolds has also emerged as a rock-solid guy, and Josh Roenicke is turning the corner.
This group catches some blame due to guilt by association, but make no mistake, this is an above average bunch of relievers. If the starters ever improve, Jim Tracy won't be forced to wince and bring in the few black sheep of the bullpen as often.
Grade: C+
Fielding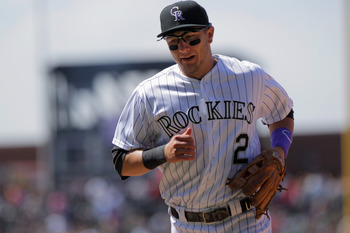 The normally sure-handed Tulowitzki has committed 7 errors, more than twice of any of his teammates
Doug Pensinger/Getty Images
If the pitching isn't giving the Rockies any confidence, the evidence is in the field. Colorado is averaging over an error per game at home, the worst numbers of any team in baseball.
Troy Tulowitzki has committed seven total, a far-cry from the usual Gold Glove performance fans are used to seeing from their franchise shortstop. In fact, he had only six blunders all of last season. If you subtracted Tulo's struggles, the Rox are on par with the rest of the league. And, as always, Todd Helton has turned in a spotless fielding percentage once again.
But with the ineptitude of the pitching staff, Colorado can't afford to be giving away extra outs.
Grade: C-
New Additions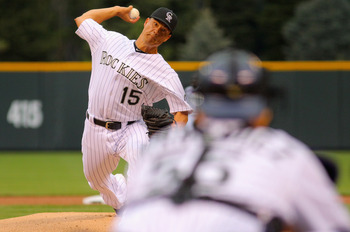 Doug Pensinger/Getty Images
General Manager Dan O'Dowd made some headlines in the offseason, shelling out big bucks to lure Michael Cuddyer away from Minnesota and trading for Jeremy Guthrie and Tyler Colvin. Cuddyer has met expectations so far, and is near the top of the stat sheet in nearly every batting category. However, he is the leader in a more dubious column: strikeouts.
Jeremy Guthrie epitomized the the first month of Colorado's season by falling off his bike and landing on the disabled list. He has been solid, yet unspectacular in his first four starts, and it's imperative he provides his team with at least one halfway reliable guy in the starting rotation. So far, it appears as if he will fit the bill.
Tyler Colvin, a former Chicago Cub, has all but unseated Dexter Fowler from his starting role in center field. He was recently promoted to the leadoff spot and has responded. His batting average has hiked up to a team-leading .311. The Rox have lacked quality 1-2 hitters for years, and Colvin is currently filling a desperate need.
The start of this season has been difficult, but without these acquisitions, things could be much worse.
Grade: B
Rookies
Christian Friedrich, a 1st round pick in 2008, turned heads in his Major League debut
Harry How/Getty Images
The majority of rookies on the roster are, unfortunately, pitchers. And the only way to introduce pitchers to the bright lights of the big show are to throw them in the flames and hope they survive.
Christian Friedrich's only two big league starts were very impressive. He fanned 10 Giants batters on Monday, a feat no Colorado freshman has ever accomplished. His curveball earned rave reviews, as opposing manager Bruce Bochy compared it to the legendary Sandy Koufax. However, his career in Double-A Tulsa was very average, so time will tell if he's merely a flash in the pan.
Drew Pomeranz and Alex White, both pieces of the Ubaldo Jimenez trade, haven't enjoyed such smooth transitions.
Pomeranz is lacking consistency and was recently optioned to Colorado Springs to work on his control. When his fastball is hitting the mark, Pomeranz proves why he is held in such high regard by scouts. The Rockies are counting on him to be a regular in the rotation by as soon as next season.
White has been knocked around at the highest level and will likely trade places with Pomeranz in the near future. Scouting reports claim the 23-year-old has a devastating slider and has been a force in Triple-A for the past couple seasons. Confidence may be hindering his game, but the highly-touted prospect will receive plenty of chances to right the ship.
Grade: B-
Outlook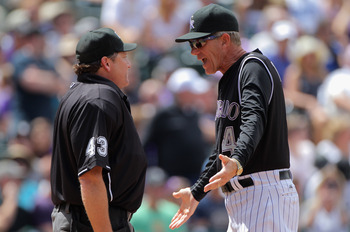 Doug Pensinger/Getty Images
The discussion of trimming the baseball season to 146 games is a hot topic among baseball executives. At this point, it may be in the best interest of the Rockies merely because we'll have to endure 16 fewer games.
The starting pitchers may evolve into a respectable staff after a couple years of seasoning, but the Rockies are definitely nowhere close to contending for any type of playoff spot in the near future.
And fans are beginning to run out of patience.
The Rockies have long received an inexplicable pass from the media for several underachieving seasons, but the grumbling is slowly and surely beginning to surface. Rockies fans, dig in for a long summer. Hopefully we will someday have as much confidence in these young guns as Dan O'Dowd claims to possess.
On the plus side, Peyton Manning and the Broncos start training camp in a couple of months. July 28 will be here before you know it.
Keep Reading

Colorado Rockies: Like this team?