Drawing Conclusions from the Most Recent Major NFL Offseason Injuries
May 11, 2012

Peter Aiken/Getty Images
We haven't even hit the beginning of NFL training camp yet and players are already dropping like flies. Significant injuries rocked several teams this week, including a major blow to one of the NFL's final four from 2011.
These injuries are going have varying impacts on the 2012 fortunes of each of the teams involved. However, even though it's early, it's safe to draw a few conclusions from the defensive attrition that swept through the National Football League this week.
Conclusion #1: The Baltimore Ravens Dodged a Bullet with Terrell Suggs
It seems weird to call the Baltimore Ravens lucky after defensive end/outside linebacker and reigning NFL defensive player of the year Terrell Suggs had surgery this week to repair a torn Achilles' tendon, but in a way that's exactly what the team was.
A complete tear of the tendon almost certainly would have ended Suggs' season, but according to the Baltimore Sun, Suggs stated his surgery went very well, and the injury was not as severe as was originally believed.
"Everything went good, he was in and out," Suggs told The Sun's Mike Preston of the surgery, which was performed in Charlotte, N.C. by noted foot/ankle specialist Dr. Robert Anderson. "There is only a small incision, and he said it was not as bad as some thought it was, which I had already been told."
The 29-year-old Suggs, who racked up 70 tackles, 14 sacks, and seven forced fumbles in 2011, claimed from the beginning that he would be back by November at the latest. If Suggs' surgery did indeed go that well there's a much better chance that that could actually be the case.
Obviously the loss of Suggs is still a huge blow to the Baltimore defense, but if reserve Paul Kruger and rookie Courtney Upshaw can pick up some of Suggs' slack, the defense should at least be able to tread water until Suggs gets back.
If the 10th-year pro can make it back in time for a late push then Baltimore should be able to find their way into the AFC playoffs, and the Ravens' Super Bowl aspirations may not be toast just yet.
Conclusion #2: The Cleveland Browns' Run Defense is Going to be Terrible...Again
The news wasn't nearly as good for the Cleveland Browns, who kicked off their seemingly annual ritual of watching a prominent player go down with a serious injury long before the first game of the season is played.
Defensive tackle Phil Taylor, who tallied 59 tackles and four sacks as a rookie last year, injured his pectoral muscle in offseason workouts Thursday. Mary Kay Cabot of the Cleveland Plain Dealer reported Friday that the Browns' first-round pick in the 2011 will undergo surgery next week and miss "significant" time.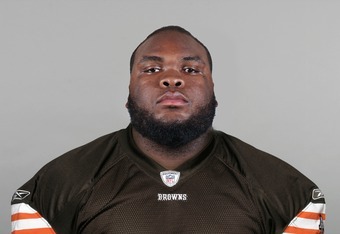 Handout/Getty Images
The same injury cost Cleveland middle linebacker D'Qwell Jackson most of the 2009 and all of the 2010 seasons, and while team president Mike Holmgren said that there's "a chance" that Taylor could return this year, I can't recall an instance of a player returning from that type of injury the same season.
The Browns selected two defensive tackles in April's NFL Draft in Cincinnati's John Hughes and Billy Winn of Boise State, which will lessen the impact of Taylor's loss a bit. However, the Browns were awful against the run last year even with Taylor—ranking 30th in the NFL—and losing the promising young 335-pounder certainly isn't going to help in that regard.
Conclusion #3: Da'Quan Bowers is Officially Snakebitten
Terrell Suggs wasn't the only player bitten by the Achilles' bug recently, as second-year defensive end Da'Quan Bowers of the Tampa Bay Buccaneers also tore the tendon while working out with the team Thursday.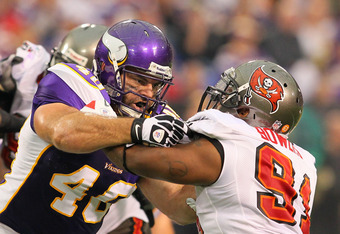 Adam Bettcher/Getty Images
Bowers had surgery on Friday to repair the injury, and the 22-year-old, as Suggs was, is optimistic that his season isn't over, tweeting Thursday that fans should expect to see him on the field this year.
2013?? Get real... I'm playing THIS year 2012

— Da'Quan Bowers (@DaQuanBowers91) May 10, 2012
The severity of Bowers' tear isn't known. However, given his rather extensive injury history—he's had knee issues in the past, including a torn meniscus that caused a draft-day drop last year—it's hard to count on Bowers making a return this season, and a trip to injured reserve is a very real possibility.
The loss of Bowers is a blow to the Tampa defense, as the youngster came on strong down the stretch last year and he's a much more explosive player than journeyman Michael Bennett. The injury is an even bigger blow to Bowers, as he's rapidly developing a reputation as a talented player who just can't stay on the field.