Alshon Jeffery and Under-the-Radar Rookies with Most to Prove
May 11, 2012

Kevin C. Cox/Getty Images
In theory, all first-year players entering the NFL have something to prove. Without professional experience, all coaches can hope for is that what they saw on college game tape eventually transfers over to the pros.
However, some rookies come into the NFL with more to prove than others. Maybe a player with first-round talent fell in the draft because of on- or off-the-field concerns. Or maybe a player most thought would go late got picked at a spot much higher than imagined. 
The 2012 NFL draft had several players that fell into these categories. 
Below, we run down some of the more "under the radar" rookies that fit this mold. 
Alshon Jeffery, Bears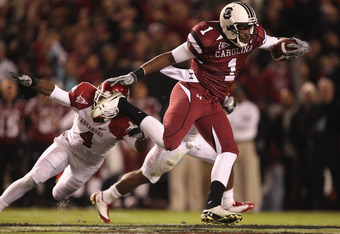 Streeter Lecka/Getty Images
Jeffery has elite size for the position (6'4", 225 lbs.) and will effortlessly pluck the football out of the air with his big hands, but there were worries about his weight and dedication coming into the 2011 season and the mediocre production in his final season at South Carolina wasn't encouraging. 
The concerns teams had dropped Jeffery from one of the top receivers on the draft board into the second round, where the Bears took him as the seventh player taken at his position. 
Now in Chicago, Jeffery has a perfect opportunity to put his doubters to rest. He hasn't being asked to be the team's savior at receiver—Pro Bowler Brandon Marshall will handle that. Jeffery simply needs to beat single coverage from the opposition's second corner, which is something he will have to prove he can do at the NFL level. 
If the weight and separation issues are real, Jeffery may be no better in 2012 than Roy Williams was for the Bears in 2011.
Jerel Worthy, Packers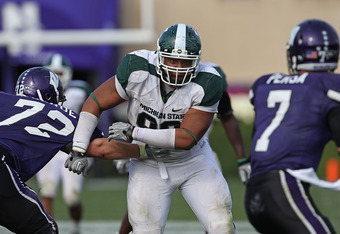 Jonathan Daniel/Getty Images
While Jeffery isn't being asked to play savior in Chicago, you could argue that Worthy is in Green Bay. After Cullen Jenkins left in free agency last summer, the Packers struggled throughout 2011 to fill the hole he left on the defensive line. 
Worthy should be an immediate starter on one side of B.J. Raji, and defensive coordinator Dom Capers will hope the former Michigan State star can provide more inside pressure as a penetrator. The Packers got almost nothing from their defensive line against the pass last season. 
But Worthy doesn't come without worry, as his once first-round draft stock fell to No. 51 overall with concerns about his on-and-off motor. He showed in college that he can be dominant at times, but there were also stretches of games where you couldn't even tell if No. 99 was on the field. 
For the Packers to get the most out of the guy they moved up in the second round to get, they will have to keep the motor of Worthy running hot.
Brian Quick, Rams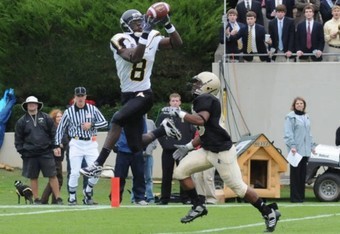 Taking the small school receiver at No. 33 overall was a gamble for the St. Louis Rams, but it was also one that could prove to be a huge hit.
Not only is Quick 6'3" and 215 pounds, but he's coordinated within his frame and has a basketball background—meaning he's not going to lose out on many footballs thrown in his direction. His ceiling in the NFL screams No. 1 receiver. 
But like Jeffery, there are separation concerns, and Quick isn't likely to be a vertical burner in the NFL. He's also still raw as a route runner, which could impede him from making an instant impact as a rookie. 
There are plenty of reasons to understand why the Rams took Quick at No. 33 overall, but he has work to do early in his NFL career. The Rams are counting on him to be a big contributor to a shallow receiving pool in St. Louis. 
Bryan Anger, Jaguars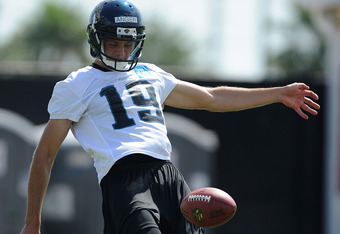 Rick Dole/Getty Images
The Jaguars had better be getting a Pro Bowl caliber punter considering they pulled the trigger on him this early in the draft. 
Anything less than becoming one of the game's top specialists would place the former California punter in the category of huge bust. There's simply no other way around it. 
Few considered any other punter in the draft above Anger in terms of skill set, but he has a lot to prove in 2012 and beyond to show he was worth the Jaguars taking him at No. 70 overall. 
Tavon Wilson, Patriots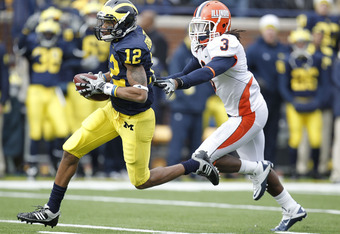 Gregory Shamus/Getty Images
The NFL draft community did a collective double take when the Patriots decided to take Wilson in the second round. For most draftniks, Wilson was nothing more than a late-rounder or possible priority free agent. To hear his name come off the board in the top 50 picks was shocking to say the least.
Bill Belichick and his staff obviously saw a player in Wilson that was versatile (can likely play both safety and corner) and fit an obvious need for the Patriots' 31st-ranked pass defense. 
However, as a top 50 pick, Wilson should be expected to play a contributing role next season. Will he be ready to play that role in 2012? 
The scouting report from Wes Bunting over at National Football Post shows Wilson has a ways to go:
"Looks heavy-footed when trying to re-direct and isn't real sudden/explosive in space. Tries to sit into his drop off the line and does a decent job keeping his base down and feet under him. However, gets upright when asked to turn and run, is stiff in the hips and lacks the range to get off the top as a centerfielder. Struggles in tight areas as well, doesn't feel routes develop around him quickly and lacks the fluidity to open up his hips laterally and close. Gets very grabby and is uncomfortable in space and doesn't possess the short area quickness/range to hold up in man. Possesses questionable instincts as well, rarely getting early jumps on the football and struggles to recognize his run/pass keys at times."
Wilson's problems aren't irreparable, but it's clear he has several hurdles to jump before the Patriots can count on him as either a safety or cornerback. If he's asked to play significant snaps in 2012, Wilson could really struggle.