David Wright and the Surprising Surge of the 2012 Amazin' Mets
May 10, 2012

Jim McIsaac/Getty Images
Ladies and gentlemen, may I present to you your NL East-leading New York Mets!
That's a sentence I couldn't have imagined writing two weeks ago. The Mets were in a middle of a 1-5 slump, yet another slip in the Paula Abdul-style 'opposites attract' saga they have been living since moving into Citi Field. ("I take one step forward and two steps back!")
Even last week, the Mets found themselves in the middle of a four-game skid—which included getting swept by the lowly Houston Astros—and it seemed that the team was all too ready to play itself out of contention. 
My, how the tables have turned.
Not only are the Mets now 18-13, just half of a game out of first, but with a win tonight in Miami—not a terribly far-fetched proposition, given how poorly the Marlins are playing—and losses by the Nationals and Atlanta, the New York Mets will find themselves in sole possession of first place for the first time since April 10, exactly one month ago.
That's pretty impressive. But I hear you ask, how has the team managed to Wright the ship?
If you ain't Wright, you ain't Right!
Well, the obvious first piece in the puzzle is the return to form of David Wright. Hitting .376 with an OPS of 1.030, Wright's putting up the kinds of numbers that even a juiced-up Barry Bonds would slobber over.  He's gotten hits in 14 of the Mets' last 15 games, and though pushing in the fences doesn't seem to have helped his power numbers—Wright has only hit three home runs so far this season—he's nonetheless doing just fine at the plate.
A Supporting Cast
In Shakespearean plays, the actors who played nameless parts behind the lead role were known as the chorus. The Mets, it seems, have a chorus of their own this year—and my, can they belt it out.
Three everyday starters that nobody but their grandmothers have heard of (Daniel Murphy, Ruben Tejada, and Kirk Nieuwenhuis—good luck spelling that one without looking it up) are hitting above .300 for the Mets so far this season. Paired with Wright, this makes four seriously dangerous bats in the New York lineup.
Add to that Mike Baxter, who's shown some skill from the bench; Josh Thole, the best left-hand hitting catcher in the NL (and second-best in the majors, behind Joe Mauer); and spring training phenom and sudden sensation Jordany Valdespin, and you've got some talent.  Yes, Ike Davis is slumping, and yes, Jason Bay is just as terrible as he's ever been since the day the Mets signed him.  But having six or seven real threats in the lineup puts the Mets near the top of the league in offensive talent. And that's just getting them started.
The Truest Sign of the Apocalypse 
It's coming. There's no stopping it now. The four horsemen are winnowing on the horizon: Conquest, War, Famine, and Johan Santana Actually Winning a Game.
It's not that Santana is anything short of a great pitcher. In fact, he's amazing. He's lights out. But the thing is, since joining the Mets, Santana has posted a solid—though certainly less than breathtaking—win-loss record of 41-27. Not that it's his fault; Santana's ERA over that time has been a scrooge-like 2.84. But that's just the thing: Johan Santana has suffered for the last five seasons under a little thing we Mets fans like to call "a complete and utter lack of run support."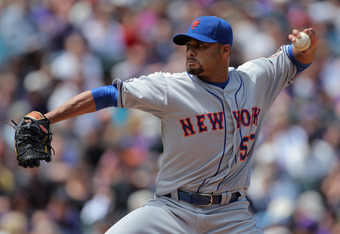 Doug Pensinger/Getty Images
It's a technical term. You may not understand it. Here's a translation: When Santana's pitching, his teammates' bats like to go bye-bye.
But that's changed! The beginning of the streak marked Santana's first win of the season (yes, he had started 5 games, had an ERA below 3.00, and his won-loss record was still 0-2), and now, the Mets are on a roll. R.A. Dickey and Jonathon Niese are pitching well, and though Mike Pelfrey is gone for the season, three solid starters is often all it takes to make the playoffs.
Especially with bats like those of the Mets.
So go out there again tonight, Johan, and win us one. Because hey—do you think the Mets can win the pennant in 2012?
Ya gotta believe…