Aaron Rodgers and Odds on This Year's 10 NFL MVP Candidates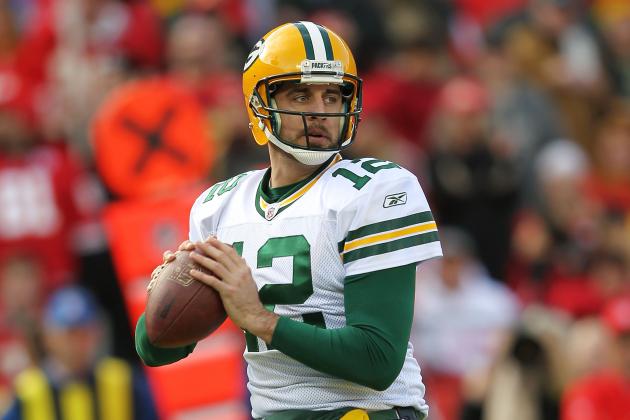 Jamie Squire/Getty Images

With the 2012 NFL season rapidly approaching, it's time to determine the favorites for the MVP award.
Last year's MVP Aaron Rodgers is obviously among them, but he has some stiff competition.
And if he is dethroned, it likely will be to a fellow signal-caller. A quarterback has taken home the honor 10 of the past 12 years.
That said, let's take a look at the odds for the 10 best MVP candidates.
Begin Slideshow

»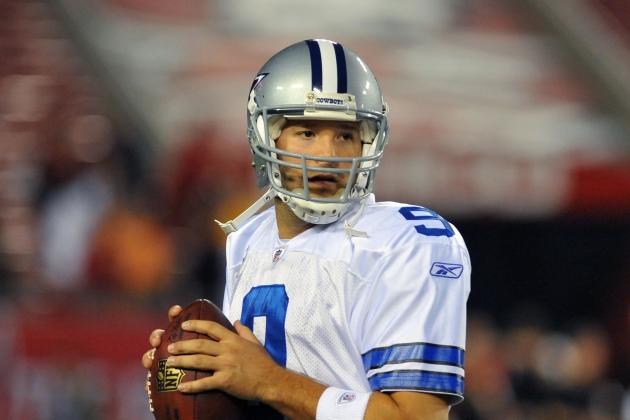 Al Messerschmidt/Getty Images

While Tony Romo takes a great deal of criticism, he truly is one of the better quarterbacks in the NFL.
He finished 2011 with a 66.6 completion percentage, 4,184 yards, 31 touchdowns and 10 interceptions, which equates to a QB rating of 102.5.
The crux in Romo's chance at the MVP is that, nowadays, putting up astronomical numbers are a must. And he's never passed for more than 4,500 yards in a season.
Romo (96.9 career passer rating), could very well put up similarly efficient numbers in 2012, and not come close to the honor.
But if he can lead the Cowboys to 12 or so wins, it's not inconceivable to think he'd be in the discussion.
Odds: 40/1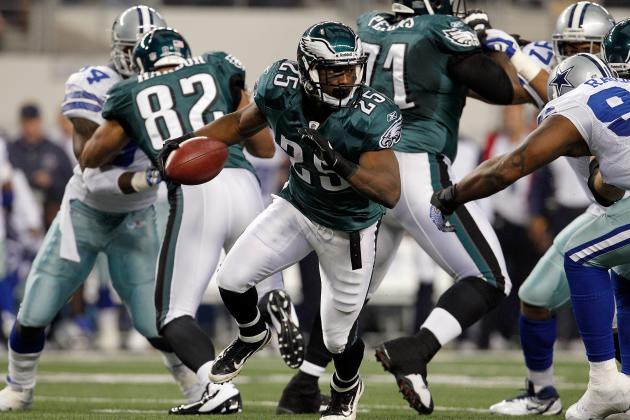 Tom Pennington/Getty Images

LeSean McCoy emerged as the Eagles' best offensive weapon in 2011.
He ran for 1,309 yards (fourth in NFL) and a league-best 17 touchdowns. To put those TDs in perspective, the next highest total from a running back was 12.
But Shady's value doesn't just lie in the ground game, he's an excellent receiver out of the backfield as well. He caught 48 passes for 315 yards and three touchdowns a year ago.
McCoy has shown tremendous improvement every year since he's entered the league, and if he can continue that trend next year, watch out.
Odds: 35/1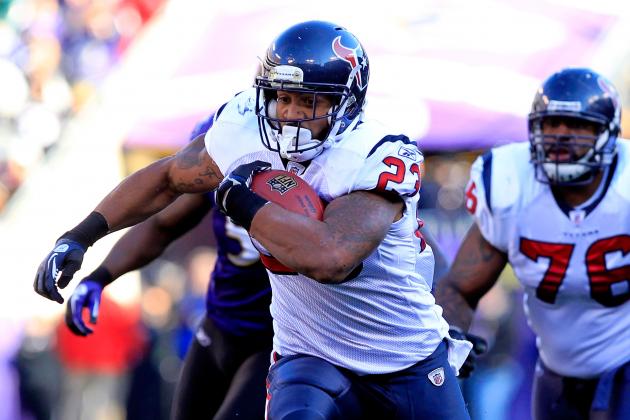 Chris Trotman/Getty Images

Arian Foster was sensational in 2011 for the Texans.
Despite missing three games, he ran for 1,224 yards and 10 touchdowns. On top of that, he was once again a valuable asset in the passing game, catching 53 balls for 617 yards.
What's scary is that he could be in store for an even bigger 2012.
Foster put up those great numbers in 2011 when opponents often stacked the box, as the passing game was of little threat due to the injuries to Matt Schaub and Andre Johnson.
With those two healthy in 2012, Foster should face less pressure, and be even more efficient.
Additionally, their good health makes the Texans a true contender in the AFC. And being on a great team holds importance in MVP voting.
Still, Foster is a dark horse because the MVP might as well be known as the MVQB.
Odds: 30/1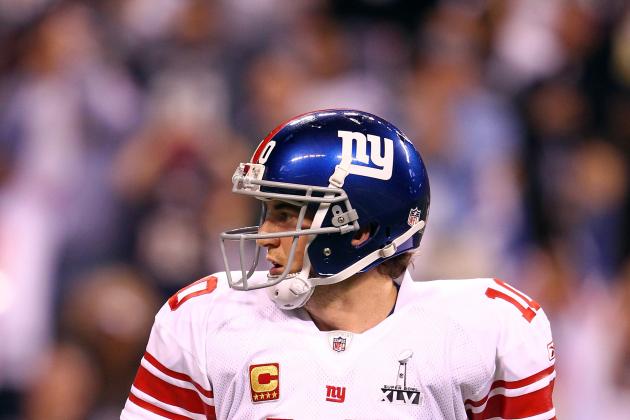 Al Bello/Getty Images

Eli Manning certainly changed the public's perception of his talent last season.
After never throwing for more than 4,021 yards in a season, Manning threw for 4,933 yards, along with 29 touchdowns.
He then dominated in the postseason, throwing nine touchdowns to only one interception, ultimately winning his second Super Bowl and proving that he truly is an elite quarterback.
The Giants enter 2012 with some concerns about their ground game (32nd in 2011), which could hinder Manning's MVP chances some if it's unable to pose any semblance of a threat.
Still, with two elite yet improving receivers at his disposal in Hakeem Nicks and Victor Cruz, Manning seems poised for his best season yet.
Odds: 20/1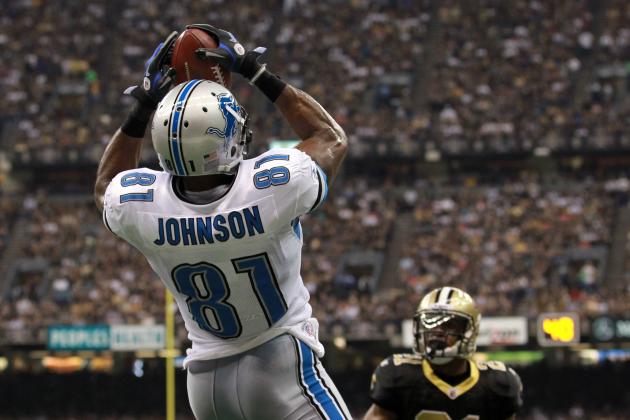 Ronald Martinez/Getty Images

Simply put, Calvin Johnson is the best receiver in the NFL. With a rare combination of size, speed and top-notch hands, he's almost impossible to stop.
Opponents learned that the hard way last year when he put together the best season of his young career, catching 96 passes for 1,681 yards and 16 touchdowns.
But Johnson could be even better in 2012.
With RB Jahvid Best healthy, the addition of WR Ryan Broyles and the anticipated improvement of second-year wideout Titus Young, Megatron should face less defensive pressure this year.
I expect he and Matthew Stafford to capitalize on this.
A wide receiver has never won the MVP award, so Johnson would have to put up some incredible numbers (say, 20+ TDs) to be the first, but he is absolutely capable.
Odds: 18/1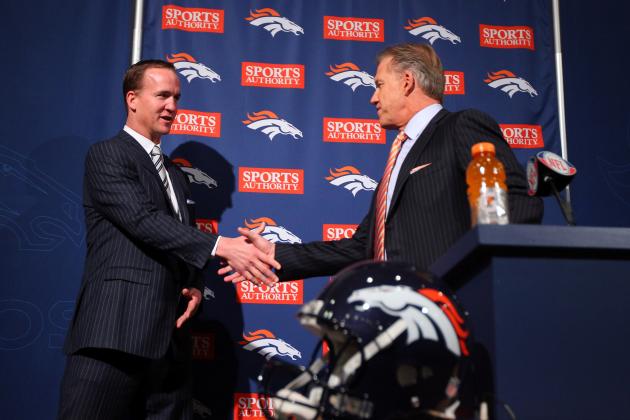 Doug Pensinger/Getty Images

No doubt, there are concerns about how Manning's body will hold up this season. But still, a less than 100 percent Manning is better than almost everybody.
The Broncos have a solid run game for support, and although they don't have elite weapons on the outside, for Manning, it's enough.
Furthermore, the competition in the AFC West is far from formidable, so Manning should lead the Broncos to another division title.
If he throws for 4,500 yards and 30-plus touchdowns in the process, the MVP award is possible.
Odds: 15/1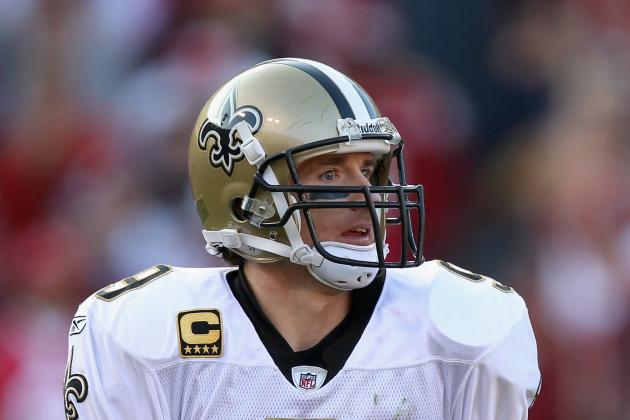 Jed Jacobsohn/Getty Images

Not having head coach and offensive mastermind Sean Payton drawing up plays in 2012 definitely negatively affects Drew Brees' chance to capture his first MVP.
But still, he's one of the game's best, so he remains a favorite.
In 2011, Brees completed 70 percent of his passes for the second time in three years.
He also broke the NFL record for passing yards in a single season with 5,476 and led the league with 46 touchdowns.
Expect a drop-off in usual production due to Payton, but Brees is too good not to continue to fill up the stat sheet.
Odds: 14-1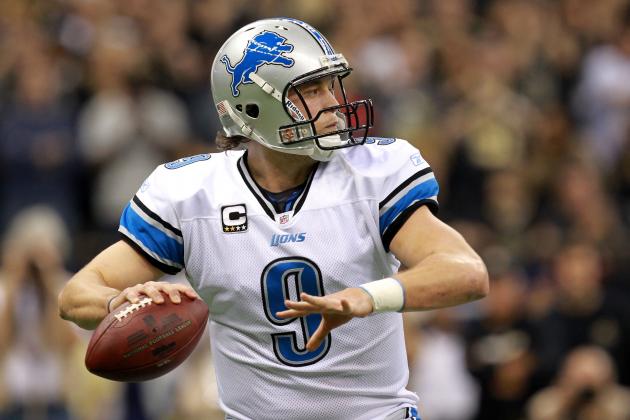 Ronald Martinez/Getty Images

After playing only 13 games in his first two pro seasons, Matthew Stafford finally stayed healthy in his third and delivered a monster season.
He eclipsed 5,000 yards passing on an NFL-high 663 attempts, tossed 41 touchdowns and finished the year with a 97.2 passer rating.
And unfortunately for the rest of the NFL, Stafford is still only 24 years old and continuing to grow.
Expect Stafford to improve upon his already solid accuracy (63.5 percent in 2011), and lead the Lions to even more wins than the 10 he did last year.
Get used to hearing the words Stafford and MVP together. He's going to be in the race all season long.
Odds: 10-1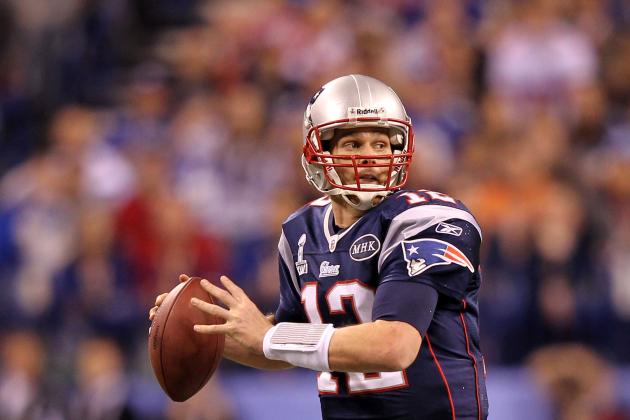 Jamie Squire/Getty Images

It's not too difficult to envision Tom Brady winning his third MVP in 2012.
He's coming off a season in which he threw for 5,235 yards and 39 touchdowns. And the year before last, he threw 36 touchdowns to only four interceptions.
And what's scary? Brady will have even more weapons to go along with Wes Welker, Rob Gronkowski, Aaron Hernandez and company, as the Patriots added solid wideouts such as Brandon Lloyd and Jabar Gaffney.
Also, the Patriots have the league's easiest schedule in 2012, so it might not be too difficult for Brady to lead them to the league's best record.
It's tough to top a candidacy like Brady's. But...
Odds: 8-1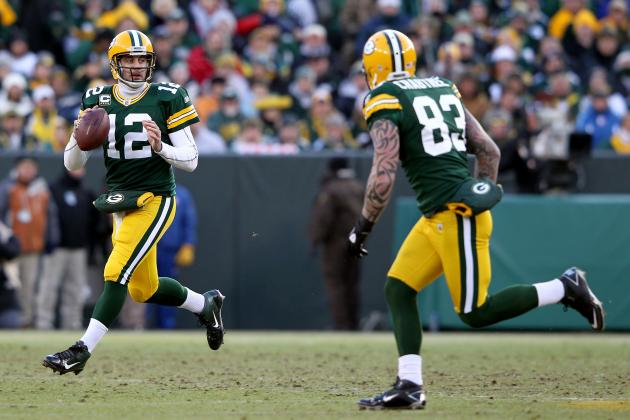 Jamie Squire/Getty Images

Last year's MVP Aaron Rodgers is the favorite to win the award again in 2012.
He threw for 4,643 yards, 45 touchdowns and only six interceptions in 2011, good for a passer rating of 122.5. No other quarterback finished with a rating above 111.
While Rodgers' yardage total didn't match up to Brees, Stafford and Brady, that was only due to the number of passes attempted. Rodgers incredible 9.25 yards per attempt was the best in the NFL by far.
Rodgers, whose career passer rating of 104.1 is the best in NFL history, is simply too good, and has too great of weapons at his disposal, not to be considered the front-runner.
Odds: 6-1