Will Mariano Rivera Become the Yankees' Version of Peyton Manning?
May 9, 2012

Ed Zurga/Getty Images
While both are exceptional athletes, there would appear to be little that Mariano Rivera and Peyton Manning have in common.
If you take a second look, however, there is an analogy to be drawn between how the Indianapolis Colts dealt with Peyton Manning and his multiple neck surgeries and the decision the Yankees might face with Rivera in 2013.
First a disclaimer before the comment board lights up like the Las Vegas strip: There is no question that Rivera would be my closer until he shows some indication that he is human like the rest of us.
Baseball however, is a business, and the Yankees have to start looking ahead to the future and their next generation of players. They are a veteran team and while growing old together is great for a marriage, it can be a foolish strategy for a sports franchise.
As much as Manning has meant to the Colts franchise since the Irsay family sneaked out of Baltimore in the dead of night, he will be wearing a Denver Broncos uniform in 2012 and beyond. 
Remember how odd it looked when Joe Montana was wearing the uniform of the Kansas City Chiefs?
Well, Manning with a bucking horse instead of a horseshoe on his helmet will be just as difficult on the eyes.
If the Colts had managed to win five or six games last season, Manning would still be with them, attempting his comeback after sitting out the 2012 season.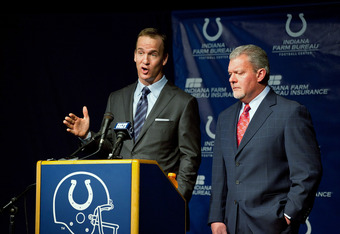 Joey Foley/Getty Images
Once the Colts had secured the No. 1 draft pick, though, Jim Irsay made the difficult but correct decision to part company with his future Hall of Fame quarterback and start over with Andrew Luck.
Now what if David Robertson is as good of a closure for the remainder of this season as he's been a setup man?
What if he makes the loss of Rivera easier to overcome because he emerges as one of the best closers in the game?
Then what do the Yankees do next season if Rivera makes good on his promise to return?
Most of you will say it's a no-brainer; the job belongs to the best closer of all time.
Robertson would become the setup man again and wait for Rivera to retire. Will he be willing to take a step backward, however?
Would the Yankees risk losing Robertson to free agency down the road if they automatically give the closer's job to a 43-year-old pitcher coming off ACL and meniscus surgery?
The heart says yes, but remember that Rivera, who will have to negotiate a new contract, is not going to come cheaply.
We all saw how the Derek Jeter negotiations got a little testy even though we all knew that Jeter would eventually sign a new contract with the Yankees.
Nonetheless, general manager Brian Cashman and Hal and Hank Steinbrenner might have a difficult decision to make.
Jim Irsay probably never thought Peyton Manning would wear another uniform when he gave him a record contract after the 2010 season.
A year later, he had to say goodbye to the Colts' iconic quarterback.
Will the Yankees face a similar decision with Rivera?
What do you think?