NFL Rumors: How Braylon Edwards Would Impact Cincinnati Bengals Offense
May 9, 2012

Ezra Shaw/Getty Images
Having already selected receiver Mohamed Sanu in the 2012 NFL draft, the Cincinnati Bengals are also interested in veteran wideout Braylon Edwards.
In an article by Joe Reedy of the Cincinnati Enquirer, ESPN's Adam Schefter broke the news earlier this week.
That being said, Edwards does need to revive his career, and going back to the AFC North with the rising Bengals isn't the worst match for either party. So, let's break down Edwards and see how he could potentially impact Cincinnati's offense.
Experienced Depth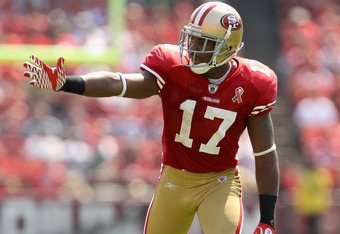 Ezra Shaw/Getty Images
Right now the Bengals are thin at receiver with experience. The oldest receiver on the team is Brandon Tate who enters his fourth season and second with the Bengals for 2012.
Edwards on the other hand, is 29 years old and has had solid success in the pros at times. When in Cleveland, Edwards enjoyed his only 1,000-plus yard season in 2007 as well as other personal bests in touchdowns (16) and receptions (80).
And that was with Derek Anderson at quarterback. While with the Jets, Edwards had a decent 2010 season with 903 yards on 53 catches and seven scores. That was also only the second season of Mark Sanchez, but Gang Green did go to two consecutive AFC title games.
So, Edwards brings postseason success with him and considering how much promise Andy Dalton has displayed, it is a solid match.
Production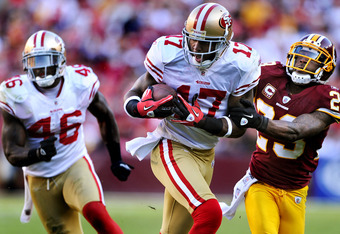 Patrick Smith/Getty Images
Now, Braylon by no means would take over the No. 1 receiver spot as that belongs to A.J. Green. Still, he would have the opportunity to perform well as defenses focus more on double-teaming Green and isolating tight end Jermaine Gresham with the linebackers.
In turn, Edwards will see a lot of single coverage situations where he can flourish. Plus, Dalton will be the best quarterback Edwards has played with, so the motive to run smoother routes and get early separation will occur.
We've seen how reliable Braylon can be when healthy with an average (at best) NFL quarterback is tossing him the rock. Cincinnati's tough schedule will undoubtedly challenge him, but a better quarterback will only reveal Edward's ultimate ability.
And if he turns out to produce well, just imagine how much more dangerous Green, Sanu and Gresham will become for Dalton at spreading the field.
Balance
If there's one thing that Cincinnati must continue to improve upon, it's presenting a balanced offense.
Last season the Bengals were balanced by ranking No. 20 in passing and No. 19 in rushing. Considering that they relied on Dalton and Green to make plays as rookies, that's quite impressive.
Now though, Cincy is a year older and needs to become more explosive while maintaining balance. Bringing in Edwards enhances the receiving corps for Dalton but more importantly, it will stretch a defense enough to limit the aggressiveness by any front seven.
Running back BenJarvus Green-Ellis then becomes more effective between the tackles, which then helps the set up of play-action. All this together will force a defense to blitz less and play more man coverage.
The intermediate level then becomes increasingly effective as the linebackers will freeze on play-action and Dalton has that little extra time to read his progressions from the pocket.
Include the upgrades to Cincinnati's defense and the Bengals enter 2012 as AFC North division title favorites.
John Rozum on Twitter.