Packers Gamble on Graham Harrell as Their Backup Quarterback
May 9, 2012

Joe Robbins/Getty Images
The Green Bay Packers addressed numerous positional needs in the 2012 NFL Draft. Unfortunately, backup quarterback was not one of them.
They say the Vice President is a heartbeat away from the presidency. Well in the NFL, backup quarterbacks are one play away from starting. That's a scary thought for Packers fans who know just how important Aaron Rodgers is to their Super Bowl aspirations.
Previously, the Packers were set at backup quarterback with Matt Flynn. Yet, he played well enough in limited opportunities to earn a $26 million contract and a shot to start with the Seattle Seahawks. Now, the position has become a big question mark. 
Yes, the Packers drafted former Tennessee at Chattanooga quarterback B.J. Coleman in the 7th round of the draft, but that pick is geared more toward the future than the here and now. 
Coleman is a big, strong-armed kid who is well worth developing, but there is no way he will be ready to play this year. 
Green Bay could have spent an earlier pick on a quarterback who could compete to play right away. Instead, general manager Ted Thompson understandably devoted his first six picks to rebuilding a defense that was among the worst in the NFL last season. 
The fact that Thompson waited until Round 7 to address the quarterback position confirmed that the Packers will go into the 2012 season with Graham Harrell as their primary backup. 
Harrell went undrafted following a prolific college career at Texas Tech where he threw for 15,793 yards, completed 69% of his passes and had 134 touchdowns compared to just 34 interceptions in three seasons as a starter. He must have the complete confidence of head coach Mike McCarthy and Thompson because they have shown little interest in veteran alternatives.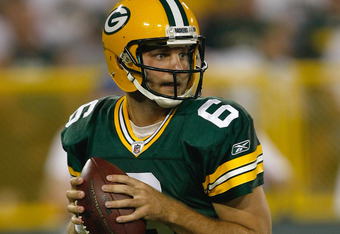 Scott Boehm/Getty Images
After being out of the NFL in 2009, Harrell tried out for the Packers in May of 2010 and eventually found his way onto the practice squad before being promoted to the active roster late in 2010. 
Last preseason, Harrell got his first extended action with Green Bay and performed admirably. In four games, he attempted 57 passes completing 33 (equal to 57.9%) to go along with two touchdowns and one interception.
Overall, Harrell was impressive enough to earn McCarthy's trust as he showed enough accuracy and arm strength to play quarterback in the NFL despite being hesitant at times with his decision making. 
The third-year pro has adequate size for the position at 6'2" 215 pounds, throws an accurate ball and has benefited greatly from the tutelage of not only McCarthy, who is among the best in the NFL at developing quarterbacks, but Rodgers as well, who's expressed nothing but confidence in Harrell. 
After all, former backup Matt Flynn once came to Green Bay as an unheralded seventh round pick. Scouts gave him little chance to succeed in the NFL but thanks in part to McCarthy, he developed into a starting caliber quarterback.
So, can Harrell follow in Flynn's footsteps and become the next great backup quarterback in Green Bay? 
McCarthy certainly believes he can and with this record of accomplishment when it comes to quarterbacks, he deserves the benefit of the doubt. 
However, that does not change the fact that naming Harrell the backup to Rodgers is an inherent risk because Harrell has yet to attempt a pass in the regular season.
The expectations in Green Bay are extremely high entering this season and if something were to happen to Rodgers then it will be upon Harrell's shoulders to pick up the slack. If he cannot and it costs the Packers a chance at the Super Bowl then McCarthy and Thompson will have no one to blame but themselves.