Cris Carter: Former Receiver Exposes NFL's Ridiculous Bounty Investigation
May 9, 2012

Jonathan Daniel/Getty Images
Former NFL receiver Cris Carter decided to drop a bomb on ESPN's Hill and Schlereth radio program, which aired on Tuesday.
The Hall of Fame snub publicly admitted for the first time that he is guilty of putting a bounty on players in order to protect himself against opposing defensive players.
Here's a snippet of the conversation (h/t Mike Florio of PFT):
"A money bounty?" Mark Schlereth asked.

"Absolutely," Carter said.

"Protect me. . . .  Protect me from him. . . .  Especially if he's playing a different position where I can't protect myself," Carter said.  "I'd tell one of them guards, 'Hey man, this dude is after me, man.  Bill Romanowski.'  He told me he's gonna me out before the game, in warmups.  No problem.  'I'm gonna end your career, Carter.'  No problem.  I put a little change on his head before the game.  Protect myself, protect my family.  That's the league that I grew up in."
The former Minnesota Vikings great was then asked if he was the only one to do such things. Carter quickly replied, "Heck no."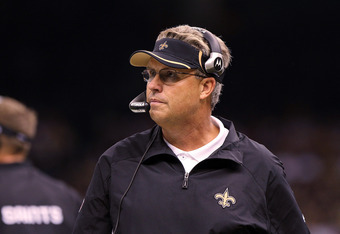 Matthew Sharpe/Getty Images
What Carter did in just a few sentences was confirm that bounties have been ingrained in the NFL for years now and is not a practice exclusive to the New Orleans Saints, Gregg Williams, Joe Vitt, Sean Payton, Jonathan Vilma or anyone else being harshly punished.
It's ridiculous that the league has decided to come down so hard on those men and that organization for something that—if thoroughly investigated—would reveal many more perpetrators.
Carter was able to shed some light onto this and likely has commissioner Roger Goodell fuming. 
Bounties are a serious problem and randomly focusing on one team and a handful of guys to take the fall in the public eye will come back to haunt the NFL.
If they truly cared about fixing the problem of bounties and the subsequent injuries and danger that come with them, they would have spent their resources on a league-wide investigation.
Alas, they did not, and punishing the Saints will prove to be a shortsighted, hypocritical maneuver.