Fantasy Baseball 2012: Top 10 2-Start Pitchers for May 7-13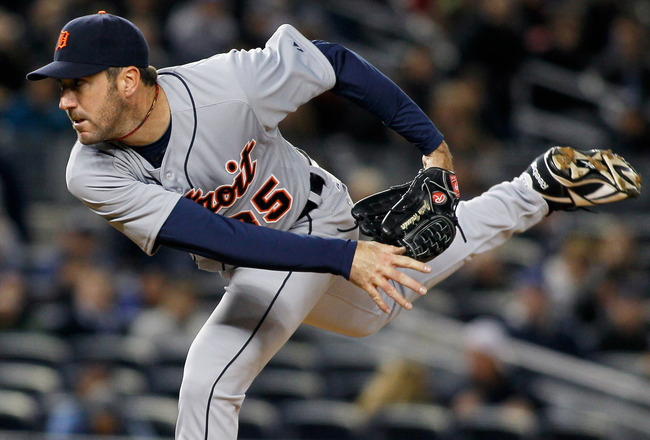 Detroit's Justin Verlander (2-1, 2.38 ERA, 0.86 WHIP, 42 strikeouts) has a pair of road clashes with the Mariners and A's this week.
Mike Stobe/Getty Images
The following slideshow is a top-10 ranking of two-start pitchers for the week of May 7-13.

The listing does not necessarily account for a pitcher's season-long prospects, nor does it promise sustained dominance from this point forward. It's merely an educated guess of which starters will shine the brightest over the next seven days.

For a full listing of two-start pitchers, click here.

Enjoy the show!
10. Yovani Gallardo, Milwaukee Brewers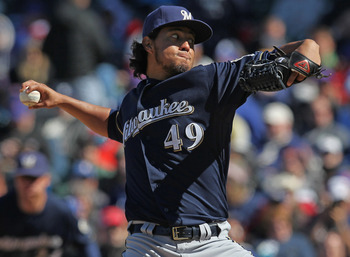 Jonathan Daniel/Getty Images
This leap-of-faith pick has name-brand value, of course, but Gallardo has been a train wreck for two outings, while also allowing a high concentration of hits and/or walks each time out.

Yes, the Brewers are at home against the Reds and Cubs this week, and yes, Gallardo has a 2.93 career ERA (with 71 strikeouts in 61.1 innings) against Chicago, but there is really nothing that disarms the uncertainty of choosing Gallardo over Ted Lilly, Ivan Nova, Philip Humber or Neftali Feliz (fingers crossed).

Targets: One win, 4.05 ERA, 12 strikeouts.
9. Tommy Hanson, Atlanta Braves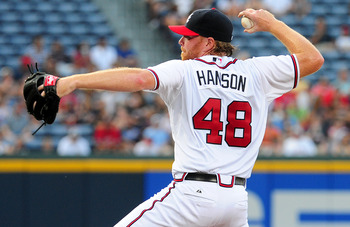 Scott Cunningham/Getty Images
Hanson's numbers to date (3-2, 3.74 ERA, 1.43 WHIP, 31 strikeouts) have neither been dominant nor deflating for fantasy owners, and because of that, it may implausible to trade him—or trade for him—until Memorial Day. Let the market play out.

But nothing beats the promise of a new day for pitchers, and Hanson's career ERA against the Cardinals (2.57 in one start) is a good starting point for wishing upon a fresh stretch of fantasy stardom.

Targets: One win, 3.35 ERA and 12 strikeouts against the Cardinals and Cubs.
8. Wandy Rodriguez, Houston Astros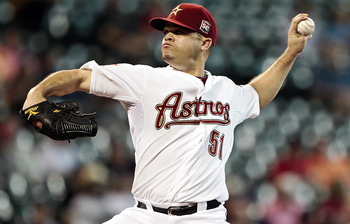 Bob Levey/Getty Images
The stars are aligned for Rodriguez to enjoy another stellar fantasy week...and that scares me a little.

For six straight outings, against high-profile National League clubs, Rodriguez has yet to allow more than three earned runs; and in his last three starts, Wandy has 3-0 mark with a 1.35 ERA, 1.10 WHIP and 17 strikeouts.

But now, with the specter of facing the Marlins and Pirates, I'm worried that Rodriguez might be due for a clunker start. (History dictates it.)

Maybe not Monday against a Miami team that's surging and finally drawing attention for its on-field activities...but Saturday's Pittsburgh roadie has the early feel of an inescapable ambush.

Targets: One win, 3.55 ERA and 14 strikeouts.
7. Joe Saunders, Arizona Diamondbacks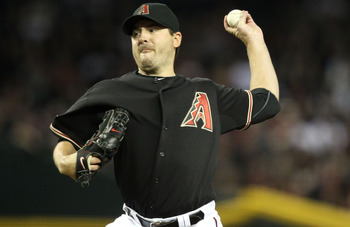 Christian Petersen/Getty Images
I would have an easier time explaining Yellowstone Park's tectonic plate shifts over the last million years to a third-grader than rationalizing Saunders' amazing start to a dream season (2-1, 1.24 ERA, 0.96 WHIP, 24/9 K-BB).

But for the purposes of this countdown, it's likely a better idea to put one's head in the proverbial sand and wait until Saunders wraps his two-start home week against the Cardinals and Giants.

Targets: Two wins, 3.25 ERA and 11 strikeouts.
6. Ricky Romero, Toronto Blue Jays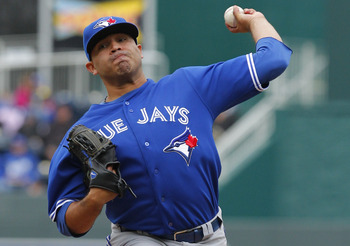 Kyle Rivas/Getty Images
This may be the wrong week to have ambivalent feelings about Romero. Yes, he has two road clashes with the Twins and A's, but his strong seasonal numbers (4-0, 3.64 ERA, 1.07 WHIP, 29/16 K-BB) should carry more weight.

Plus, there's the juicy fact that Oakland and Minnesota are bottom-feeder clubs (American League rankings) in the vital offensive categories of hits, runs, homers, RBI and batting average.

Bottom line: If Justin Verlander's lofty ranking has little to do with venue or opponent...shouldn't Romero be afforded similar benefit-of-the-doubt luxuries, as well?

Targets: One win, 3.20 ERA and 13 strikeouts.
5. James Shields, Tampa Bay Rays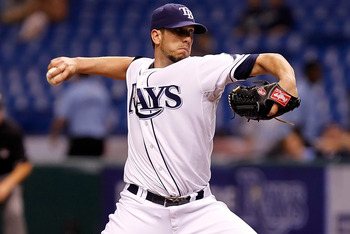 J. Meric/Getty Images
I marginalized Shields' fantasy potential for the two-start week of April 16-22, and he ended up posting two victories and 12 strikeouts against the Red Sox and Twins while allowing just one run in 16-plus innings.

Fast forward to this week: He may have roadies with the high-powered Yankees and first-place Orioles on the docket, but I don't want to be that guy who continually doubts Shields (5-0, 3.05 ERA, 1.23 WHIP, 39 Ks) at every turn. The proof's in the pudding.

Targets: One win, 3.45 ERA and 14 strikeouts.
4. Jered Weaver, Los Angeles Angels of Anaheim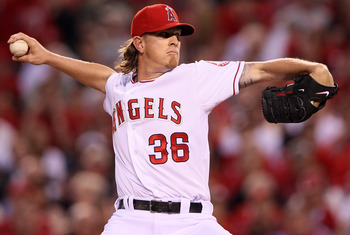 Jeff Gross/Getty Images
The season is less than six weeks old, and Weaver (4-0, 1.61 ERA, 0.78 WHIP, 45 Ks) already has a third encounter planned with the Twins, a non-divisional foe.

There's some uncertainty with this ranking. Yes, Weaver threw a no-hitter against Minnesota last week, but he also surrendered five runs at Target Field on April 11.

And then there's the revenge factor: Surely, the Twins are chomping at the bit to knock Mr. No-No off his perch, in front of their home fans. Right?

Targets: One win, 3.55 ERA and 16 strikeouts against Minnesota and Texas.
3. Lance Lynn, St. Louis Cardinals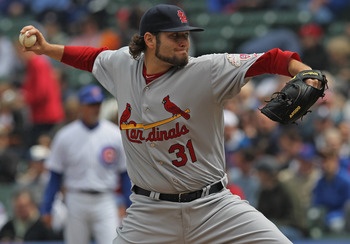 Jonathan Daniel/Getty Images
As stated in last week's Top 15 Fantasy Rotations piece, I was dead wrong about the Cardinals' pitching prospects back in March, in the wake of Chris Carpenter's shoulder injury; and Lynn (5-0, 1.60 ERA, 0.77 WHIP, 30 Ks) has played a major role in that unexpected success.

Lynn may never be a sexy fantasy pick for those who watch MLB Extra Innings rather than obsess about box scores, but his rock-solid consistency (two or less runs allowed and two or less walks surrendered in all five outings) merits a reward for this countdown. He's that good!

Targets: One win, 3.00 ERA and 14 strikeouts against the Diamondbacks and Braves.
2. Justin Verlander, Detroit Tigers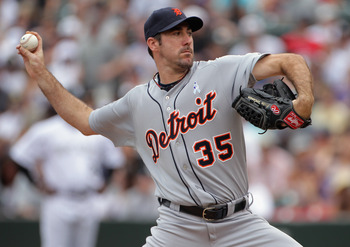 Doug Pensinger/Getty Images
At first blush, Verlander (2-1, 2.38 ERA, 0.86 WHIP, 42 Ks) should be able to name his ERA and strikeout marks against the A's and Mariners. But Detroit has a confounding relationship with Seattle, so much that I'm afraid to guess how things will shake out at spacious Safeco Field.

There's also a trending aspect to Verlander's season to date: In his six starts, he has allowed either zero, two or four runs per outing—in subsets of three games. Here's hoping that "zero" and "two" are this week's lucky numbers.

Targets: Two wins, 3.20 ERA and 16 strikeouts.
1. Roy Halladay, Philadelphia Phillies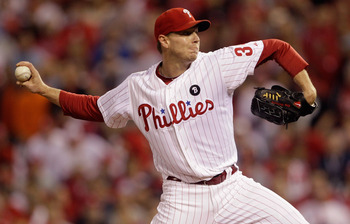 Rob Carr/Getty Images
Forget last week's A.J. Burnett-esque clunker against the Braves.

As the best real-world and fantasy pitcher of the last four years (77 wins/853 strikeouts from 2008-11), Halladay has built up enough fantasy cachet to merit a free pass off a one-time implosion.

Translation: Halladay has a better chance of being struck by lightning this week—twice—than of posting back-to-back wretched outings. Especially when both games come before the intense, attentive Philly fans.

Targets: Two wins, 2.80 ERA, 15 strikeouts against the Mets and Padres.
Keep Reading