Fantasy Baseball Rankings 2012: The Top 15 Starting Rotations, Vol. 2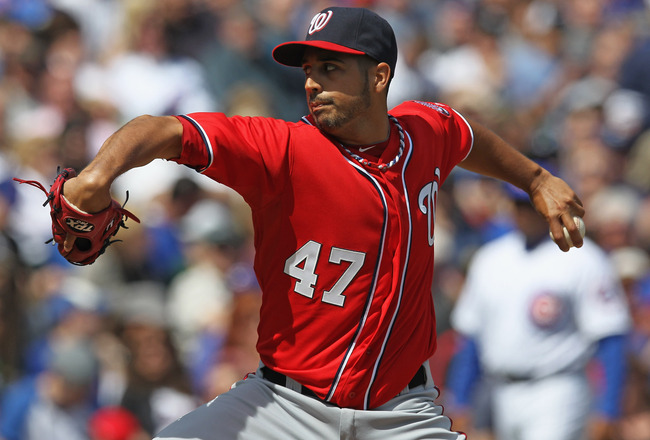 Washington's Gio Gonzalez (2-1, 1.82 ERA, 0.94 WHIP, 34/12 K-BB) is one of four Nats starters with sub-2.00 ERAs and 1.00 or lower WHIPs.
Jonathan Daniel/Getty Images
The following slideshow touts the 15 best fantasy rotations in Major League Baseball.
It is the humble sequel to our original rankings back in March—before Lance Lynn and Gio Gonzalez took the fantasy world by storm...but after owners got a whiff of potential greatness from Yu Darvish and Vance Worley.

The March rankings also assumed, naively, that All-Star pitcher Michael Pineda (out for the year) only required a few weeks of rest before officially debuting with the Yankees. (Spoiler alert: The Bombers didn't make the cut this time.)

The criteria for the rankings is simple: I factored in each rotation's statistical progress through May 3, collectively and individually, and then matched it up against each pitcher's current fantasy value on the trade market.

For example, Miami's Anibal Sanchez has enjoyed a better start than San Francisco's Tim Lincecum. But on the open market, Lincecum would easily fetch a steeper price in trade talks.

Bottom line: Five weeks isn't enough to cast season-long judgments on superstar assets.

Enjoy the show!
15a: Toronto Blue Jays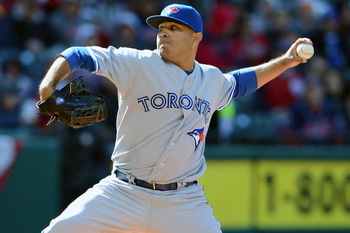 Jason Miller/Getty Images
1. Ricky Romero
Stats: 4-0, 3.64 ERA, 1.07 WHIP, 29 Ks
2. Brandon Morrow
Stats: 2-1, 3.03 ERA, 1.07 WHIP, 21 Ks
3. Henderson Alvarez
Stats: 1-2, 3.65 ERA, 1.11 WHIP, 9 Ks
4. Kyle Drabek
Stats: 2-2, 2.40 ERA, 1.27 WHIP, 26 Ks

Previous ranking: 12th

Skinny: Romero and Morrow have been good, but not great to date...kind of like the 14-11 Blue Jays (third place in AL East).

The pair's strikeouts could be higher and the walks should be fewer, but their WHIP totals are impressive enough to forecast a sustained burst of fantasy excellence sometime in the next six weeks.

As for Drabek, Alvarez and fifth wheel Drew Hutchison, each newbie is prone to wild production swings throughout the season. That aside, Alvarez and Drabek remain reasonable bets for 11 wins and ERAs under 3.50.
15: Detroit Tigers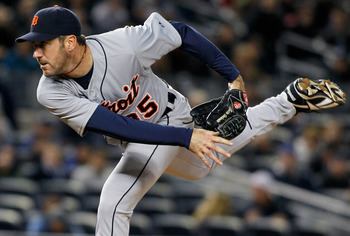 Mike Stobe/Getty Images
1. Justin Verlander
Stats: 2-1, 2.31 ERA, 0.86 WHIP, 42 Ks
2. Drew Smyly
Stats: 1-0, 1.23 ERA, 1.18 WHIP, 22 Ks
3. Max Scherzer
Stats: 1-3, 7.77 ERA, 2.05 WHIP, 27 Ks
4. Rick Porcello
Stats: 2-2, 5.64 ERA, 1.32 WHIP, 15 Ks

Previous ranking: 5th

Skinny: The Tigers' ranking feels a tad incomplete, in light of No. 2 starter Doug Fister hitting the disabled list after only three-plus innings of work. But excuses are for losers...or for title contenders playing .500 ball (as of May 3).

Verlander has been absurdly good this season, but there's still plenty of room for growth here; in fact, I'm no longer discounting his chances for back-to-back Cy Young honors.

Smyly has been a true gem for Detroit, breaking camp as the No. 5 starter but quickly vaulting past Scherzer and Porcello in the pecking order.

The Tigers' rotation could have a dramatically different look by June, after Fister (8-1, 1.79 ERA, 0.84 WHIP with Detroit in 2011) returns from injury and heralded prospect Jacob Turner earns a likely permanent promotion to the big club.
14: Miami Marlins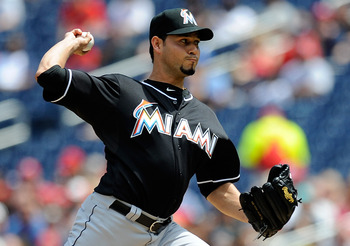 Patrick McDermott/Getty Images
1. Anibal Sanchez
Stats:1-0, 2.73 ERA, 1.03 WHIP, 33 Ks
2. Josh Johnson
Stats: 0-3, 5.34 ERA, 1.74 WHIP, 25 Ks
3. Ricky Nolasco
Stats: 3-0, 2.76 ERA, 1.16 WHIP, 18 Ks
4. Carlos Zambrano
Stats: 0-2, 2.53 ERA, 1.19 WHIP, 23 Ks

Previous ranking: 14th

Skinny: This is a solid ranking, given the much-discussed troubles of Josh Johnson to start the season and the credit goes to Johnson's supporting cast—including fifth starter Mark Buehrle (1-4, 3.21 ERA, 1.18 WHIP, 19 Ks)—all of whom have ERA and WHIP totals south of 3.21 and 1.19, respectively.

Positive April vibes aside, the Marlins staffers need to excel for another month before launching into the top 10.
13: Baltimore Orioles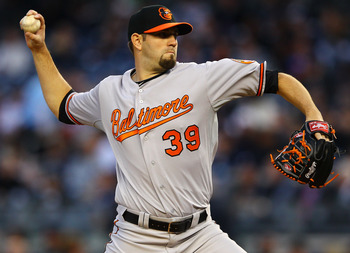 Al Bello/Getty Images
1. Jason Hammel
Stats: 3-1, 1.97 ERA, 1.03 WHIP, 30 Ks
2. Jake Arrieta
Stats: 2-2, 3.52 ERA, 0.99 WHIP, 33 Ks
3. Wei-Yin Chen
Stats: 2-0, 2.22 ERA, 1.32 WHIP, 19 Ks
4. Tommy Hunter
Stats: 2-1, 4.26 ERA, 1.33 WHIP, 18 Ks

Previous ranking: None

Skinny: Based on 2012 stats, the Orioles deserve a higher ranking in the countdown. But since we're also talking about baseball's worst rotation last year...we must take baby steps to earning the trust of fantasy owners everywhere. Right?

Co-aces Hammel and Arrieta have rightfully graduated from Waiver-Wire Community College and are now full-time fixtures with 12-team leagues. Frankly, I'll be surprised if both pitchers have WHIP rates below 1.05 by season's end, but I'm even more shocked they held the Yankees to two combined runs on the road this week.

The movement of fantasy acceptance has been a little slower with Chen and Hunter, but neither one should be found on waivers in AL-only leagues.

The only wart on the Baltimore staff is the pitcher with perhaps the best stuff—Brian Matusz (1-3, 4.67 ERA, 1.70 WHIP, 18 strikeouts). He remains a work in progress.
12: Arizona Diamondbacks
Christian Petersen/Getty Images
1. Ian Kennedy
Stats: 3-0, 3.38 ERA, 1.44 WHIP, 27 Ks
2. Joe Saunders
Stats: 2-1, 1.24 ERA, 0.96 WHIP, 24 Ks
3. Trevor Cahill
Stats: 2-2, 3.13 ERA, 1.20 WHIP, 21 Ks
4. Wade Miley
Stats: 3-0, 1.29 ERA, 0.81 WHIP, 15 Ks

Previous ranking: 11th

Skinny: You could draw a lot of similarities between the Tigers and Diamondbacks' rotations at this point.

The aces have been solid, but not dominant. The No. 2 pitchers (in Arizona's case, Dan Hudson) have been temporarily shelved due to injury and a preseason afterthought (Miley) has quickly emerged to solidify a once-vulnerable staff.

Bottom line: Fantasy owners are understandably skittish about Arizona's early-season prospects, but there's still ample reason to believe Kennedy, Hudson, Cahill and Miley will maintain or improve upon their value in the coming months.

There's even hope for Saunders, although his current ERA and WHIP totals have likely reached the glass ceiling of expectations.
11: Milwaukee Brewers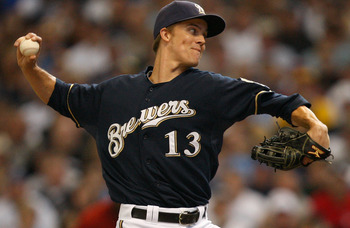 Jared Wickerham/Getty Images
1. Zack Greinke
Stats: 3-1, 3.94 ERA, 1.38 WHIP, 30 Ks
2. Yovani Gallardo
Stats: 1-3, 5.79 ERA, 1.65 WHIP, 31 Ks
3. Shaun Marcum
Stats: 1-1, 3.19 ERA, 1.26 WHIP, 30 Ks
4. Randy Wolf
Stats: 2-2, 6.84 ERA, 1.90 WHIP, 16 Ks

Previous ranking: 7th

Skinny: Fantasy owners should derive the positive from this ranking, namely Greinke, Gallardo and Marcum being the only National League trio to boast 30-plus strikeouts (as of May 3).

They should also view Gallardo's Jekyll-and-Hyde start to the season from a prism that fixates on his three lights-out performances, but minimizes the two starts that inflated his ERA to dangerous levels.

After all, we're talking about an experienced quartet of fantasy performers (including Wolf), who, if healthy, should reside in the top 10 by season's end.

Milwaukee also has a wild card: Reliever-turned-fifth starter Marco Estrada (3.71 ERA, 1.12 WHIP) has quickly become a candidate for 10 wins and 160 strikeouts.
10: Atlanta Braves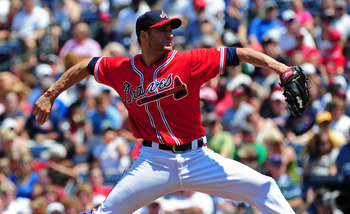 Scott Cunningham/Getty Images
1. Brandon Beachy
Stats: 2-1, 1.38 ERA, 0.92 WHIP, 22 Ks
2. Tommy Hanson
Stats: 3-2, 3.74 ERA, 1.43 WHIP, 31 Ks
3. Mike Minor
Stats: 2-2, 4.68 ERA, 1.13 WHIP, 30 Ks
4. Tim Hudson
Stats: 1-0, 3.60 ERA, 1.60 WHIP, 6 Ks)

Previous ranking: 8th

Skinny: It's unfortunate this summary wasn't written until after Atlanta's crazy 15-13 win over Philadelphia from Wednesday; otherwise, the Braves' rotation might have risen a bump or two in the rankings.

Tommy Hanson's brutal night aside, this staff has successfully endured injury (Hudson) and a demotion (Jair Jurrjens) to collectively post top-10 numbers. Hanson is a strong No. 3 in fantasy circles, Hudson is a beneficial asset in head-to-head leagues and Minor is an excellent source for WHIP and strikeouts.

As for Beachy, I have loftier goals in mind: He'll be a top-15 pitcher in next year's preseason rankings (barring injury). He's also a certifiable fantasy ace for years to come.
9: Chicago White Sox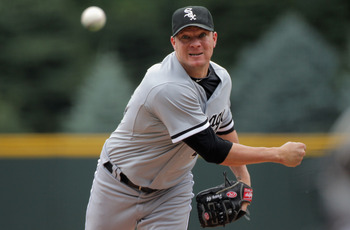 Doug Pensinger/Getty Images
1. Jake Peavy
Stats: 3-1, 1.67 ERA, 0.69 WHIP, 33 Ks
2. Chris Sale
Stats: 3-1, 2.81 ERA, 1.00 WHIP, 29 Ks
3. John Danks
Stats: 2-3, 6.23 ERA, 1.52 WHIP, 24 Ks
4. Gavin Floyd
Stats: 2-3, 3.13 ERA, 0.95 WHIP, 31 Ks

Previous ranking: None

Skinny: The White Sox pitchers rank among baseball's best in strikeouts and WHIP. But the primary credit for the countdown rating coincides with Peavy's incredible start to the season...with some extra credit given to Philip Humber and his perfect game on April 21.

Can the pitchers maintain this ranking with Danks and Humber struggling with ERAs above 4.60? Will Peavy remain a sub-2.00 ERA/sub-1.00 WHIP dynamo, despite his injury history and somewhat violent delivery? And how will the White Sox treat the rookie Sale, once he approaches that invisible and arbitrary innings count sometime in August or September?

Only time will tell with all three questions, but Chicago's staff certainly deserves a top-10 ranking at this point.
8: San Francisco Giants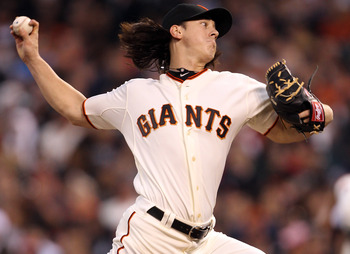 Ezra Shaw/Getty Images
1. Matt Cain
Stats: 1-2, 2.35 ERA, 0.68 WHIP, 30 Ks
2. Tim Lincecum
Stats: 2-2, 5.74 ERA, 1.78 WHIP, 29 Ks
3. Madison Bumgarner
Stats: 4-1, 2.53 ERA, 1.09 WHIP, 17 Ks
4. Barry Zito
Stats: 1-0, 1.76 ERA, 1.11 WHIP, 15 Ks

Previous ranking: 4th

Skinny: This might be the most controversial pick among the top 10 rotations.

Three starters have losing records (including Ryan Vogelsong). Only Bumgarner has more than two victories. Lincecum likely had the worst three-start opening to his celebrated career; and Zito, coming off an amazing April, posted a 1/7 strikeout-to-walk ratio against the Marlins on Wednesday.

Now for the good news: Cain has been a dominant force all season, despite marginal run support. Bumgarner has blossomed into one of Fantasyland's most effective No. 3 starters. Zito was an unexpected fantasy gem in his first four starts; and Lincecum, despite the April woes, has 13 strikeouts and two wins in his last two outings.

Bottom line: Cain, Lincecum and Bumgarner would command top-market value in trade circles right now; as a group, they're not too far from zooming back into the top five.
7: Texas Rangers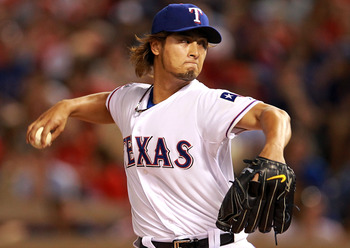 Ronald Martinez/Getty Images
1. Yu Darvish
Stats: 4-0, 2.18 ERA, 1.42 WHIP, 33 Ks
2. Neftali Feliz
Stats: 1-1, 3.81 ERA, 1.19 WHIP, 18 Ks
3. Colby Lewis
Stats: 3-0, 1.93 ERA, 1.04 WHIP, 29 Ks
4. Derek Holland
Stats: 2-2, 5.13 ERA, 1.26 WHIP, 29 Ks

Previous ranking: 9th

Skinny: You know the Rangers have something special when Neftali Feliz is the least productive of the Big Four. You know things are going well when the club could absorb the defection of C.J. Wilson without skipping a beat.

All this begs the question: If life in Arlington is so wonderful right now, and the Rangers have the best record in baseball (tied with the Rays and Dodgers), why only a No. 7 ranking?

In situations like this, the most incidental stats ultimately affect the bottom line: For example, No. 5 starter Matt Harrison has been brutal of late, allowing seven runs and 14 hits in his last outing. And Darvish, despite stellar numbers in wins, ERA and strikeouts, simply walks too many hitters to be a top-10 asset.
6: Los Angeles Dodgers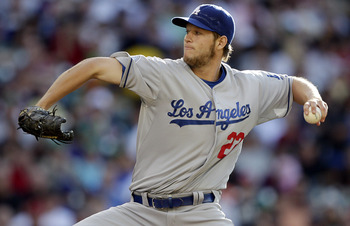 Bob Levey/Getty Images
1. Clayton Kershaw
Stats: 2-0, 2.63 ERA, 0.93 WHIP, 34 Ks
2. Chad Billingsley
Stats: 2-1, 2.64 ERA, 0.95 WHIP, 25 Ks
3. Chris Capuano
Stats: 3-0, 2.73 ERA, 1.21 WHIP, 29 Ks
4. Ted Lilly
Stats: 3-0, 1.38 ERA, 0.85 WHIP, 15 Ks

Previous ranking: 15th

Skinny: For once, it's nice to write about the Dodgers' excellent start without making Matt Kemp the centerpiece of the copy.

From a fantasy angle, Kershaw has justified his Round 2 value in the preseason. Lilly is once again a three-category dynamo in wins, ERA and WHIP. And Billingsley and Capuano, two afterthoughts during spring training, have rewarded their loyal owners with superb stats five weeks into the season.

Oh, and Aaron Harang is the only fifth starter from the countdown to register 30 strikeouts by May 3.

The Dodgers' key to fantasy success, though, ultimately rests with Kershaw.
Thankfully, there have been zero whispers of a Cy Young hangover—only internal discussions of his possible value when offered up in 2-for-1 or 3-for-1 fantasy trades.
5: Tampa Bay Rays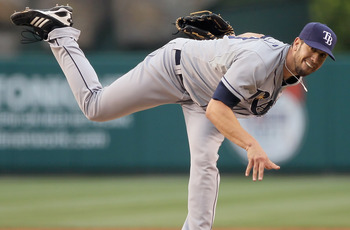 Jeff Gross/Getty Images
1. James Shields
Stats: 5-0, 3.70 ERA, 1.26 WHIP, 39 Ks
2. David Price
Stats: 4-1, 2.67 ERA, 1.29 WHIP, 23 Ks
3. Jeremy Hellickson
Stats: 3-0, 2.51 ERA, 1.21 WHIP, 21 Ks
4. Matt Moore
Stats: 1-1, 4.20 ERA, 1.57 WHIP, 24 Ks

Previous ranking: 3rd

Skinny: With three starters sporting stellar records and five boasting at least 20 strikeouts (including Jeff Niemann), it's fair to ask whether the Rays deserve a slight dip in the rankings from March?

Eh, probably not. But then again, second place among American League rotations isn't a bad progress report.

Progress is the operative word when evaluating rookie Matt Moore. Yes, his ERA and WHIP totals are unacceptable for a supposed elite asset, but since he didn't qualify for my preseason top 20, the sluggish start hasn't fazed me one bit.

Was Moore, baseball's best prospect entering the season, not allowed a few weeks or months to adjust to the skill level of major league batters? Does he not warrant a few chances to endure and learn from clunker starts that 99.99 percent of rookies encounter when launching their careers?

He's just a kid. Get real.
4: Los Angeles Angels of Anaheim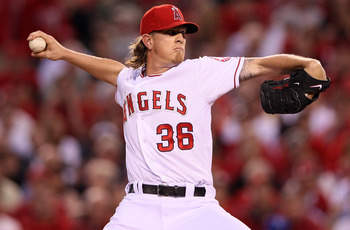 Jeff Gross/Getty Images
1. Jered Weaver
Stats: 4-0, 1.61 ERA, 0.78 WHIP, 45 Ks
2. Dan Haren
Stats: 1-1, 3.34 ERA, 1.24 WHIP, 30 Ks
3. C.J. Wilson
Stats: 3-2, 2.70 ERA, 1.02 WHIP, 30 Ks
4. Jerome Williams
Stats: 2-1, 3.55 ERA, 1.11 WHIP, 19 Ks

Previous ranking: 2nd

Skinny: For the record, the Angels' ranking was secure long before Weaver bedazzled the Twins with a no-hitter on Wednesday night...or when a high-end ace from the No. 3 rotation imploded in Atlanta on the same evening.

Historical achievements aside, Weaver, Haren and Wilson have been so sharp, fantasy-wise, that it's easy to forget the Angels currently sit fourth in the AL West. It's also convenient to ignore the wretched start from Ervin Santana (0-5, 6.16 ERA, 1.50 WHIP, 19 Ks, 10 homers allowed).

Throw in Jerome Williams' out-of-nowhere contribution...and I'm OK with the Angels' current standing in the fantasy community.
3: Philadelphia Phillies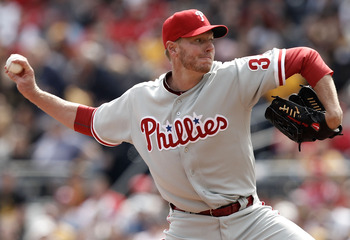 Jared Wickerham/Getty Images
1. Cole Hamels
Stats: 3-1, 2.78 ERA, 1.08 WHIP, 36 Ks
2. Roy Halladay
Stats: 3-2, 2.40 ERA, 1.11 WHIP, 29 Ks
3. Cliff Lee
Stats: 0-1, 1.96 ERA, 0.70 WHIP, 18 Ks
4. Vance Worley
Stats: 2-1, 1.97 ERA, 1.19 WHIP, 32 Ks

Previous ranking: 1st

Skinny: Let's start this summary by addressing the 700-pound elephant in the room: Is it fair for the Phillies to garner a higher ranking than the Angels, just 12 hours after Jered Weaver tossed a no-hitter and Halladay surrendered eight runs and 12 hits against the Braves? (Halladay's ERA jumped from 1.95 to 3.40 in one night.)

Absolutely.

Yes, there's little rationalization for Halladay's rough Wednesday or Cliff Lee's frustrating stint on the disabled list (oblique); but on the whole, the Philly's rotation has performed admirably in the first five weeks, compensating for an offense that's light on hitting and long on injuries (Ryan Howard, Chase Utley) while maintaining their strong individual fantasy values in trade talks.

It also helps that Hamels has emerged as the de facto ace of the staff; and it doesn't hurt that Worley and Joe Blanton (3.81 ERA) have developed into one of baseball's best back-end stalwarts.
2: St. Louis Cardinals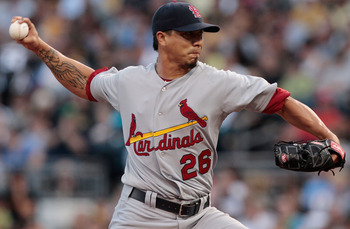 Jared Wickerham/Getty Images
1. Adam Wainwright
Stats: 1-3, 6.75 ERA, 1.31 WHIP, 27 Ks
2. Kyle Lohse
Stats: 4-0, 1.62 ERA, 0.84 WHIP, 21 Ks
3. Lance Lynn
Stats: 4-0, 1.33 ERA, 0.81 WHIP, 24 Ks
4. Jaime Garcia
Stats: 2-1, 2.78 ERA, 1.42 WHIP, 20 Ks

Previous ranking: None (Yes, I'm a moron)

Skinny: We've reached the full-blown mea culpa stage of today's countdown: I was clearly wrong about leaving the Cardinals off the original rotation rankings, an admittedly knee-jerk response to Chris Carpenter getting shelved with a shoulder injury.

I also underestimated the fantasy acumen of Kyle Lohse, Jaime Garcia and fifth starter Jake Westbrook (3-1, 1.30 ERA, 1.01 WHIP, 15 Ks). I also downplayed the potential of reliever-turned-starter Lance Lynn; however, to combat that early stupidity, I grabbed Lynn off waivers in five leagues (mid-April).

Unfortunately, I overestimated Wainwright's fantasy worth coming off elbow surgery. Granted, his ERA and WHIP totals are deplorable; but barring an injury setback, I still love Wainwright's bounce-back potential in the coming months.

My advice: Fantasy owners should capitalize on his rock-bottom trade price, sooner than later.
1: Washington Nationals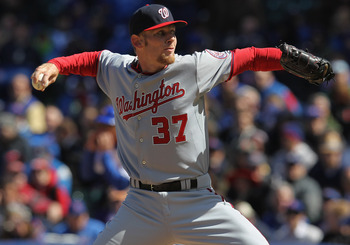 Jonathan Daniel/Getty Images
1. Stephen Strasburg
Stats: 2-0, 1.13 ERA, 0.88 WHIP, 34 Ks
2. Gio Gonzalez
Stats: 2-1, 1.82 ERA, 0.94 WHIP, 34 Ks
3. Jordan Zimmermann
Stats: 1-2, 1.89 ERA, 0.84 WHIP, 22 Ks
4. Ross Detwiler
Stats: 2-1, 1.64 ERA, 1.00 WHIP, 19 Ks

Previous ranking: 10th

Skinny: Quite frankly, this was the easiest selection of the countdown.

As of May 3, the Nationals' top four starters each boasted ERAs below 1.90 and WHIPs at 1.00 or less. Just stop and think of the last time a quartet had these kind of unfathomable numbers after just five weeks? The 1993 Braves? The 1970 Orioles? It's absurd!

Washington's start has been nothing short of remarkable...and that includes Edwin Jackson's fifth-starter eminence (3.69 ERA, 1.11 WHIP, 29/8 K-BB ratio).

Of course, there are questions to ponder as the season progresses: Why are fantasy owners slow to assign top value for Zimmermann and Gonzalez in trade talks? Can Detwiler maintain the prodigious ERA and WHIP paces of his more heralded teammates?

And when, if ever, will Strasburg fall prey to a club-imposed innings count, which may kick in sometime in late August or early September?
Keep Reading