New York Yankees News: Mariano Rivera Tears ACL, Understanding the Injury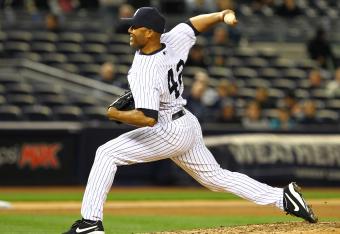 Al Bello/Getty Images
Yesterday, New York Yankees fans collectively felt their hearts skip a beat. Mariano Rivera was injured, and it was a very serious injury.
Before last night's game, Rivera was in the outfield catching fly balls, a pregame activity he had been doing for almost two decades, and he tore his ACL and meniscus in his knee.
What does Rivera have ahead of him for surgery and recovery?
The ACL is one of four ligaments in the knee and is vital in creating knee stability. The meniscus is very similar to a shock absorber. The meniscus helps cushion and reduce friction of the femur, tibia and fibula.
The surgery for this procedure is very common, and the patients who have this surgery almost never have problems again.
Surgeons will go into the knee, locate the torn ligament and remove it. Another ligament or tendon from the patient's body will be taken and put in place of the torn ACL. The surgeons will use a ligament that does not hinder the patient's physical abilities. The meniscus tear will be found and likely will just be stitched up.
Rehab from this procedure is a hard and long process. For the first couple of weeks, Rivera will not be doing any type of motion. He will be focused on keeping the leg elevated, icing the knee to reduce swelling and managing pain. This normally takes up to two weeks.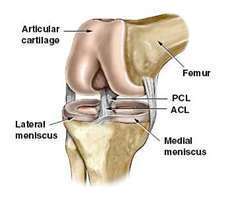 Once the swelling has gone down, simple range-of-motion exercises can begin. The first exercise of choice for rehab on the knee is riding a stationary bike. This is a very low-impact exercise that will begin to loosen up the stiffness in the knee.
All through these first couple weeks of low-impact rehab, the physical therapist will be measuring the range of motion in Rivera's knee. Once the range of motion gets between 90 and 110 degrees, weighted exercises will be introduced. The first group of these will be body weight exercises, such as simple squats.
As Rivera progresses through the rehab process, the range of motion in the knee will continue to improve. Eventually, leg presses and squats with weights will be worked into his routine.
The last part of the rehab process will be doing activities that mimic the sport of the athlete. In Rivera's case, these activities involve weight-bearing activities, and quick, sudden movements.
Once all of these activities can be accomplished without pain, Rivera will be considered cleared to return to the Yankees. Unfortunately, this lengthy process can take up to 14 weeks.
Mariano Rivera is, without question, the greatest closer of all time. No Yankee fan, player or coach ever had to consider life in pinstripes without Rivera. Sadly, we may all have to begin to accept he may never pitch again. Rivera is 42 years old, and likely will take longer than normal to recover and rehab from this injury.
This is going to be a gut check for the Yankees. Robertson began the grooming process of being the heir to Rivera's throne. He will likely now be thrown into the closer role.
Can the Yankees dig down deep and continue the winning ways of the franchise?
As a fan, I sure hope so. But without Rivera, the ninth inning will now be an inning that will not be considered automatic.
Louie Babcock has more than five years of experience in emergency medicine and is studying biology and health science at the University of Minnesota.
Follow me on Twitter@Medic_Louie

This article is
What is the duplicate article?
Why is this article offensive?
Where is this article plagiarized from?
Why is this article poorly edited?

New York Yankees: Like this team?