St. Louis Rams: Thursday's News and Notes at Noon
May 3, 2012

Welcome to Thursday's St. Louis Rams "News and Notes at Noon," the one-stop locale for all major Rams headlines and other information of interest relative to Rams Nation. 
St. Louis Judge Will Decide Whether Rams Dome Plans Will Go Public 
According to a report via Matthew Hathaway of the St. Louis Post-Dispatch, a judge will decide if the St. Louis Convention and Visitors Commission is required to release the details of the Rams counteroffer regarding proposed upgrades to the Edward Jones Dome. 
The St. Louis Post-Dispatch presented a lawsuit asserting that the CVC must make public the Rams proposal.  The CVC, however, filed a lawsuit seeking clarification as to whether they are required to do so. 
To me, it is best for the Rams and the CVC to work in quiet and privacy, without the potential distractions of the offer being shared with the public.  
If the Rams and CVC negotiations need to go public, then why not those of the likes of the Missouri Department of Transportation?  
It will be interesting to hear what the ruling is and any corresponding explanation that ultimately comes forth.
NFC West Improved Across the Board, According to Former NFL Executive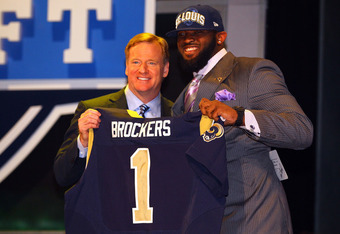 Former NFL executive and current contributor for 101sports.com Tony Softli asserts in this article that the NFC West, as a whole, has improved during the free-agency period and the 2012 NFL Draft. 
Softli breaks down each NFC West team's draft as a whole while looking at several individual prospects who were added to the division in Seattle, Arizona, San Francisco and St. Louis. 
Rams Rookie Numbers Revealed 
According to this piece at stlouisrams.com, the rookie numbers for the newest Rams have been revealed. 
Michael Brockers will wear No. 96, kicker Greg Zuerlein will use No. 4, Janoris Jenkins will rock with No. 21 and Brian Quick will display No. 83. 
For the full list, please click on the above-mentioned link. 
Nick Wagoner's Mailbag 
Stlouisrams.com senior writer Nick Wagoner goes into great detail in answering a wide variety of topics in his chat here.  
Wagoner shares some terrific information and insight on various Rams topics and offers exceptional background information in the aforementioned piece, including details on several of the new Rams attained during last week's draft. 
Update on First-Round Pick Michael Brockers
Mike Sando of ESPN adds clarity regarding Michael Brockers and his subpar bench press numbers during the offseason in this piece. 
Sando asserts that Brockers was battling a shoulder injury while also sharing his opinion on the big defensive tackles strength projection going forward with St. Louis. 
Have a great day as always, STL Rams Nation.
Shane Gray covers the St. Louis Rams daily as a Featured Columnist for Bleacher Report. You are encouraged to check out the rest of his work here. Gray also owns and operates stlramscentral.com.