New York Yankees: 5 Early Signs the Bronx Bombers Won't Be Stopped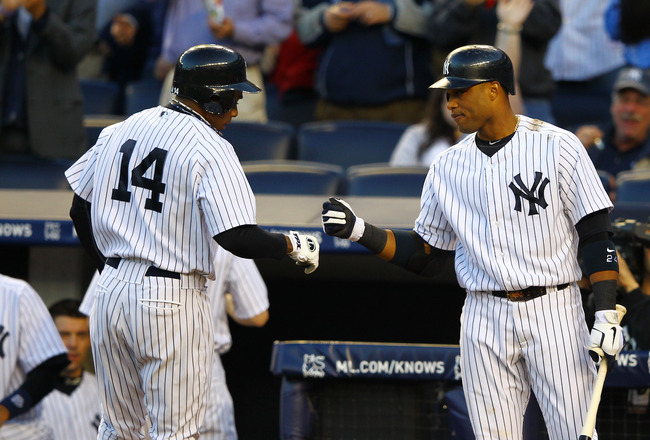 Al Bello/Getty Images
The Yankees are off to a less-than-stellar start to the season, but it's still early and it's a long year.
While there have been a lot of negatives to focus on so far in New York, there are also trends and signs that this is still the team to beat in the American League.
If and when the Yankees are able to pick up steam and get on a roll this season, it's going to be hard to stop them or even slow them down.
Let's take a look at five early signs that the Bronx Bombers are not to be taken lightly this season.
5. Playing Through Injuries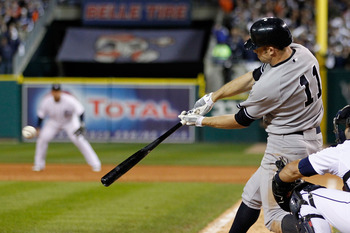 Gregory Shamus/Getty Images
The biggest move the Yankees made this offseason was the acquisition of young starting pitcher Michael Pineda from Seattle.
However, Pineda tweaked his shoulder in a spring training start and then was forced to undergo season-ending surgery.
Therefore, the plan for the Yankees' rotation changed and they were forced to improvise with what they had. Considering it has had to endure the terrible starting pitching from Freddy Garcia and Phil Hughes, New York is still holding up pretty well without Pineda.
Along with Pineda, the Yankees are also missing speed demon Brett Gardner, who has been out lately due to an elbow injury. Besides his base-stealing ability, Gardner has left a hole in left field, which has been filled by the error-prone Eduardo Nunez.
Despite all of this, the Yankees still have their head above water and are very much in competition for a wild AL East this season.
4. Setup/Closing Pitching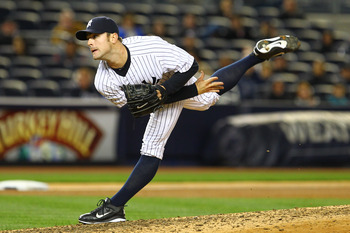 Al Bello/Getty Images
While the starting rotation has been disappointing overall, the one-two combination of Dave Robertson and Mariano Rivera has definitely been key to the Yankees holding on to win close games.
Robertson has been stellar this season (11 IP, 7 H, 0 ER, 18 K) and also has four holds.
Rivera, in what could be his final season in the MLB, is not showing any sign of aging and has five saves in six tries.
This security for pitching in the eighth and ninth innings allows New York to sleep well at night, knowing it is in good hands in close games.
3. On-Base Percentage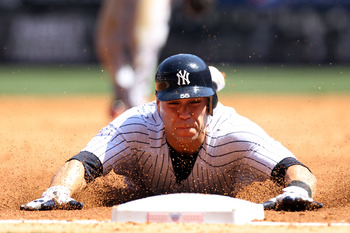 Nick Laham/Getty Images
You can't expect to score runs without getting on base. It's as simple as that.
The Yankees have been great at doing just that this season and are currently third in the majors in on-base percentage (.347).
With such a dangerous lineup, having runners on base gives the Yankees a lot more chances to score, which has been key to winning due to the lack of production from the pitching staff.
If this trend continues and the Yankees' pitching comes around, this team could be virtually unstoppable.
2. Derek Jeter's Aglessness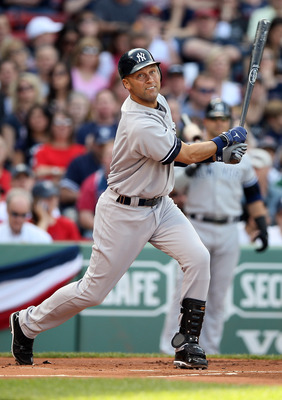 Elsa/Getty Images
El Capitan has been silencing critics this year who have wondered if he can still play baseball.
In fact, Jeter is on pace to have the best hitting season of his career. He already has as many homers right now than he did all of last season (four), and he might be able to break his career high of 24, especially with the short porch in Yankee Stadium.
The 37-year-old shortstop is even in the conversation for AL MVP with his .385 batting average, 13 RBI and MLB-leading 40 hits.
If Jeter keeps this up all year, the Yankees' lineup will become all the more dangerous.
1. Hitting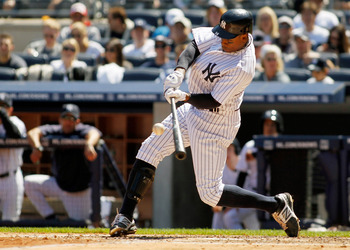 Mike Stobe/Getty Images
Hitting has been the main bright spot for the Yankees this year, who have been marred by poor pitching from the starters.
With the benefit of playing half of their games in a very hitter-friendly park and with proven power hitters like Mark Teixeira, Curtis Granderson and Alex Rodriguez, this team is going to be producing plenty of runs.
Granderson has been on fire to start the year with his nine home runs and 17 RBI, and Nick Swisher has knocked in 23 runs as well.
The Yankees are in the top five for runs scored, batting average and slugging percentage, so it's obvious that offense has been the saving grace for the team this year.
This is easily the biggest sign that the Yankees are still a team to be feared. With the ability to hit the ball all over the field and take pitchers deep, this lineup will have almost every starting pitcher shaking in his cleats throughout the season.
Keep Reading

New York Yankees: Like this team?